Published October 27, 2020 by BPS fellows Noelia Calcaño '21 and Chanel Matthews '21
Virtual DC: Bowdoin Public Service Fellows Log In to Government
Despite disruptions caused by the pandemic, ten Bowdoin students had the chance this summer to explore their interest in public service with fellowships through the
Bowdoin Public Service Initiative
.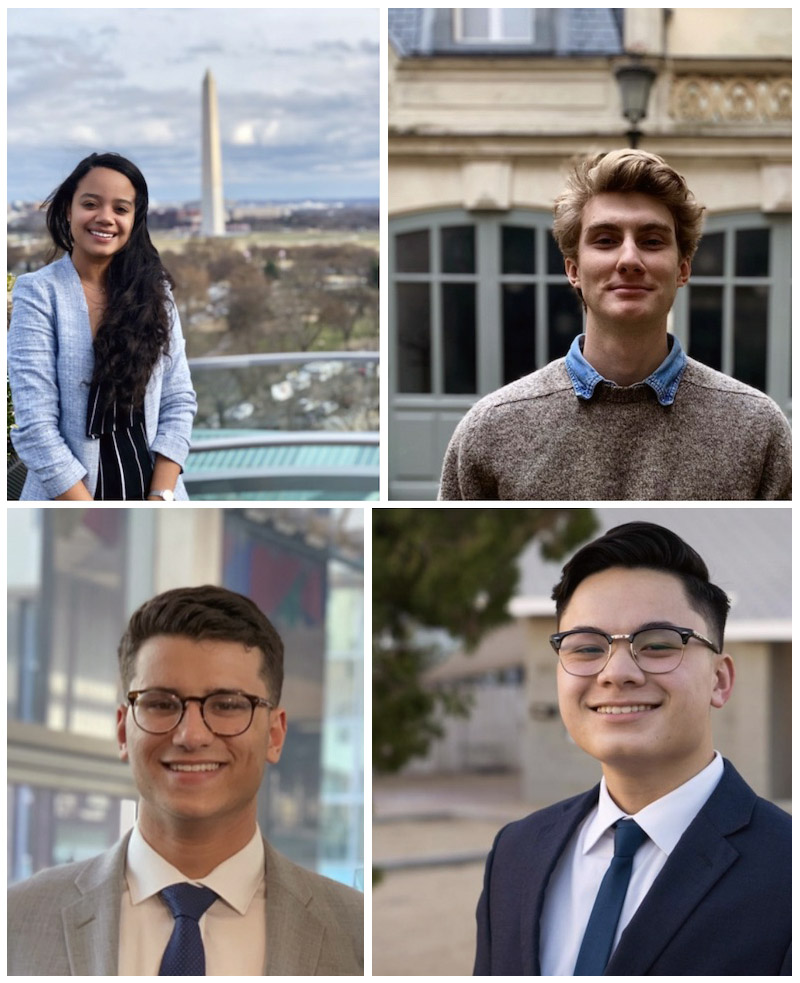 Bowdoin Public Service Fellowships provide funding and programmatic support for a cohort of rising seniors to pursue a summer internship in the nation's capital. While the students this year were unable to be based in Washington, DC, given the unprecedented circumstances, they each completed a ten-week remote summer internship in the fields of government and public policy.
In addition to their internships, the fellows met several times for virtual discussions with alumni to further their knowledge and networks in the field of public service. Noelia Calcaño '21 found it particularly valuable to hear about the many paths that Bowdoin alumni have taken within public service.
"It was amazing to meet with young alums and alumni of color," she said, and to see herself represented in a field she had thought lacked diverse perspectives. 
A hallmark of the program has always been the meaningful relationships students form through their professional experiences. Despite the virtual format, students found plenty of opportunities to engage directly with professionals at their organizations, as well as with those they served.
For Mackey O'Keefe '21, interning at the Department of Justice's Consumer Protection Branch allowed him the chance to work directly with lawyers leading consumer fraud cases. "Those were my most cherished experiences," he said. "I was never dealing with any kind of secretarial work, and it was all right in the heart of the matter. I got to listen to a lot of great phone calls and strategy meetings."  
Similarly, Arein Nguyen '21 collaborated with staff attorneys at the American Bar Association's Commission on Immigration to provide resources and information for clients who were undergoing deportation proceedings. He also worked directly with these clients to help them file complaints.
This semester, Nguyen is building on his knowledge of immigration law through an independent study. "I want to understand how and why our criminal and immigration legal systems have become the way they have, which is inextricably conjoined," he explained.
BPS fellows were able to develop and strengthen their professional skills, such as policy brief writing, communications, and deadline-driven research. Milo Richards '21 said his work at the Department of State was very research-heavy. On a regular day, he conducted "background research for congressional hearings with state department witnesses, background research for legislative strategy proposals, and even [did] some member bios for some senior state department officials."  
Conducting research was also a cornerstone of Sarah Corkum's experience at the Maine Climate Council. She devoted her internship to developing a climate finance research project, which analyzed how states' climate action plans are funded. The office utilized this data to guide the Climate Council on how each of their recommended strategies in the Maine Climate Action Plan should be funded.
As a Mainer, Corkum said her experience expanded her understanding of the role state governments play in the creation of environmental policy, which will be "indispensable to [her] future career."
Ambassador Thomas Pickering '53, H'83, who was instrumental in the creation of the Bowdoin Public Service Initiative in 2017, said he would "like to have Bowdoin students, in the spirit of the common good, understand the opportunities and challenges of embarking on a career in government and how much public service means to the country." For students who participate in BPS, internship experiences in government agencies, political offices, and organizations affiliated with government function can encourage them to pursue careers in public service.  
Richards said that his experience as a BPS fellow has helped him focus his career ambitions. "I didn't know what I wanted to do before I came to school and before sophomore year, when I was a part of the BPS in Washington program," he said. "Participating was really impactful for me, and now I'm focused on a career in public service and working for the government." 
Through her two internships—with the Maine ACLU and Maine Congressman Jared Golden's office—Calcaño has grown confident that she wants to pursue a career in policy in the future. "Before I had the words to describe it as public service, I have always been passionate about serving vulnerable communities," she said. "The Bowdoin Public Service program has transformed my future career path and equipped me with the skills to mobilize my dream to be a force of change within the field of immigration policy."