Published September 30, 2020 by Rebecca Goldfine
Student and Alumna Provide COVID-19 Support on Navajo Reservation
This summer, Elizabeth (Biz) Sweeney '21 joined an intensive community effort to control the novel coronavirus on the
Navajo Nation
 in Arizona, Utah, and New Mexico.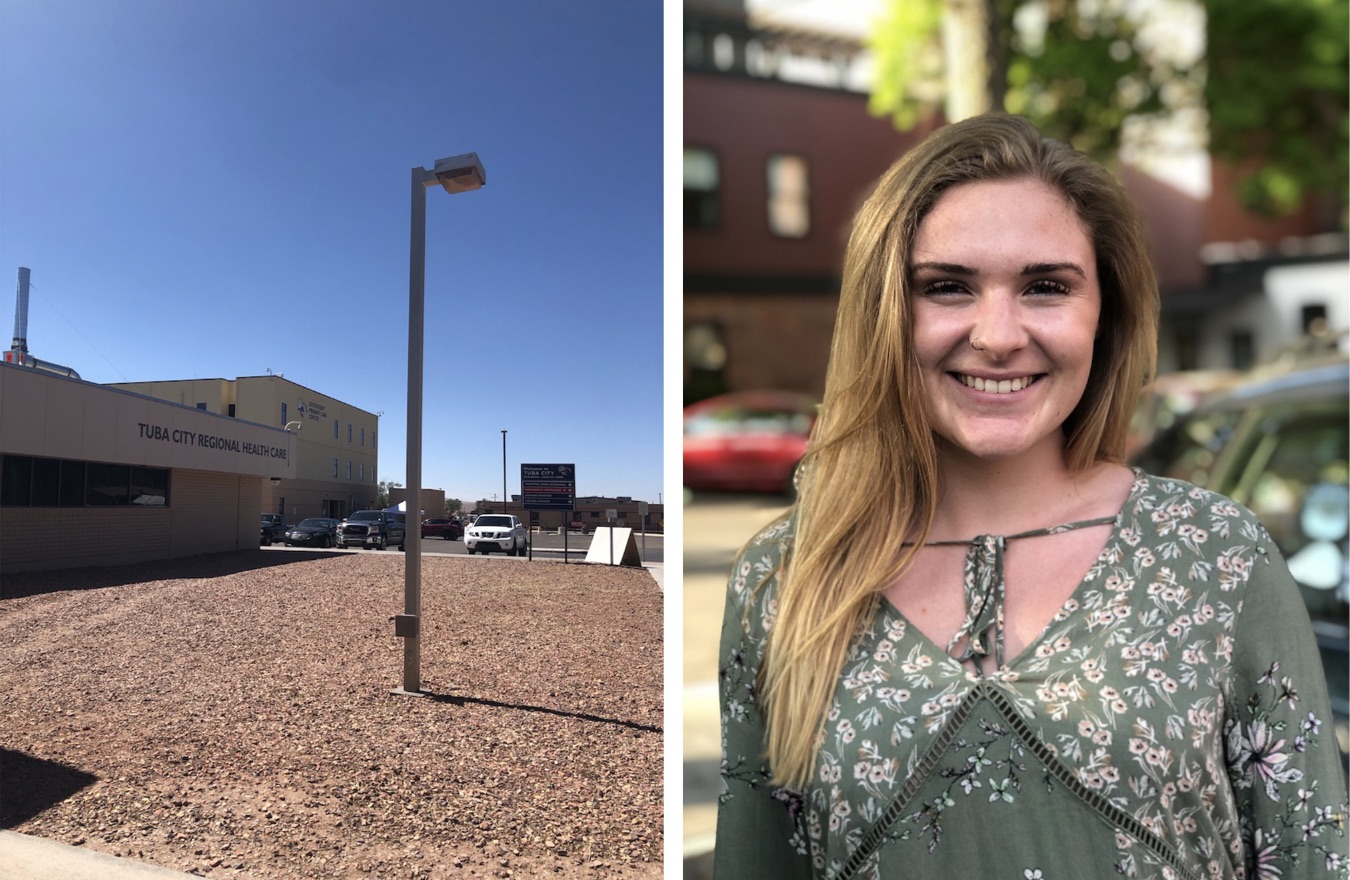 Though Sweeney, a sociology major, ended up immersed in a full-fledged public health undertaking in a community hard-hit by the coronavirus, her original intention was quite different.
Initially, she had planned on interning for Amanda Burrage '04, a pediatrician at Tuba City Regional Health Care in Arizona, assisting her with a breastfeeding initiative in the hospital's prenatal unit.
"And then COVID hit," Sweeney said, "and I had the feeling, 'No way can I go out to Arizona during a pandemic.'" With her internship in doubt, she waited to hear from Burrage.
Burrage's world, meanwhile, had been turned upside down last winter when the threat of the virus became clearer. She had stepped away from pediatric care to lead the hospital's COVID-19 response. Because she previously worked for the Center for Disease Control's Epidemic Intelligence Service, she had experience responding to disease outbreaks. 
Burrage assumed tasks like implementing safety protocols, developing employee sick policies, setting up a contact tracing team, and running hospital data analyses.
The Navajo Nation, as well as the nearby Hopi tribe, was hit particularly hard by COVID-19. Part of the reason for this is that many reservation households are multigenerational, with grandparents, parents, and children living together under one roof. Additionally, roughly 30 percent of homes do not have running water or electricity, which can make it difficult to ward off illness.
A superspreader church event in early March likely added to the high rate of infection, according to Burrage. And underlying co-morbidities, which tend to occur at higher rates among Native people, like diabetes and kidney disease, can put people at greater risk for developing severe symptoms of COVID-19.
Burrage said that at the peak of the pandemic in the spring, the hospital was admitting and transferring many new patients a day, its wards full of sick and dying people. 
But once it became apparent how vulnerable the community was to the virus, Navajo Nation leaders and community members mobilized. "I think the Navajo Nation as a whole has been very responsive, in terms of starting lockdowns and shelter-in-place orders," Burrage said.
"Also because the families are large, everyone has lost somebody, if not many people, to COVID. So they have seen firsthand how deadly this is, and as a result have responded well. Wearing masks is not controversial and people are following health recommendations."
Bowdoin connections
Amanda Burrage '04 and Biz Sweeney '21 first connected on Bowdoin's campus in 2018, when Burrage and her husband, internist Jarred McAteer '04 (who also currently works for Tuba City Regional Health Care), visited Nancy Riley's epidemiology class.
Riley, who is Bowdoin's A. Myrick Freeman Professor of Social Sciences, has been a mentor to Burrage through her career, which has included positions at the Center for Disease Control in Atlanta and Indian Health Service in Arizona. After Burrage spoke to her class, Sweeney confessed to Riley, "I want to be her!" So Riley put them in touch, and Burrage made an effort to create an undergraduate internship for her at the Tuba City hospital.
To fund her internship, Sweeney received a Denning Summer Fellowship from Bowdoin. To prepare academically for it, she completed an independent project last spring on health determinants for the Navajo people. This fall, she is a teaching assistant for Riley's class, Social Epidemiology: Lessons of COVID-19. 
Burrage also saw a role that Sweeney could play in stemming the tide of the illness. When Burrage finally got a moment to contact Sweeney, she asked whether the sociology major would be interested in coming to the reservation to help with its community outreach efforts.
Sweeney hesitated just for a millisecond. "I was considering doing the internship from home," in Massachusetts, "but decided I would be more helpful out there, on the frontline."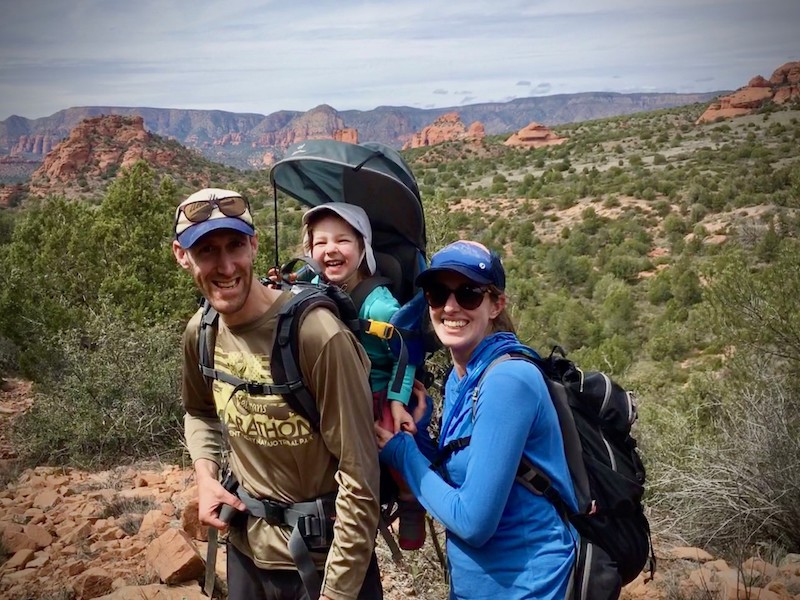 With her sister, Sweeney drove more than 2,500 miles from her home in Massachusetts to Tuba City in June. Once she arrived, she attended a seven-hour workshop organized by Doctors without Borders on how to train Navajo community health workers, teachers, and school administrators on best practices for mitigating the spread of the virus.
With this knowledge, Sweeney began leading her own online workshops, each between three and four hours. By the end of the summer, she had trained almost four hundred people. Her last program was attended by 220 people. "People had so much interest in the trainings," she said. "And I felt so privileged and honored to have the opportunity to give them."
Also, by summer's end, the Navajo Nation had seen a remarkable drop-off in its number of COVID cases. "Our COVID ward is almost empty, and it was full for months," Burrage said. 
Participating in the community's effort to protect people from COVID-19 was "a once in a lifetime opportunity," Sweeney reflected. After Bowdoin, she wants to pursue both a medical degree and a master's degree in public health.
"I can't stop thinking about how lucky I was to immerse myself in such a different community than the one I grew up in, and to see these different perspectives on life," she explained. "It was eye-opening and humbling. Not many people my age, or like me, get to have this opportunity."