Published September 03, 2020 by Tom Porter
Education Professor Awarded NSF Grant for Science Education Project
Assistant Professor of Education Alison Riley Miller is excited to be part of an ecosystem modeling project to help middle school students and teachers. Also involved are the Gulf of Maine Research Institute (GMRI) and Vanderbilt University.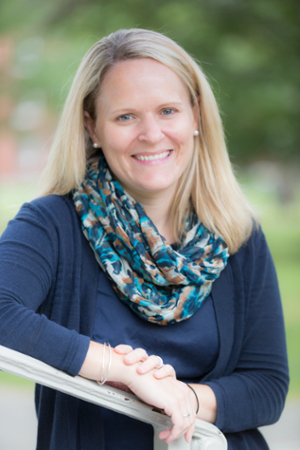 The project—Teaching and Learning Ecosystem Modeling—has recently been awarded a grant by the National Science Foundation (NSF). This is the first time that Bowdoin's Department of Education has been awarded an NSF grant.
The research takes place over three years and involves twelve middle school classrooms, drawn from the network of 500-plus Maine teachers trained in GMRI's citizen science program, Ecosystem Investigation Network.
"This research," said Miller, "will contribute to our understanding about how both students and teachers reason with data and models in order to make sense of complex systems, skills that are essential to understanding and communicating about issues like climate change."
Broadly, she explained, the project aims to explore how students interpret scientific models of ecosystem function and conceive of relationships across different models of the same system. According to GMRI's website, the project also "seeks to understand how middle school students' participation in data collection and scientific modeling informs their classroom-based citizen science investigations, and how enhancing teacher's learning about modeling changes both the opportunities students have to participate in scientific modeling and their understanding of change within ecosystems."
One of the participating teachers is Adrienne Hanson '15, a former student of Miller's who now teaches sixth grade science in Saco, Maine. "This is a full-circle moment for me," said Miller, "getting to conduct field research in collaboration with a former student-turned-colleague in the field of science education!"