Published August 19, 2020 by Rebecca Goldfine
Two Students Paint for Brunswick
Visual arts majors
Caroline Dranow '20 and Sam Betts '21 have both agreed to donate three paintings in total to Brunswick to celebrate its history.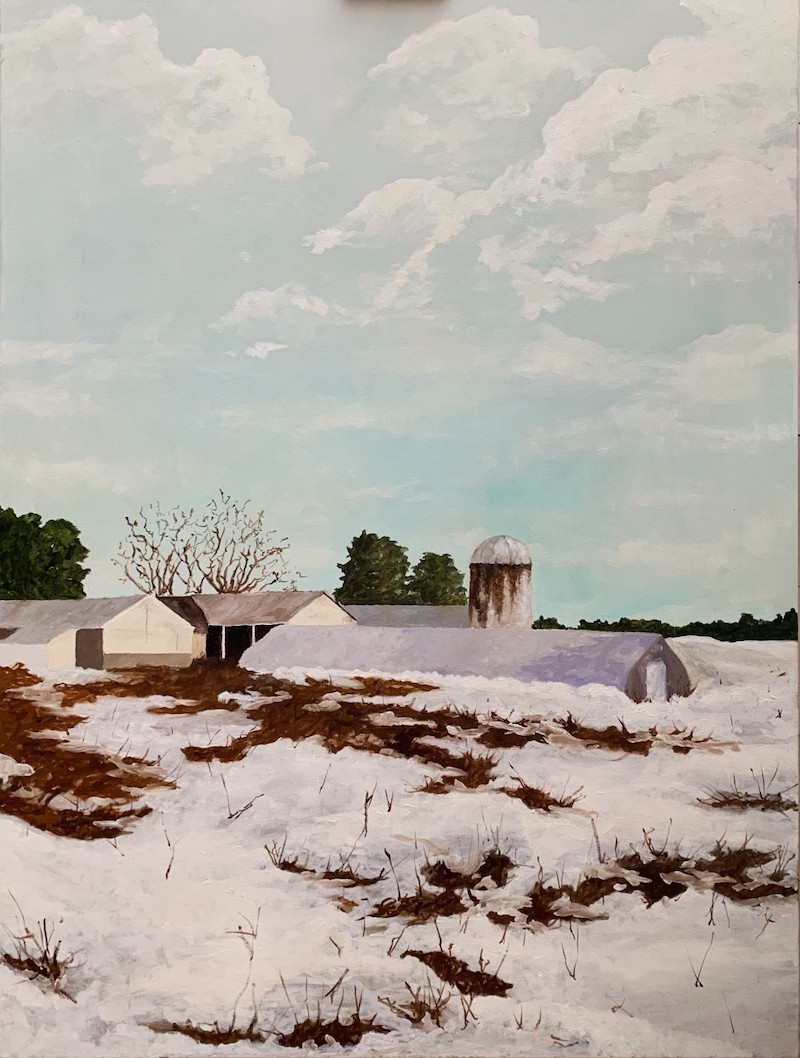 They're among a group of ten local students—from Southern Maine Community College and Brunswick High School, as well as Bowdoin—who are contributing original works of art.
The students' large paintings will adorn empty storefront windows in Merrymeeting Plaza to attract the attention of passersby to retail spaces available to rent, according to Susan Weems, who is the president of the nonprofit Brunswick Public Art.
Brunswick Public Art is working with the developer of the plaza to organize a public opening for the paintings on September 1, from 3:00 p.m. to 5:00 p.m. Everyone is welcome to attend the celebration, which will be held outside with live music by Tyson Weems '00. Social distancing and mask wearing are required. 
The prompt for the artwork was "historical Brunswick," Weems explained, in honor of Maine's bicentennial this year. The students interpreted this cue widely, and painted sculptures, buildings, or downtown scenes.  
Betts's painting is of Crystal Spring Farm on the cusp of spring. Patches of luminescent snow reveal the contours of the land, and the farm's buildings rise out of the earth almost as if they are part of nature.
Betts said it is his first large-scale studio painting; he typically focuses on sculptures and woodworking. After Weems asked him whether he would like to do a piece, he chose to paint the farm, which once was a dairy operation and is now an organic farm held in trust and an active community space.
Once he had chosen his subject, he hiked the trails around the property in late March. Both the silo and snow inspired him. "It captures the feeling of spring," he said. 
For one of the two works she will donate to the town, Dranow is painting a scene based on an old black-and-white photograph she discovered in the archives of the Pejepscot History Center.
The photo shows three men standing outside Miller Meats, a long-gone butcher shop on Maine Street. It was probably taken in the late 1800s or early 1900s. "I loved how sincere and staunchly Maine it was," Dranow said. "I love the positions of the men's bodies; I love how proud they seem of their shop." 
Her second piece will be a more abstract landscape of a local view. Several of her large-scale landscapes, which have been featured in galleries around the country, are of scenes in and around Brunswick. Since coming to college, she said she's fallen in love with the area's beauty. "I've been inspired by the Maine coast," she said.
Betts and Dranow are part of a growing number of Bowdoin students who have been commissioned by Brunswick Public Art in recent years to work on art for prominent sites around town. In the past, students have created colorful banners for the exterior of the local grocery store, painted a large mural of the town green on a busy summer day, and built nature-infused panels for a bridge over Coffin's Ice Pond.
Besides donating his painting to the public art organization, Betts, who is visual arts major and a math minor, serves on the Brunswick Public Art's board, a position he's held since last September.
"I am really into big sculpture and how it reflects the culture of a town, city, or community," he said. "I know there is a lot of art in downtown Brunswick and I wanted to be involved in the process of soliciting artists and finding spaces for art."
To support her work for Brunswick Public Art this summer, Dranow received an Employment Accelerator Award from Bowdoin's Career Exploration and Development office. The program was created to aid recently graduated seniors as they attempt to launch careers during the pandemic. 
Dranow, who was visual arts major and history minor, said she has appreciated working on art specifically meant for the public. "In addition to doing commissions and getting paintings into galleries, it is really gratifying to do something for the community," she said. "I feel like doing this for Brunswick Public Art is one way for me to give back to Brunswick and to Bowdoin."