National Honors for Sociologist Theo Greene
By Tom Porter
For many, 2020 has been a year to forget. But, amid the pandemic-induced woes, there are success stories. For Assistant Professor of Sociology Theo Greene, this year has so far provided what he calls "an embarrassment of riches."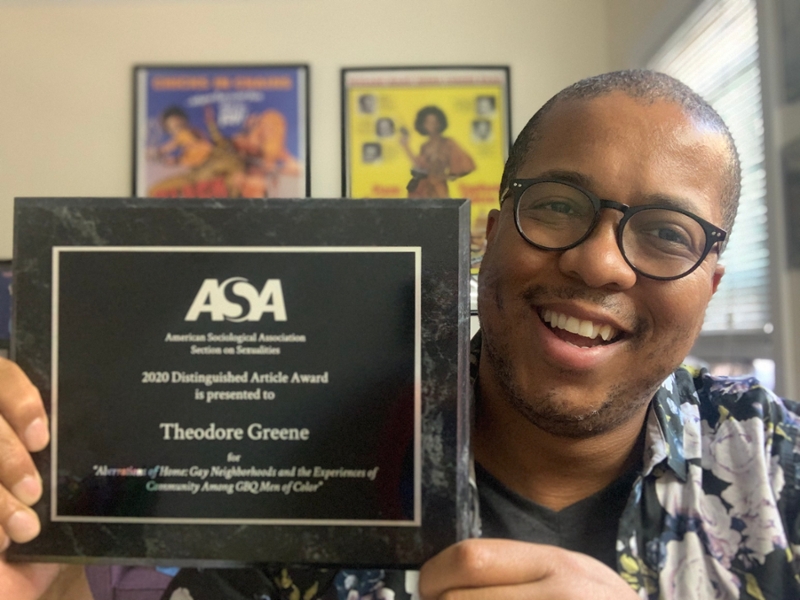 In May, he was officially awarded Bowdoin's prestigious Sydney B. Karofsky Prize for Junior Faculty in recognition of his teaching. Less than three months later, Greene was honored by the American Sociological Association for an article he submitted to an academic journal.
At the association's recent annual meeting, which was held virtually, Greene was formally given the Sociology of Sexualities 2019 Distinguished Article Award. The prize-winning chapter is called "Aberrations of Home: Gay Neighborhoods and the Experiences of Community Among GBQ Men of Color" and is featured in the edited volume The Handbook of Research on Black Males (East Lansing, Michigan University Press).
The chapter uses ethnographic and interview data collected in Washington, DC, and Chicago to explore the experiences of gay, bisexual, and queer men of color in gay neighborhoods, said Greene. "It highlights a paradox," he explained. "Gay men of color endure racial profiling, sexual objectification, and hyper-criminalization by local residents, yet they strongly identify with gay neighborhoods as one of the few spaces where they can freely express their sexualities. Their participation in gay neighborhoods contributes to the persistent value of iconic gay neighborhoods, even as scholars identify factors that suggest their decline," Greene added.
The citation for his award states how Greene's work "engages a population understudied in our field: middle-class, gay, bisexual, queer (GBQ) men and their experiences living and socializing in predominately white gay neighborhoods. Greene shows how GBQ men of color's glaring absence from the canon on gay spaces stems from their unrecognizability in society outside of a stereotype."
"We are so fortunate to have Theo as a member of our department!" said Associate Professor of Sociology and Chair of the Sociology Department Ingrid Nelson. "Theo's teaching is characterized by candor, humor, rigorous analysis, and meaningful connections to our contemporary social world," she added. "His research on gay neighborhoods makes an important contribution to the field of sociology of sexualities," said Nelson, while his receipt of the Karofsky Prize "highlights how much our students learn from and adore Theo's teaching."
Pamela Zabala '17 is a former student of Greene's and currently a PhD candidate in Duke University's department of sociology. "Professor Greene's recent accolades and recognition only confirm what many of us already knew: he is a gift to the Bowdoin community," said Zabala. "His passion for teaching and mentorship, as well as his sense of humor and  compassion, are unparalleled, and I am grateful to have had the opportunity to learn from him during my time at Bowdoin and even during my graduate career."
Read Greene's prize-winning chapter "Aberrations of Home: Gay Neighborhoods and the Experiences of Community Among GBQ Men of Color."
In February 2020, Greene delivered the Karofsky Common Hour lecture. The talk was titled "Making Dupont Gay Again: Place Reactivation and the Rise of the Vicarious Citizen." Gay neighborhoods are changing, he observes, but this doesn't necessarily mean they're disappearing.
Published August 28, 2020