Published August 25, 2020 by Tom Porter
Bowdoin Students Enjoy a Virtual Internship with NOAA
Clara Benadon '23 and Lucie Nolden '22 have spent the summer interning with the federal agency responsible for environmental conservation. They both enrolled in the Undergraduate Internships in Diadromous Ecosystem Research Program, operated by the Northeast Fisheries Science Center, a unit of the National Oceanic and Atmospheric Administration, or NOAA.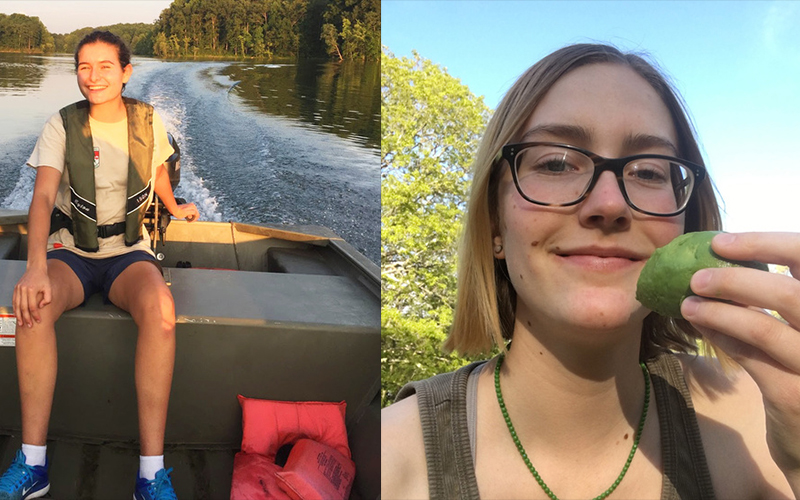 Working remotely due to the pandemic, they have explored how dam policy on Maine's Penobscot River affects fish health. "I'm analyzing a contentious hydroelectric relicensing project that has degraded natural resources in tribal waters," said Benadon in a NOAA press release. "We hope to use the story we compile to help steer future policy decisions toward conservation," she added. Benadon, a biology major, says this is her first experience in the field of environmental policy. "It's been so rewarding to expand the scope of my marine knowledge from data-driven research into real-world conservation efforts," she said.
Nolden, who is majoring in earth and oceanographic science and religion, has been focusing on the impact of Penobscot River dams on Atlantic salmon egg quality. "I've been analyzing egg-size data," she explained, and comparing those data with other factors, including egg numbers and water temperature. "The results will inform the construction or removal of hydropower projects and fishways on the Kennebec and Penobscot Rivers," she added. Nolden said she's enjoyed learning how to play with data in RStudio and visualize the real-life relationships between different variables using graphing and statistical tools.