Published July 08, 2020 by Rebecca Goldfine
Anthropology Major Brooke Vahos Researches Aging in Maine
This summer Brooke Vahos '21 has a
Riley Research Award*
to investigate the contours of aging in Maine, a state that poses particular hardships for its senior citizens.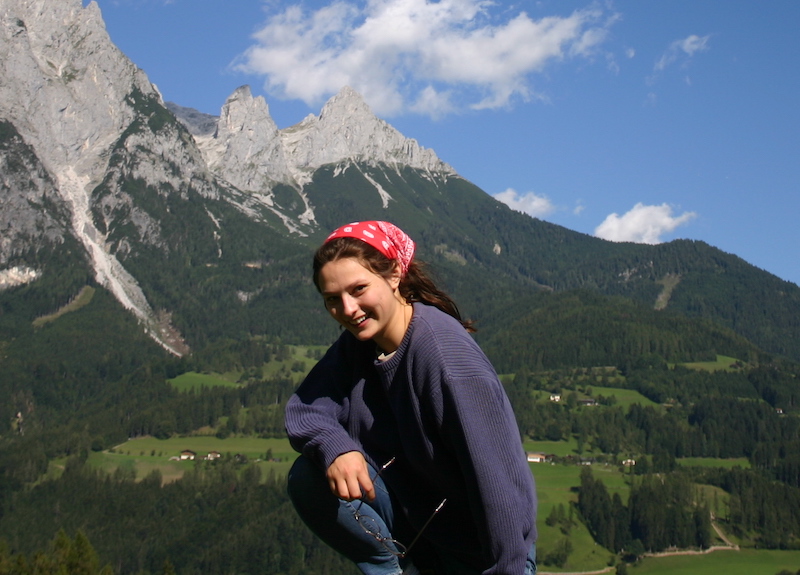 "Maine is the oldest state in America, and has geographical and political limitations that affect access to resources, including a shortage of workers in the home care industry," Vahos said. "My project looks at what it means to age in Maine—how is that different from other states and how is it affected by these limitations."
Vahos, an anthropology and gender, sexuality, and women's studies double major, first became interested in issues around aging when she worked with a 2018 campaign to ensure universal home care for Maine's disabled and elderly residents. That initiative failed at the polls, but "it got me interested in who deserves home care and what is a right, in terms of aging and disability in America," she said.
After this experience, she volunteered with Legacy Storytellers, a group of volunteers who spend time with people in the early stages of Alzheimer's to write down their stories for themselves and their families. "So I had a lot of interaction with Maine's elderly community, and it is a community that really inspired me," Vahos said. "And I thought there was more advocacy and understanding to be had about the issues they're facing."
Many of the problems seniors struggle with are influenced by class and race, as well as by location. The lack of robust health care, housing, or food programs can disadvantage senior citizens who are not well-off or who live in rural areas, Vahos said. In this way, social inequalities can become sharper as people age. 
But while aging can be extremely challenging, especially for those who are poor or middle class, Vahos acknowledged that growing older brings gifts, as well. "I also want to focus on the positive, which shows the strength in aging," she said.
"There is a lot of happiness and joy in getting older and coming to view yourself and the world in different ways as you age." 
Though she is only twenty, Vahos said some of the themes she's looking at relate to all phases of life, including her own, which is more often associated with transition and self-reflection. "Our idea of personhood changes through time as we get new jobs or hit new life markers, and this is acutely true for seniors as well," she said. "And it is really important because that impacts a plethora of things, like mental health and physical abilities."
In the first weeks of summer, Vahos is focusing on conducting a literature review about aging in America. She then plans to interview those who work with the elderly in Maine, as well as senior citizens themselves.
The goal of her summer research is to lay the foundation for an anthropology honors project. While she isn't pitching her findings as policy recommendations, Vahos acknowledged that anthropologists play a role in social change. 
From Vahos's research proposal: "The greying of America, and Maine in particular, is occurring at an unprecedented rate, a rate which has overwhelmed several primary areas of our country's social benefit systems such as healthcare, housing, and social security. The deterioration of these overburdened systems makes the aging crisis in Maine that much more acute due to Maine's mostly rural landscape, its declining young workforce, its rising closure rate of nursing homes, and its absence of professional caretakers. The obstacles seniors face in accessing services often exacerbates other issues—mental health, social isolation, and loss, to name a few. In researching the lives of seniors through the lenses of community and isolation, I want to understand how seniors attempt to mitigate the failings of the government through their own interpersonal and social networks. ...What can we learn about the particular kinds of networks seniors create and maintain? What can these senior communities tell us about the meaning of community in a time defined by technology, weakening intergenerational bonds, and increased social, geographical, and economic mobility? How might their practices extend our understanding of the meaning of community more generally?"
"By doing anthropology research, you are uplifting these voices that aren't heard or are misunderstood," she said. "I won't make direct policy suggestions, but hopefully this project can influence people on why this subject is so important."
Two of Brooke Vahos's favorite classes
Youth and Agency in Insecure Times, with Professor of Anthropology Krista Van Vleet: "That class was so wonderful! We talked about how youth are often perceived as being sponges of culture, the ones who are doing the learning and being taught things. And we flipped that idea on its head and we researched and read a lot about how youth create cultures and political movements and ideas and languages of their own that impact us as adults and the way we think and see the world."
Language, Identity, and Power, with Professor of Anthropology Krista Van Vleet: "This class explored how the language we use, and our tonalities or inflections...impacts our view on the world and how we interact with other people. It has helped me read between the lines when I'm doing anthropological research. It has attuned me to listen more closely to the ways people talk and what that shows about our culture. For instance, when people use certain words like 'personhood' or 'independence' or 'isolation' when we're talking about seniors—I pay attention to what words keep popping up and what does that say about what is important to this group of people."
*This summer more than 160 students are pursuing academic research and community-based fellowships. They receive funding from a variety of sources. In many cases the Center for Co-curricular Opportunities awards fellowships for independent faculty-mentored research projects. Individual departments and programs can also draw from their own funds to give awards to students. In addition, faculty members may use outside grant-funding to hire students on their research projects. Inevitably, due to the COVID-19 pandemic, research methods have to be modified in some cases this year. Nevertheless, many of these projects are likely to serve as a springboard for senior-year independent study or honors projects.