Published June 10, 2020 by Rebecca Goldfine
Sociologist Nancy Riley Discusses Impacts of COVID-19
Nancy Riley, Bowdoin's A. Myrick Freeman Professor of Social Sciences, was recently invited to Maine's public radio station to discuss the pandemic through the lens of sociology.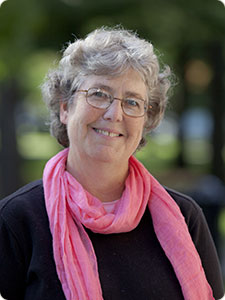 On a recent Maine Calling program, Riley and Bates College anthropologist Josh Rubin speculated on different ways our culture is changing due to the pandemic.
They spoke about the kinds of questions future social scientists might ask about our times, how people's assessments of risk might shift, and how new pandemic behaviors could affect social norms.
About halfway through the show, a retired parish minister and hospice chaplain called in to ask about the effect of ending social practices like handshakes and hugs, especially on solitary senior citizens or at milestone events such as funerals and weddings.
Our social isolation is not only heightened by the absence of this kind of contact, but Riley noted that we are also missing activities that bring us together in collaboration and production, like singing in a chorus.
"We are finding ways to substitute for them, but I don't think they are a full substitution," Riley said. "There are all kinds of communal connections that we are used to having and which make our life richer that we are unable to have now. So we can't hug—and we also can't produce in the same way."