Published June 17, 2020 by Rebecca Goldfine
Successes in a Hard Economy: Class of 2020 Job Outcomes
Though they are graduating into a recession, more than 40 percent of students in the Class of 2020 reported finding employment by June 5. Many others are using grants from the College to pursue short-term opportunities to build their skills and résumés.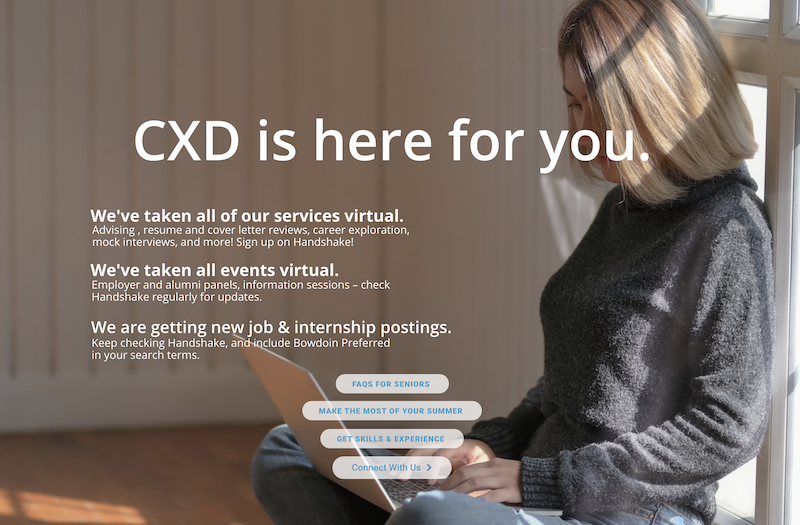 In the past four weeks, an additional thirty-two members of the Class of 2020 have been offered positions, putting the total tally of those employed—as of early June—at 205, or 43 percent of the class.
In more robust economic times, Bowdoin's senior class employment rate by graduation hovers around 60 percent. This year's rate is close to levels last seen in the 2008–2009 recession. For comparion, 46 percent of seniors in the Class of 2009 had secured jobs by the end of the academic year.
To help the Class of 2020 jump successfully into the workforce, many alumni, as well as Career Exploration and Development (CXD) staff, have gone into overdrive. Since the start of the pandemic, the "incredible Bowdoin alumni network" has shared almost two hundred and fifty "Bowdoin preferred" job openings for students, said CXD Executive Director Kristin Brennan. More than half of these have been for full-time jobs. 
Students, too, are putting effort into making opportunities materialize for themselves, and their efforts have been matched by the CXD. In the past three months, CXD staff have scheduled 20 percent more advising sessions with students than in a typical semester, and attendance rates at their recent events—all held virtually—have been twice as large, according to Brennan.
Additionally, to support those still looking for jobs, CXD set up a new Class of 2020 Employment Accelerator Program to award grants of between $250 and $2,000 to creative and entrepreneurial students who proposed projects to build up their skills and résumés.
CXD was able to offer an award to every qualified applicant, Brennan said, for a total of ninety-seven awards. Thirty-seven students used the funds to enroll in Harvard Business School's CORe class, which teaches fundamental business skills to liberal arts students. Five applied for money to gain technical training, for instance to work as an EMT, doula, or technical music producer.
Fifty-five students applied for grants to pursue independent projects, like film editing, or to accept short-term internships in fields ranging from policy, business, and the arts to social services, science, and medicine.
For this program, too, alumni have been generous. A number of gifts between $1,000 and $12,500 were made in just one week to support the fund, Brennan said.
And CXD staff will not stop helping the Class of 2020 for quite some time. They have pledged to continue offering their advising services to class members for as long as needed, and will continue to share twice-weekly job bulletins through June and possibly into the fall.