Playwright Tina Satter '96 Wins Guggenheim Fellowship
By Tom Porter
Tina Satter '96 was on a roll when the world went into lockdown. She was preparing to take her acclaimed play Is This A Room—a dramatized transcription of a real-life FBI interrogation—on a national and world tour for two and a half months, traveling to Australia and Europe, as well as the US.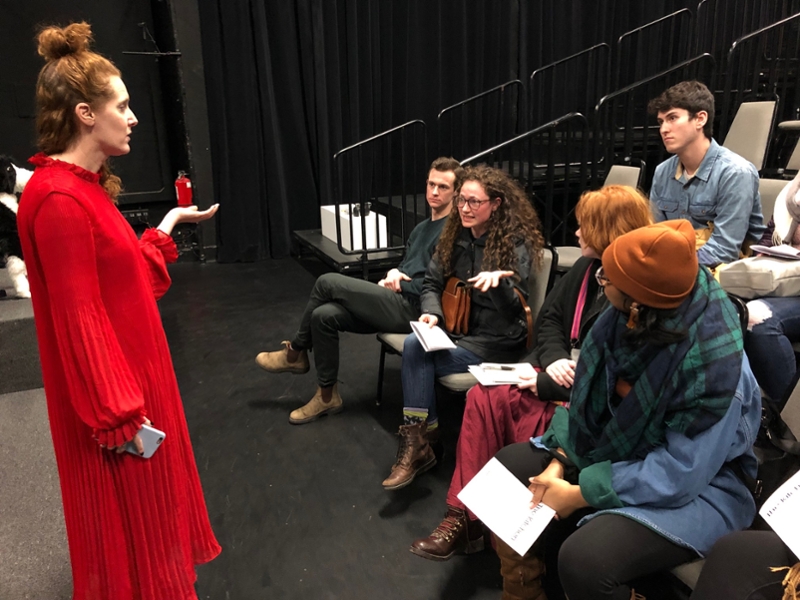 "It got canceled, of course," said Satter, talking by phone from her New York City apartment, where, like many of the city's residents, she and her partner are enduring self-isolation. The ordeal was sweetened somewhat, however, when Satter learned last month she was one of 175 recipients of this year's John Simon Guggenheim Fellowships, chosen from a pool of nearly 3,000 artists, scholars, and scientists.
"To get the Guggenheim was such a huge honor," she said. "Since I started working seriously as an artist about twelve years ago, many of my heroes and mentors and people I looked up to had received it, so to get this award is especially meaningful to me."
The fellowship, which includes a $50,000 grant, gives Satter more financial security to concentrate on her writing at a time when the future is so uncertain for many, not least those working in the arts.
"Creative brains are being forced to work differently, with more constraints."
One of the projects Satter is working on is a new play she has just started, partly inspired by her time as a student athlete. "I grew up in New Hampshire, and when I went to Bowdoin I was a really serious field hockey player. The protagonist in my play is an assistant field hockey coach in a small town in New Hampshire." An English major while at Bowdoin, Satter also has other projects on the go, including some online teaching ("I recently did a playwriting workshop on Zoom, which was actually quite fun"), and an upcoming Zoom panel to discuss Is This A Room, as well as other writing projects.
Amid the uncertainty created by the pandemic, said Satter, many arts organizations and content producers like her are trying to reposition themselves to offer online content. "Creative brains are being forced to work differently, with more constraints," she explained.
"Consequently, a number of weird, pandemic-related projects are popping up, often in the form of short 'home movie type' videos shot in people's apartments, so we'll see what comes of all this. Despite the crisis," she added "the wheels of the larger arts machinery are still figuring out how to move forward."
---
Tina Satter is an Obie-winning writer and theater director. She is artistic director of the New York-based company Half Straddle, where she's written and directed ten plays presented in the US and abroad.
Published May 03, 2020