Published May 18, 2020 by Bowdoin News
Bowdoin to Celebrate the Class of 2020 May 23
Bowdoin will hold a special celebration for the Class of 2020 online Saturday, May 23, 2020—the day the College would have celebrated its 215th Commencement—and plans to hold an on-campus ceremony and related celebrations in May 2021.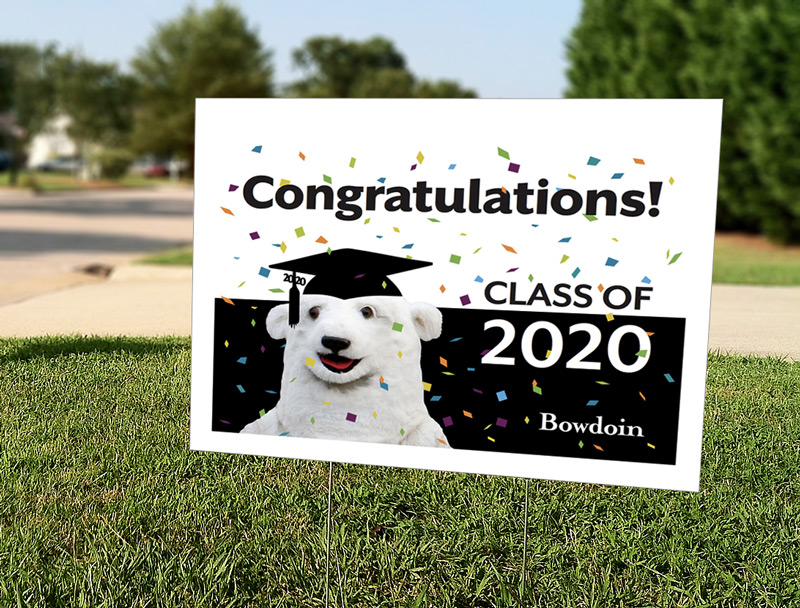 "While this will not be the Commencement on the Quad we all wished for, it will be a memorable and historic event," says President Clayton Rose. "We will gather virtually to celebrate the achievements of the Class of 2020 with pride and to welcome them as alumni of the College."
The program, which was put together with ideas and preferences submitted by the class and with input from the Senior Class Council, will be streamed live at both bowdoin.edu/live and on Bowdoin's Facebook page. A recording will also be posted on the College website later in the day.
The event will begin at 12:45 p.m. EDT with a slideshow of student photos, and the official program will start at 1:00 p.m. and will feature the following elements:
Thorndike Oak Toast
Welcome (President Rose)
Invocation (Eduardo Pazos Palma, director of the Rachel Lord Center for Religious and Spiritual Life)
Remarks (President Rose)
A Message to Graduates and Their Families (Angel Ramirez '20, senior class president)
A Selection of Congratulatory Videos from Faculty and Staff
Conferring of Baccalaureate Degrees (President Rose and Robert F. White, chair of the Bowdoin College Board of Trustees)
"Raise Songs to Bowdoin" (George Lopez, Robert Beckwith Artist-in-Residence, piano) accompanied by a rolling list of graduates, followed by a closing slideshow
The program is expected to be about thirty minutes long.

The graduating class comprises 473 students, forty-six of whom are from Maine. Forty-three states, the District of Columbia, and Puerto Rico are represented, including Massachusetts with sixty-eight students, New York with fifty-four, California forty-seven, and New Jersey and Connecticut, each with thirty-four. Graduating international students represent thirty-two countries and territories.
Visit the Class of 2020 Celebration pages for the virtual schedule, Zoom backgrounds, downloadable signs, and materials for social sharing.
Planning for the College's on-campus ceremony and related celebrations will be done in concert with members of the Class of 2020, with everyone having a chance to provide suggestions to help craft what this will include.