Published May 07, 2020 by Rebecca Goldfine
Ayana Harscoet '21 Wins Udall Scholarship for Her Commitment to the Environment
Ayana Harscoet is one of fifty-five scholars this year to receive a Udall Undergraduate Scholarship.The awards are given to sophomores and juniors for their exemplary leadership, public service, and commitment to Native American or environmental issues.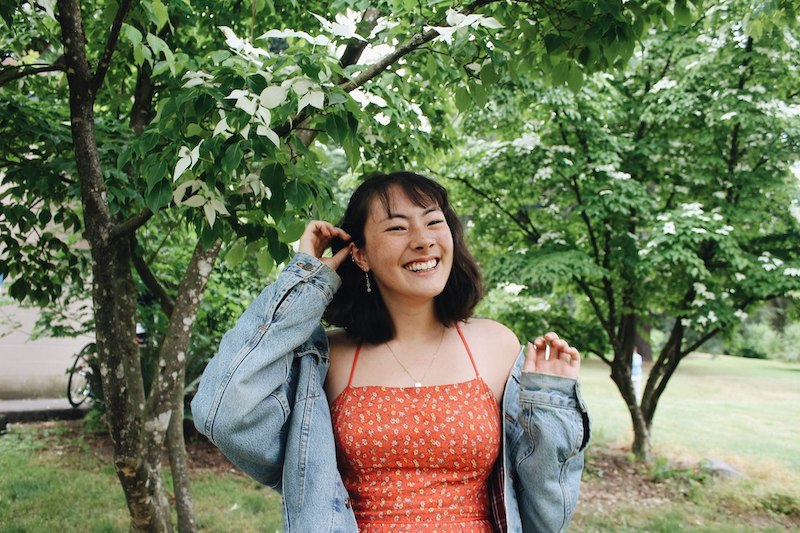 The scholarships include funds of up to $7,000 to help cover tuition costs, and all scholars are invited to a five-day conference to learn new ways to collaborate and build community with others working on environmental and tribal issues.
As an environmental studies and biology major, Harscoet has focused at Bowdoin on ecological research. She has presented her research on changing predator/prey relationships in a warming ocean at an international benthic ecology conference, and she's assisted a Bowdoin professor's investigation of bumblebee behavior and nectar chemistry.
Yet, beyond her academic specialization, Harscoet's work for the environment has been far-reaching. "I have a multifaceted way of engaging with these issues—conservation, ecology, and the environment," Harscoet said. "That is what defines my engagement."
"No matter what, I'll be driven by my desires to connect people to nature, to improve scientific literacy, to fight the climate crisis, and, above all, to conserve the health and future of our most endangered communities and ecosystems." — Ayana Harscoet '21
In recent years, as she has delved deeper into ecological research, conservation work, and climate activism, Harscoet has reflected more on environmental justice, and how environmentalism must include people from all backgrounds to be successful.
"Something I think about a lot is who has historically been most involved in this field," she said, "and the ways people's identities and backgrounds shape what fields they are comfortable in, and whether they feel they can access the outdoors or ecological fields." 
Harscoet, who is biracial and grew up on the West Coast, said that as a child she never saw anyone who  resembled her doing the things she was interested in doing. And "if kids don't see people who look like them, they don't think they can be the ones who go into the jungle and collect butterflies."
So education is also important to her. But due to her many interests—including writing (she's an English minor)—Harscoet is not quite sure yet where she wants to land in her career. And she views this "professional uncertainty" not as a weakness but rather as a "mark of infinite possibilities."
She can see herself in science communications—"writing articles or producing podcasts that translate scientific findings to the general public"; or pursuing graduate school in urban wildlife ecology to research and teach; or furthering her work in climate justice and environmental advocacy, reaching out especially to marginalized communities.
"That is important to me, to make sure this field begins to reflect more and more the diversity of our society," she said. "I want to support people who come from backgrounds that haven't been represented in conservation, but really want to get into the field and make a difference."