Published February 14, 2020 by Samara Nassor '22
Politics and Media: Washington Post Reporter Kevin Sullivan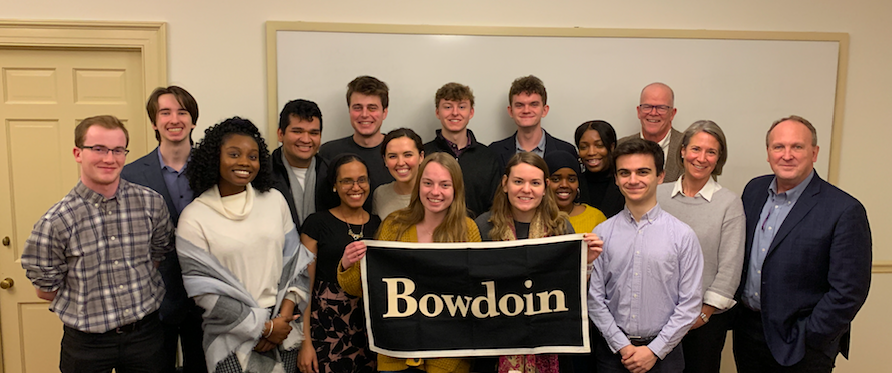 Misleading information is an occupational hazard in today's information-saturated online world. Sullivan told students that he battles this ordeal by doggedly finding reliable information for his readers. 
Before landing at the The Washington Post, Sullivan worked at The Providence Journal in Rhode Island and Gloucester Daily Times in Massachusetts. He was a Post foreign correspondent for fourteen years, then served as chief foreign correspondent, deputy foreign editor, and Sunday and features editor. He has reported from more than seventy-five countries on six continents.
Sullivan is the coauthor of Hope: A Memoir of Survival in Cleveland, a No. 1 New York Times bestseller in 2015, and The Prison Angel. He contributed to Trump Revealed, the Post's 2016 biography of Donald Trump, and to Nine Irish Lives. Sullivan graduated from Brunswick High School in 1977 and University of New Hampshire in 1981.
During his visit to Bowdoin, Sullivan gave a public talk at Kresge Auditorium before holding a seminar with Bowdoin Public Service students. He is one of seven public service professionals that BPS students are meeting with leading up to their one-week trip to DC during spring break.
During the seminar, Cole Van Miltenburg '22 asked, "How do you report on issues with emotional weight, such as high mortality rates in Sierra Leone?"
Sullivan responded: "You have to approach people as a human before you approach them as a journalist. Cases with great levels of emotional involvement require you to develop leather skin."
Sullivan is currently working on a book about the impeachment of President Trump. At times in his reporting, he has faced challenges from conservative politicians who sought to call into doubt his and his colleagues' credentials. He said such backlashes have only made his team's reporting skills sharper and their commitment to getting it right stronger. 
When Journey Browne '22 asked, "How do you deal with fake news?" Sullivan responded, "Fake news is a money-making operation. The people who do it are fueled by greed and fraud. This is why journalists in The Washington Post have fact-checking and editing operations."
Bowdoin Public Service in Washington Spring 2020 Seminars Agenda
Jan. 21: Introductions, vision, goals, outline for the program
Jan. 28: Foreign Policy, Susan Thornton '85, former assistant secretary of state for East Asian and Pacific affairs, US State Department
Feb. 4: Judicial Branch, Karen Walker '84, partner, Kirkland & Ellis, and Bowdoin trustee
Feb. 11: Media and Communications in Politics, Kevin Sullivan, senior correspondent, The Washington Post
Feb. 18: Legislative and Executive Branches, Rep. Tom Allen '67, former Maine first congressional district representative and former mayor of Portland; and Cal Mackenzie '67, Goldfarb Family Distinguished Professor of Government (retired), Colby College
Feb. 25: Environmental Policy, Dave Wilby '91, president, Wilby Public Affairs
Mar. 3: Cybersecurity and National Security, Jessica Brooks '07, CFIUS Advisor, Office of the Secretary of Defense
Mar. 7: To D.C.