Published February 11, 2020 by Rebecca Goldfine
Environmental Hip-Hop Rapper Colby Santana '23 is a 'Recyclepath'
Colby Santana '23 and a few of his friends from Cumberland, Maine, formed the eco-band, The Sustainers, last year to have fun while writing songs that urge people to take action on the environment.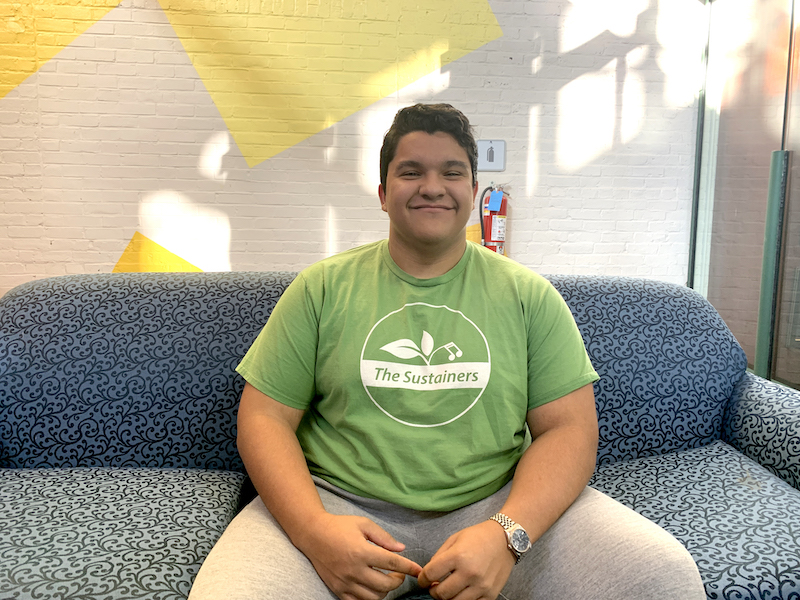 So far, The Sustainers have composed songs that touch on topics like recycling, overfishing, pollution, and climate change. 
The lyrics are poetic, abstract at times, and sometimes dark, veering from criticism of the greed and lack of foresight that has led to melting glaciers and permafrost's "drunken trees," gloomy forebodings of where the world is headed.
But Santana, who is the lead songwriter (aka Lil Eekomane), also weaves into the lyrics hope, humor, and lots of wordplay to lighten the message. 
In the band's song about recycling, Santana admits in the verses that though his morality is "busted" and his faith has soured to cynicism, he is still an ardent believer in the mantra "recycle, reduce, reuse," and that he's a "recyclepath on the loose."
In the tune "It Ain't Easy Being Wheezy," about air pollution, the asthmatic wheezes of the increasingly frenetic singer turn into the beats of the song. A few lines assert, "Ain't caught a breath, caught a beat...Screw our economy, corporate autonomy/Focused on quantity, rather than quality/of life."
Santana says he loves puns, and they pop up everywhere. The title of The Sustainers' song "Iced Out," about climate change, is a play on the same phrase used by rappers to describe someone laden with diamonds and other jewelry. 
"More or less, we formed The Sustainers to have fun, but after our first song ["Blue Skies"] I realized I liked writing environmental hip-hop," Santana said. 
Environmental hip-hop allows him to address issues that "are depressing and chaotic" with creativity and positivity. "What you really need to do is give people a reason to like sustainability, which is what our songs are doing. When you give them a listen, you're ingesting the ideas and our love for the environment," he said.
Last spring, at the end of their senior year at Greely High School, The Sustainers put on their first performance for a crowd of about 200. They asked for donations for the Natural Resources Council of Maine. 
Though the bandmates—Edmund Paquin (aka Edminem), Grady White, and Cam Sarchi—have dispersed to different universities or gap-year programs, Santana says they'd like to continue making music together. 
They'll try to regroup over the summer because they've got more ideas for songs, including one that features a debate between people with antagonistic ideas about climate change. "And I really want to write a song about Greta Thunberg," Santana said. "That's in progress."