Published January 30, 2020 by Rebecca Goldfine
Bowdoin Celebrates Black History Month 2020
Each year for the month of February—and beyond—Bowdoin celebrates the achievements of black people in the United States with a full slate of events, from talks on history and social activism, to comedy, music, and art.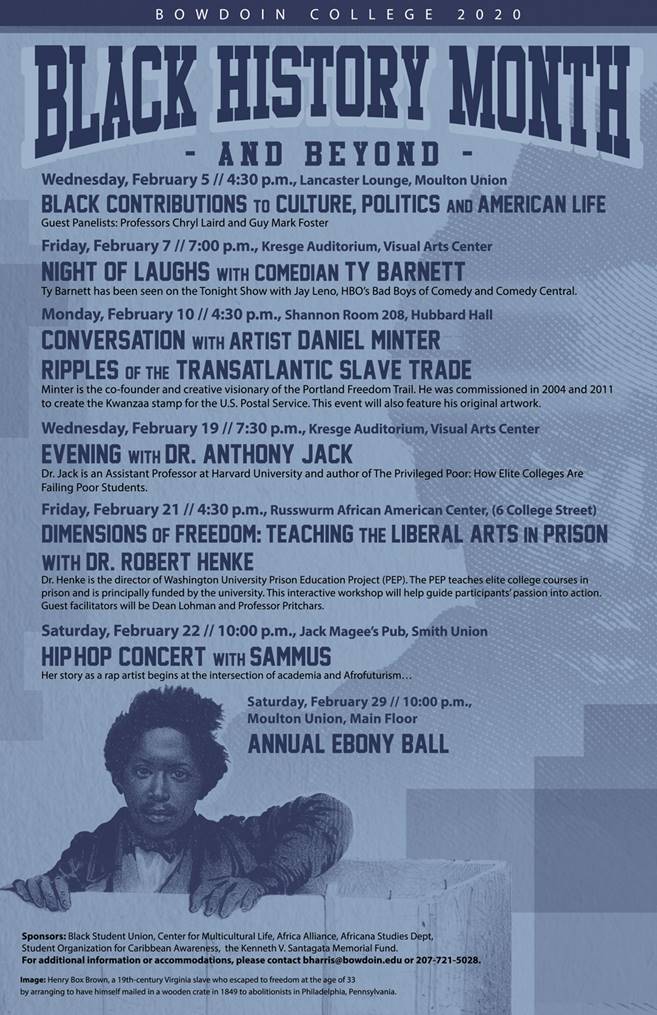 Black History Month at Bowdoin is always tagged with the words, "and beyond," because the events the College organizes to celebrate the contributions of African Americans in the United States extend beyond just the month of February.
Black History Month really begins with the College's annual Dr. Martin Luther King Jr. Commemorative Lecture, in January. This year, civil rights attorney and author Michelle Alexander gave the MLK keynote address, speaking about racial and criminal justice in the United States.
Later in February, Robert Henke, who is a drama and comparative literature professor and the co-director of Washington University's Prison Education Project, will return to the topic of criminal justice with a talk on teaching the liberal arts in prison.
February events kick off with a panel discussion by two Bowdoin professors, Chryl Laird and Guy Mark Foster, on "Black Contributions to Culture, Politics, and American Life." Laird is assistant professor of government and Foster is an associate professor of English.
Two Black History Month events will be performances. On Feb. 7, comedian Ty Barnett will do stand-up in Kresge Auditorium. A couple of weeks later, rap artist Sammus will give a performance "at the intersection of academia and Afrofuturism." Besides making music, Sammus (whose non-stage name is Enongo Lumumba-Kasongo) is also a scholar: she earned a PhD from Cornell University and is currently a postdoctoral fellow at Brown University's Depart of Music and Cogut Institute for the Humanities.
On Feb. 10, painter and illustrator Daniel Minter, who lives in Portland, Maine, will give a talk and feature some of his artwork. He is a cofounder of the Portland Freedom Trail, a self-guided historical walking tour that peers back into the city's Underground Railroad and abolitionist movement. He was also commissioned in 2004 and 2011 to create Kwanzaa stamps for the US Postal Service.
A talk on higher education will be presented by Harvard professor Anthony Abraham Jack, on Feb. 19, on topics discussed in his book, The Privileged Poor: How Elite Colleges are Failing Poor Students, published by Harvard University Press.
Finally, Black History Month concludes with one of the College's best parties of the year, the annual Ebony Ball, on Feb. 29 in Moulton Union.