Published January 27, 2020 by Julius Long '22
Honoring MLK, Bowdoin Visitor Speaks on Protest Movements and Mass Incarceration
For its annual Dr. Martin Luther King Jr. Commemorative Lecture, Bowdoin invited highly acclaimed civil rights lawyer Michelle Alexander to speak on mass incarceration and prison reform.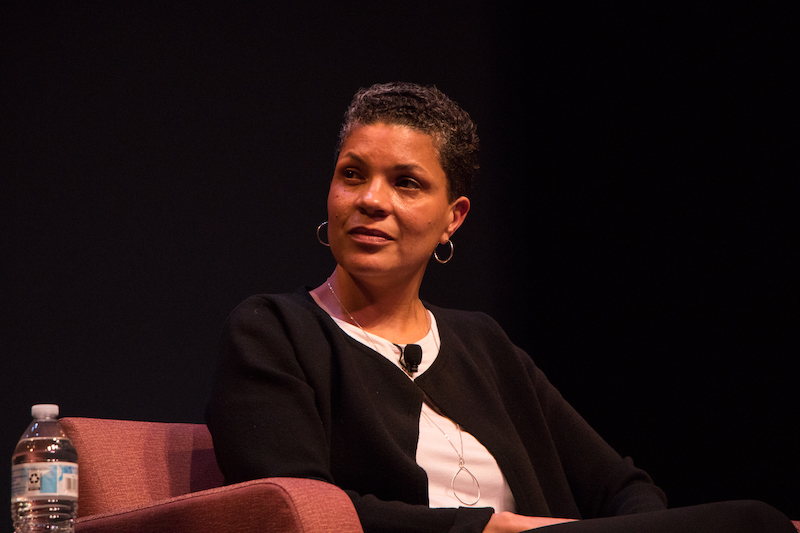 Alexander delivered her address on the tenth anniversary of the publication of her award-winning book, The New Jim Crow: Mass Incarceration in the Age of Colorblindness. Her work has largely been credited with bringing prison reform to the forefront of national politics and challenging the idea of American post-racialism.
Led by Ariana Smith '21, the evening began in song, with the lyrics of "Lift Every Voice and Sing" echoing in an overflowing Pickard Theater. Benjamin Harris, director of the Student Center for Multicultural Life, introduced Alexander and the two moderators: Tina Nadeau '01, executive director of the Maine Association of Criminal Lawyers, and Zach Heiden '95, legal director at ACLU Maine.
During the discussion, Alexander described some of the experiences she has had that have motivated her activism, and what it means to her to carry on the values that King inspired. For her, King's work and the work of the civil rights movement is not only unfinished, she said, it has only just begun.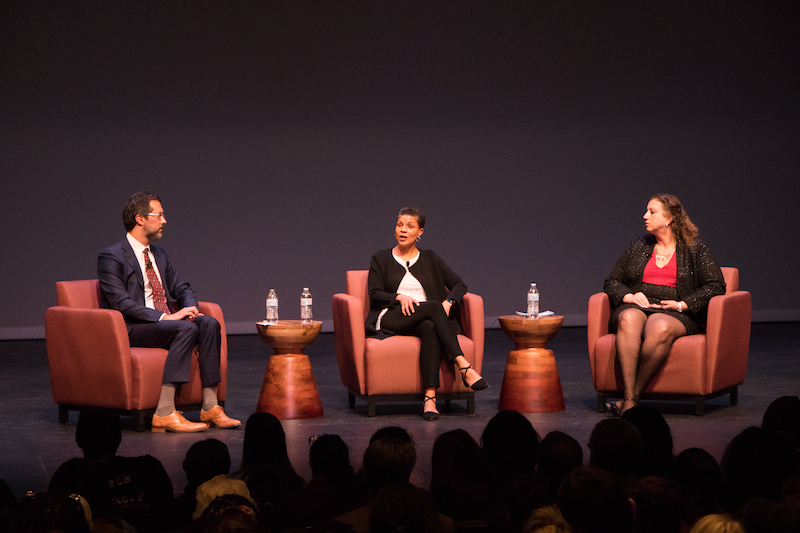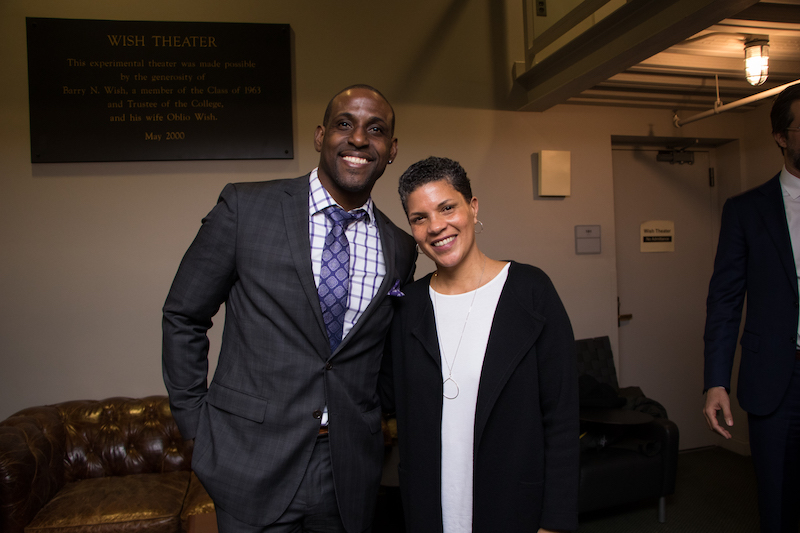 She reflected on King's message from his Riverside Church Speech, also known as the "Beyond Vietnam" speech. "Dr. King was calling for an actual revolution—a radical reimagining of our economic systems, our political systems, and our social fabric." The crisis of our democracy and the crisis of our justice system is still rooted, she said, in the systems of racism, materialism, and militarism that King repudiated in that speech.
"There's a way in which everything has changed and everything has remained the same," she said. "The basic politics of white supremacy have remained a constant throughout our nation's history. It gave birth to a system of mass incarceration, as well as a system of mass deportation, during a time when many of us thought our nation was color-blind."
Many bought into faulty mainstream narratives around the criminal justice system. It wasn't until Alexander herself reckoned with the scale at which young black men were being locked up and stripped of basic civil and human rights—many for the same nonviolent, minor drug offenses that are prevalent on college campuses—that she began to uncover and write about a new narrative.
She pointed out the irrationality of subjecting vulnerable individuals to further violence and trauma in prison with the expectation that upon release they will be better citizens.
"The prison boom has more to do with the politics of race than it has to do with any serious attempt to reduce harm and suffering in our communities," she said.
While Alexander has played a pivotal role in uncovering this fact, she said she doesn't think her book would have found the audience it did if it hadn't been for the acts of bravery seen in Ferguson and in protests throughout the nation.
"It opened up a conversation and a space for debate and dialogue that would have never existed if activists, academics, and policymakers all over the country didn't stand up," she said. "Those acts of courage and radical solidarity, even when the cameras go away, is what honoring Dr. King is about."
She added, "Even people who have been locked up and locked out have been capable of organizing incredible movements and impacted their communities in nearly miraculous ways."
Alexander closed her talk with a call to action: "We have to face our history and build movements that will shake the foundations of this country and help us to finally birth a truly inclusive, egalitarian democracy where every life truly matters," she said.