X is for Exploration
Published by Beth Kowitt '07. Illustrations by Dave Murray.
Students no longer "pick" a career when they pick their major, and the world changes so fast that, even if they did, they might need to adapt as soon as they graduate. What does this change, and many others, mean to a career planning office? The answer starts with a new name.
LAST FALL, Kristin Brennan—the executive director of what was then known as the Career Planning Center—sent a group of Bowdoin interns out on a special mission. New to the role, Brennan wanted to better understand the ways students perceived her office and why some shied away from it altogether.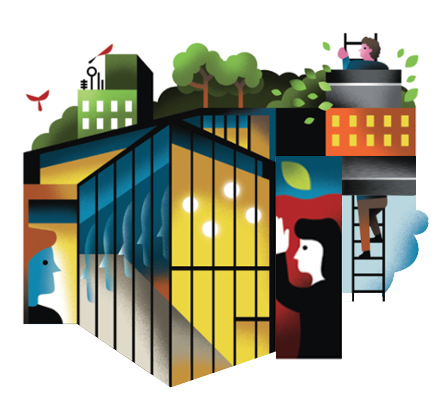 And so she tasked the interns with interviewing their peers to find out what stopped them from reaching out to her staff for help. The common thread that ran through feedback from the nonusers? The Career Planning Center made them anxious. "People often said, 'Thinking about my future stresses me out. I don't know what I want to do,'" says Elly Veloria, a current senior who worked on the project. But on a base level, what the Career Planning Center discovered was that its very name was intimidating.
"There's something about the word 'planning' that suggests that you're ready to plan," explains Brennan, "that you've got your grid and your pen and your notebook."
Brennan and her team set about testing different names that would send a signal to students that they were welcome in the office at any stage of the process, even if they were in the pre-pre-planning stages. They almost landed on "professional development," but feedback from students indicated that that terminology was too corporate, which also reflected an outdated image of her industry that Brennan is trying to break. "There's sometimes a coldness with the way people historically view a career planning office," she says.
In May, Brennan sent out an email to the student body, announcing that Career Planning had changed its name to Career Exploration and Development, or CXD. "As one scientist recently wrote about the letter 'x,' so popular among those who love technology, 'X provides some kind of imagination about the future, and the basic human curiosity motive to find out more,'" she wrote in her email. "We like the spirit of adventure and exploration that accompanies that explanation."
The rebranding is more than symbolic; it represents a major shift that's happening at Bowdoin as Brennan and her team push to stay ahead of employers' changing expectations as well as the ways that the very nature of work is evolving.
"There was a time when the career center was the place you went to in a panic for a very transactional relationship," Brennan says. Now CXD is attempting to transcend the traditional checklist that comes with the job hunt—the résumé and cover letter writing, the interview prep—although Brennan notes that those things will remain core to what they do. But instead, she says, CXD is doubling down on the exploratory work that starts the minute students step onto campus, helping them discover how what they enjoy and what they're good at could become a career for them.
"X provides some kind of imagination about the future, and the basic human curiosity motive to find out more."
The changes at CXD come amid broader societal discussions about the value of a liberal arts degree, and at a time when college continues to be a massive investment for students and their families. Brennan's staff says the pressure around finances and the obligation students feel to have a job lined up when they graduate are stronger than ever. The new strategy is meant to reconcile these two anxieties, broadcasting that readiness for life post-Bowdoin can actually enhance your four years at the College. "You free people up to go deep on these interesting disciplines and learn them for their own sake if, in parallel, they know they're gaining the skills to both gain a job and be job ready," says Brennan. Explains Bethany Walsh, associate director for skill development and programming, "We don't see what we're talking about as 'what's going to happen after college.'" She adds, "It's how do students make intentional decisions right now with how they navigate their time at Bowdoin."
Changing Perceptions
After Brennan took the position at Bowdoin, moving up to Maine from Massachusetts, where she'd been working at Harvard, she kept getting the same warning around campus. "Everyone would lean over and say, 'Psst, everyone thinks that this office is about finance and consulting.'" Brennan thought that busting this myth, which is one that pervades practically every college campus, would be easy. All she'd have to do is explain that those industries were just the most visible since those recruiters wear suits, an unusual sight at Bowdoin, and they also show up early in the year. "That actually totally did not work," she says. "They've heard that before. What we have to do is demonstrate something different."
One of the ways her office has started to put that into practice is with "Explore" events that in some cases highlight and elevate industries and companies that have not historically recruited or gotten much visibility on campus. CXD has also been using the "Explore" banner to break out of the traditional mold of a recruit- er simply standing up in front of a group of students and pitching their company. More and more, organizations are coming to campus not just to sell themselves, but rather to participate in skill-based or professional-development activities that help students think more broadly about the types of jobs and work environments that might be possible. So far, these "Explore" events are pulling in a broader range of students who would rather pick up some tips than just hear about why one particular company is such a great place to work.
For example, in September, CXD put together a tech week that included sessions such as a résumé workshop for non-tech roles from Google, and one from cloud software company Okta on how to crack the technical interview. Fidelity, which has historically always recruited at Bowdoin, switched things up by putting together a session on the importance of having an agile mindset.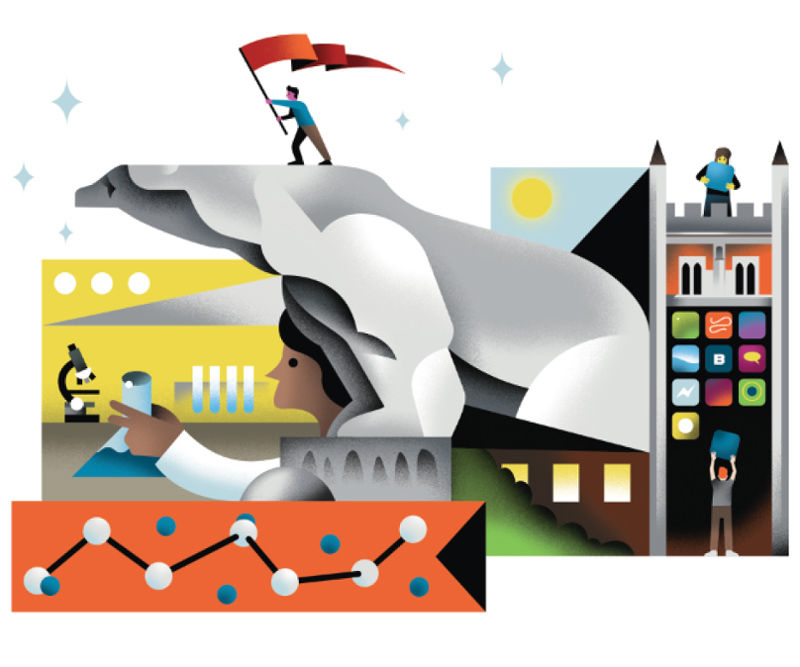 CXD's new director of employer relations, Sarah Cotsen, says that employers are happy to be part of something bigger. "They want to be exposed to as many students as possible," she says. She often hears from companies that they love Bowdoin students. "They're great, but I need to see more of them. They're doing the calculus of is it worth their while to make the trip," she explains.
One of those executives doing that calculation is Andy Palmer '88. Palmer has a seed fund in Cambridge and runs a machine learning and artificial intelligence startup called Tamr, which facilitated a session during tech week on selling your liberal arts degree to tech companies. Until recently, Palmer had never hired a lot of Bowdoin students. During the height of the tech boom, his startups were adding employees at such a fast pace, he couldn't afford to recruit at a place where he would end up with just one or two candidates. But now, enough students are coming out of Bowdoin that the time investment pays off. He recently paused to do the math and found that a good chunk of his employees are Bowdoin people—a level of Polar Bear hiring he says happened completely organically. "They're amazing team members," he explains. "They're interesting and have dimensions to them because of the other things they've studied."
Palmer says placing greater value on candidates with a broader skill set and intellectual perspective is a phenomenon he's seeing in the tech sector more widely. "It's a differentiator," he explains. "There's a real opportunity for the liberal arts. Take these people who are well-rounded, give them more technical expertise, and all of a sudden they're infinitely employable."
An Edge for Everyone
For years, the National Association of Colleges and Employers (NACE) has surveyed companies and other organizations to determine the deciding factor—major, GPA, etc.—when considering two otherwise seemingly identical candidates. It wasn't until recently that NACE decided to include internships on that list. As soon as it did, internships skyrocketed up to the number-one factor for employers. "The expectation that you'll do something that looks like work experience before you graduate has escalated," Brennan explains. Employers preferably would like students to have interned at their company, and, if not, a company that closely resembles it.
But taking an internship—many of which are unpaid or low paying—is financially out of reach for a lot of students. The internship issue is one that goes well beyond Bowdoin, but for a few years now, the College has been working to fund these types of summer experiences. CXD alone now offers more than one hundred grants every year for internships, and there are clear signs the College wants to expand this number even further. The Bowdoin Alumni Council, for example, funds two $5,000 internships annually. This past summer, one of those grants sent a student to Israel to work on an archaeological dig, and the other supported a psychology major who worked at the Maine Medical Research Institute with a research team and a clinical team studying and treating early psychosis.
The push toward access for all students is now pervasive in everything CXD does. "It's really important to me that we're addressing populations at Bowdoin that have felt excluded from CXD," explains Veloria, who is now in a newly created role of peer advisor. Sophomore Bootcamp is a prime example. Rather than encouraging students to take—and foot the bill for—courses on the practical skills employers are looking for, the intensive winter program brings that training to campus. The program targets sophomores so they'll be more competitive for those internships that employers now expect them to have on their résumés. "We want all students to have the same base knowledge," says Walsh, who is directing the bootcamp. "If you graduate from Bowdoin, you should be able to navigate basic career development."
"The program asks big questions like 'What does meaningful work look like for me?' and "What would you do if money were not an issue?'"
Sophomore Bootcamp launched last year in a pilot phase over three days for twenty students and is set to expand this year to two hundred students over five days. The program covers the nuts and bolts like writing résumés and cover letters, but it kicks off with core career development work—asking big questions like "What does meaningful work look like for me?" or "What would you do if money were not an issue?" This part of bootcamp is adapted from the framework known as "Designing Your Life," based on a book by Bill Burnett and Dave Evans from Stanford University. Last spring, Bowdoin sent an interdisciplinary team out to California to take a training course on the program, so they could bring it back to Bowdoin. Bootcamp attendees spend the last two days of the program in electives like public speaking, negotiation, and business skills. This year, the Portland iteration of the annual Bowdoin Connections event—in which current students and alumni gather in six cities around the country—is being moved to Brunswick to give students a chance to work on their networking skills.
To identify some of the skills gaps that the bootcamp program could focus on closing, CXD did a broad survey of the Bowdoin community. Some faculty saw the list, which included attributes like flexibility and adaptability, and recognized that students were already building some of these competencies in their classes. Students just needed to be equipped with the language to translate it to an employer. Take creativity and risk, two skills that are developed all the time in the theater and arts disciplines. Herein lies what Brennan views as one of the real long-term potential benefits of Sophomore Bootcamp: It's a chance to help develop a shared vocabulary on campus, which will let students articulate the things they're already doing in the classroom and in their extracurriculars to potential employers.
Brennan views education as a social justice effort—it's embedded in her background, with stints at Teach for America and the Harvard Graduate School of Education. So, when she says she wants CXD to be a place for all students, she truly means all. It's easy to reach most students well just doing what you've been doing, she explains, but you have to change if you want to reach the next set, who aren't engaging or finding you relevant. Sometimes that can mean more money and funding, but she says it's also the subtle things like making sure students interested in being, say, visual artists feel like there's a place for them for support on campus. "We reach so many people already," she says, "but it's important to have a place and culture where everyone feels like there's something there for them."
Beth Kowitt '07 is a senior editor at Fortune Magazine and is a member of the Bowdoin Alumni Council.
---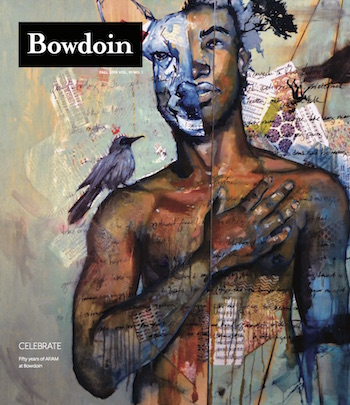 This story first appeared in the Fall 2019 issue of Bowdoin Magazine. Manage your subscription and see other stories from the magazine on the Bowdoin Magazine website.