College Students Discuss Politics with Rural Mainers (Spoiler Alert: It Went Well)
Published by Rebecca Goldfine
Bowdoin launched What Matters in 2015 to bring students, faculty, staff, and community members together on campus to discuss divisive issues in a collegial town hall-style manner. This semester, the program hit the road.
In October, about a dozen selected students piled into a van and headed to Richmond—a town of 3,400 people twenty minutes up the Kennebec River with a history of farming and shipbuilding—to discuss the topic of American values with roughly forty local community members. The group gathered at the local Grange hall with Craig Freshley—the meeting's facilitator and founder of Make Shift Coffee House, a nonprofit that arranges community conversations to help bridge the political divide. 
The discussion centered around American values and what people believed these to be. The two-hour conversation covered a lot of ground: the First Amendment, the Second Amendment, immigration, and Colin Kaepernick's protests. At times people's voices tightened with tension. Yet, overall, many people spoke their minds and explained their perspectives— from across the political spectrum—while others listened closely.
"It gave me hope," said seventy-eight-year-old Marilyn Stinson of Richmond. She helps run the Grange and offered to host the event there. "This country was built on compromise, and we need to be able to do that again."
The Richmond event was part of a two-night "What Matters Community Crossover" program to bring both students and local people with ideological—and age—differences together for a civil civic talk. The second conversation took place on campus on November 4, where the theme shifted to the role of government in America. This time, a van brought a bunch of Richmond people down to Bowdoin.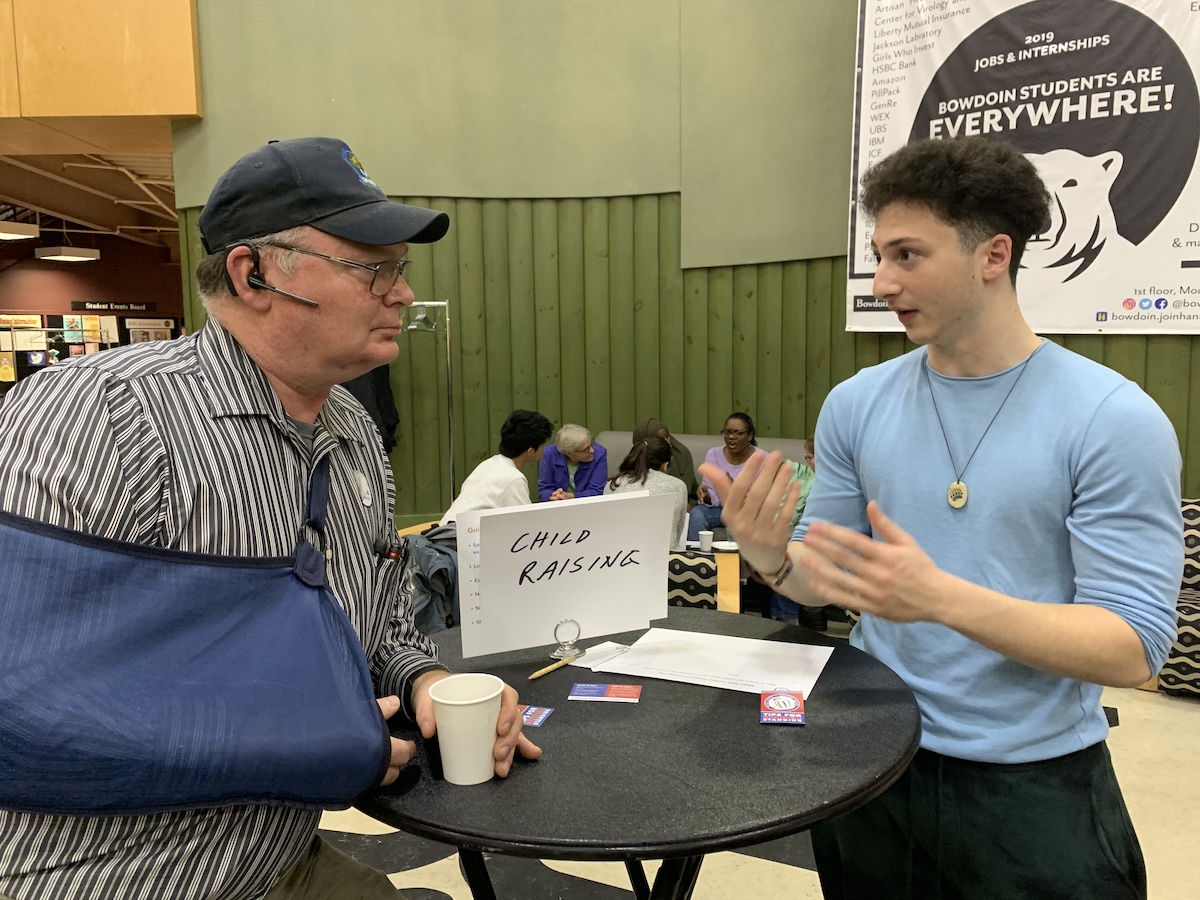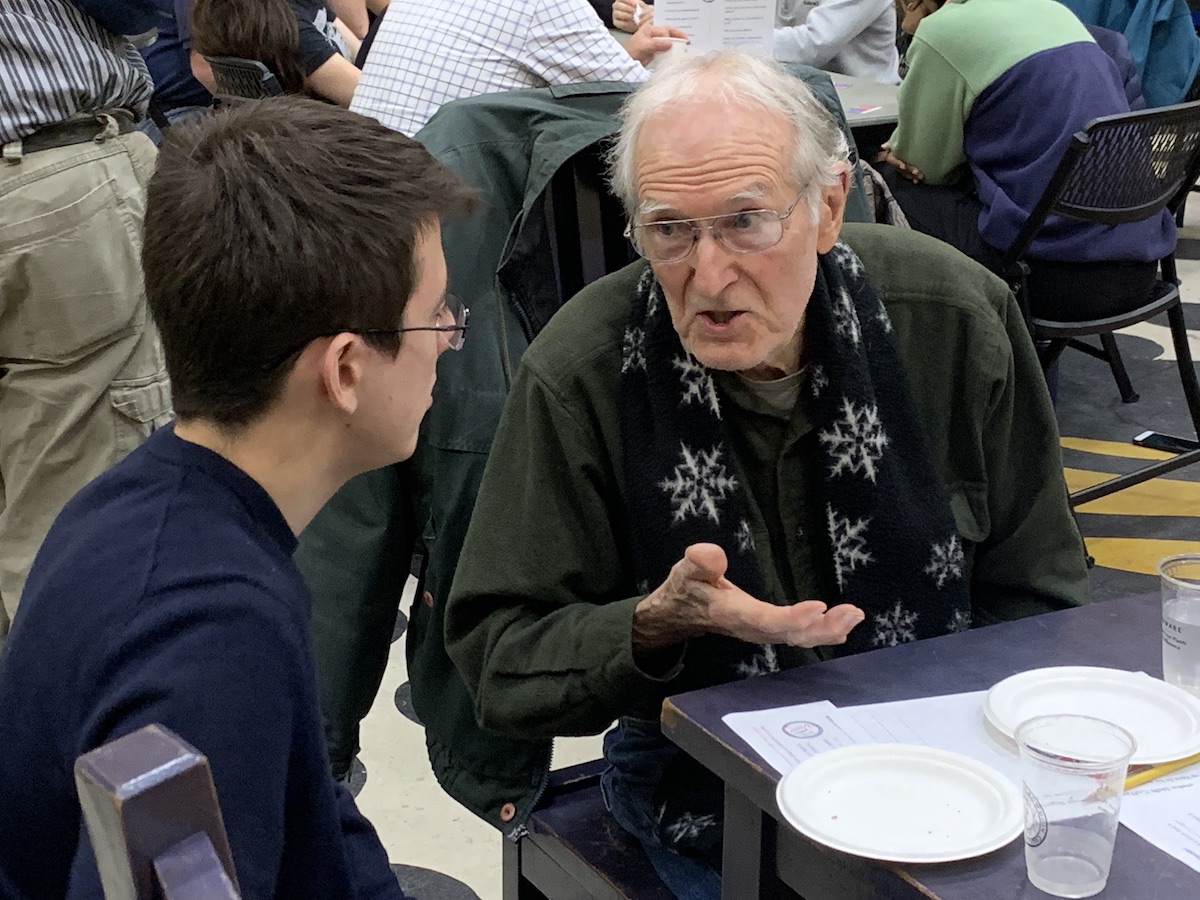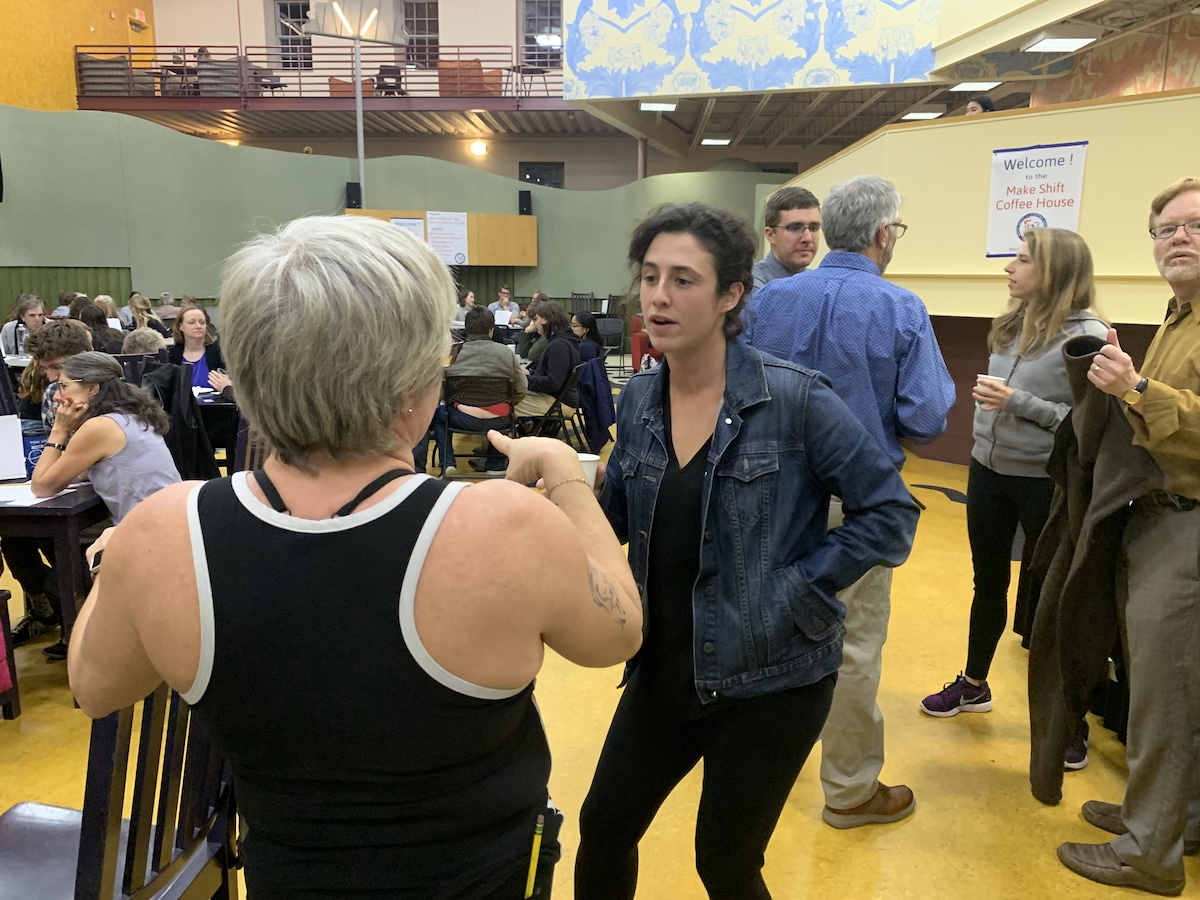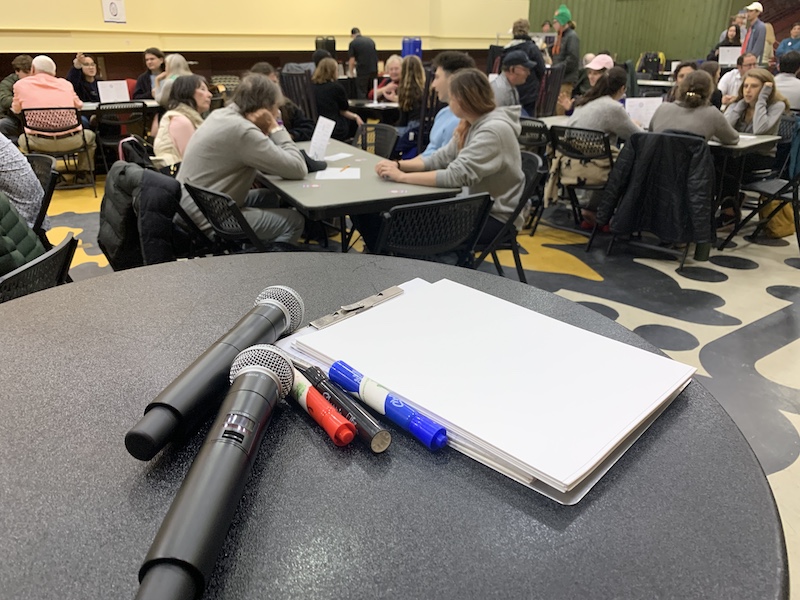 Freshley again moderated the event. Since 2016, he has held nearly forty of these types of discussions in communities around Maine, bringing people of opposing views together in one room.
"I realized how divided we are as a country, as a state, and even in many of our communities," he said. "And we're failing to understand where each other is coming from, and we're making a lot of assumptions about each other—especially in politics, and especially on the Internet and social media."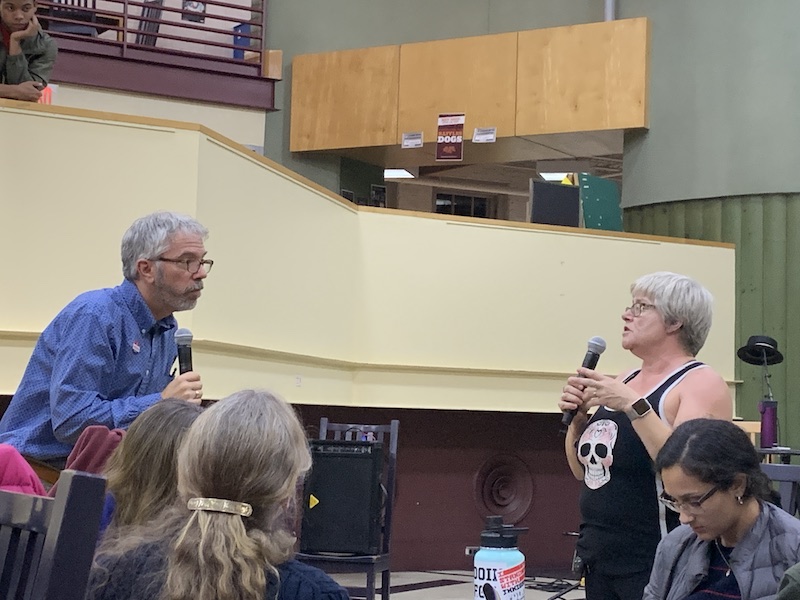 Conversations like these, he said, are "bucking some big national trends" by encouraging people to practice civility and to talk across party lines. "It lays a foundation for building consensus and coming to agreement on later issues. It's our little way of making peace and, in my view, helping to save our democracy."
The two-hour discussion at Bowdoin on November 4 touched on a range of issues, from the government's role in protecting its citizens to helping them thrive. From raising moral children to creating a livable, sustainable world for people now and in the future. After each speaker's comments, Freshley asked them to say where their views came from—what experiences in life had helped form them.
At the end of the evening, one woman said she thought the government's role should to be enable more opportunities "for conversations like this. We need to be creative in how we enable self-government." Another community member agreed. "This night is awesome," she said, "because we're opening up lines of communication in our towns. We're making history. This is what democracy is all about."
Inviting Richmond to the Table
The decision to invite local people to invest more time in the What Matters initiative was shared by both Freshley and the McKeen Center's Tom Ancona, who runs the College's program. The chance to engage with people outside of "the Bowdoin bubble" tends to galvanize students, Ancona said.
To make it work, Freshley set his sight specifically on Richmond. Politically and demographically, the town is quite different from Bowdoin and Brunswick. In the 2016 election, sixty percent of Richmond voters selected Trump. Yet when Freshley broached Richmond Republicans with the idea, they ran with it—persuading not only some of their own club members to participate, but a good number of their more liberal neighbors as well.
Arnold Stinson, Marilyn's son and a rigger at Bath Iron Works, joined both evening's conversations. A staunch conservative, he thinks the country's becoming too liberal, a view he's not readily going to abandon. But he added, "I am trying to understand some of the views that are being put out there. In order to understand what's going on and to fix it, we need to know what's going through the other person's mind—and I'm not a mind reader."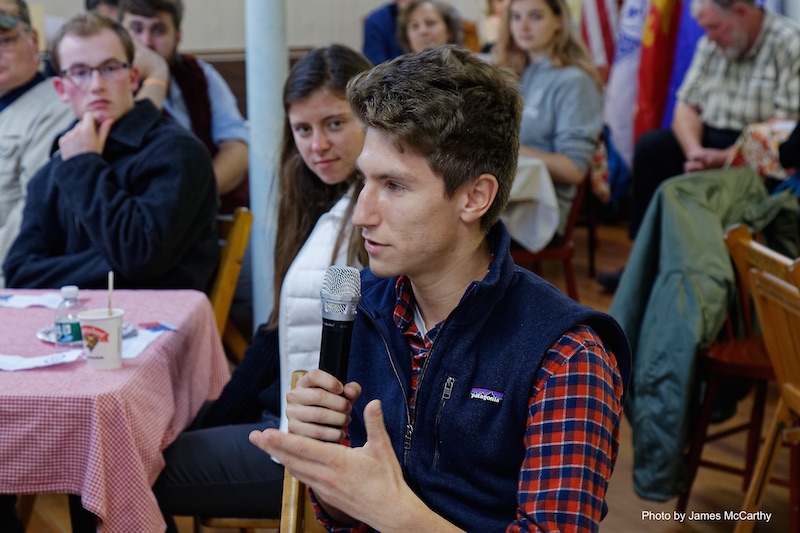 Leif Maynard '23, one of the Bowdoin participants, said he's interested in activism and community building. Despite holding stalwart liberal views, he learned from the program that engaging with the other side "doesn't mean you have to give up your political beliefs," he said. "It just means you have to give and receive empathy."
Melissa Magrath '22, who grew up in a liberal family in deeply red western Maryland, said the program's premise of "talking politics with friends and crossing the political divide" describes her life back home. "And I wanted to learn how to do this in a formal way."
Ancona designed the five-session What Matters schedule this semester to offer students new skills, ones they can practice anywhere, but especially at Bowdoin. One of evening sessions was dedicated to learning and practicing "the skills of civic discourse." Besides the two political discussions, the other nights were spent learning about the history of Richmond and reflecting on the entire experience. 
"The What Matters Community Crossover this year was a way for students who are passionate about conversing across differences have more of these conversations," Ancona said. "Not just in this group but across campus—to help develop a culture where students feel comfortable being part of these discussions."
Read coverage of the What Matters event in the Portland Press Herald.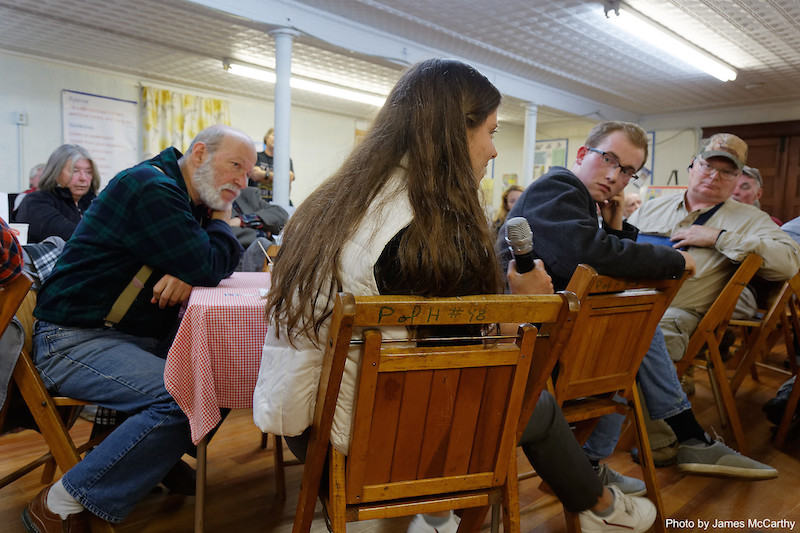 Richmond photos by James McCarthy