Published November 26, 2019 by Bowdoin Magazine
Building Her Brand
After a first career in corporate advertising and raising two children, Amy Zee Haight '96 "took a leap to pursue a long passion" and launched an interior design business in Houston.
After graduating from Bowdoin, I knew I wanted to work in a creative environment. I managed to get an advertising job working for Ogilvy & Mather in Houston. I started out as an assistant account manager, doing the typical grunt work at first, and later supporting the management team with the development of communications and advertising strategy for companies like Shell Oil and IBM printers/servers division. Within my first year at Ogilvy, I had the opportunity to transition to the corporate office in New York to work exclusively on the IBM national account. My experience in New York set in motion what I thought would be a long career in advertising, and eventually led me to work for other major corporations like Bates, Jack Morton Worldwide, and AIG. Through those years, I grew increasingly restless and unsatisfied with what I was doing and knew my career in advertising and marketing would not be sustainable. I switched jobs and became a mother to two wonderful kids, Grayson and Eden. I continued to work after I had my first child, and soon after having my second child I had the great fortune to quit my job to become a stay-at-home mom. The time I got to spend watching my children grow up is one of the most rewarding and memorable moments in my career. But, deep down, I knew I would not be content being a stay-at-home mom forever. Kids grow up fast, and while I don't regret staying home, I wanted to work again—but not for a corporation. Six years ago, I took the leap to pursue a long passion of mine and started up my very own interior design business. In a very short time, my business took off and I have never looked back.    
Much like the fashion industry, the interior design business is constantly introducing the latest trends and designs to consumers. Because of this, my industry is not always the best steward of the environment. However, with my background in environmental studies, I feel a sense of obligation and responsibility to minimize unnecessary waste whenever possible. For instance, in my designs I try to repurpose as much of my clients' existing furniture whenever I can and shop for antiques so I don't contribute more to our landfills. I also believe that by creating timeless and classic spaces, clients and consumers are less apt to change out their belongings every five to ten years, which is typical in my part of the country.   
I grew up in Baytown, Texas, where oil refineries are plentiful and dotted most of the landscape. The pollution and air quality were not always ideal. When I was around eleven years old, I remember hearing a loud explosion from one of the refineries and plumes of black smoke billowed into the air for days. My parents and I were concerned for the safety and lives of the plant workers, but we were also worried about the effects the chemicals and toxins would have on our environment and overall health. That event sparked my interest in studying legal and environmental studies.  
The summer after my freshmen year, I worked as an unpaid intern for Congressman Tom Andrews '76 during the day and waited tables at night to pay for my living expenses. I became good friends with one of the waiters at the restaurant. He lived in this incredible pre-war building that had the most amazing architectural details. His home was impeccably and tastefully decorated with antiques, layered in an array of textiles and art. I think it was then that I developed a real interest in interior design— I realized that I wanted to create a home like that for myself. 
My design business grew organically. At the time, we lived in a modest ranch-style home, but we desperately needed more space as our kids and their belongings got bigger. The moment my husband and I decided to hire a builder and architect I became obsessed with learning all things related to designing and building a home. I immersed myself in the design and overall construction process to the point that I was driving my builder and architect crazy with the details I specified for the project. I researched for months, staying up late every night reading and looking at design books, shelter magazines, and online for anything and everything related to interior design. I taught myself how to draw cabinetry elevations and furniture plans and learned the entire process from pulling permits to understanding the complex stages of the build-out and the roles each of the trades play in the building process. In the end, the pool house turned out better than anything I could have imagined. It was a unique project and it generated a lot of interest in our neighborhood. Shortly thereafter, neighbors, their friends, and their families began asking if they could hire me to help them with their own homes and, before long, Amy Zee Haight Interiors came to be. 
The biggest misconception people make about the design business is that it is glamorous and easy. I tell people all the time who are interested in getting into this business that it is hard work and is not as glamorous as HGTV makes it out to be. Designers spend maybe 20 percent on actual design and the rest gets taken up by project management with tasks such as scheduling and overseeing contractors, coordinating across the various workrooms and suppliers, procurement, managing budgets, bookkeeping, handling of deliveries and installations, and troubleshooting across all these tasks. Having my own design business is very rewarding but it also comes with a set of its own stresses and challenges. I also have to be the business developer, marketing and advertising manager, and on occasion, a psychologist for some of my clients. It is truly exhausting—but I'd never trade it. 
One of the biggest challenges I face when working with new clients is establishing trust. I understand it takes time to gain people's trust because clients want to feel assured that you have their best interests at heart. Once this is established, they are more willing to release some creative control over the project.    
I do not have any formal training. A good friend of mine, who happens to have a degree in interior design, once remarked to me, when I brought up the idea of applying to a design school, "Sure you could go to school, but you are doing the work already. Besides, a design school cannot teach someone good taste and you've got it." That stuck with me. I still think about going to school again so that I can learn auto CAD instead of hand-sketching everything, which takes a considerable amount of time.    
One of my most memorable experience at Bowdoin was the pre-orientation trip where I went on a two-day overnight hiking excursion. I had never gone hiking or camping before; my parents did not have an interest in doing stuff like that. It was the hardest hike because I was not prepared for  twenty-six miles of carrying forty pounds of gear through steep and tough terrain. To say the least, I was miserable and was always the person trailing behind the rest of the group. Considering my lack of hiking experience, and having lived in Texas all my life where there are no real mountains, I was proud of myself for completing the hike and making it out alive. I have come to appreciate and actually enjoy hiking, and have taken my family hiking in Canada, Colorado, and most recently in Maine. 
My family and I love to travel. All of my senses are heightened whenever I leave home. Inspiration for me can come from pretty much anything. I love taking pictures to capture details—whether it is a pattern I notice on a seashell, the texture and color of a tree trunk, the combination of colors from a painting at a museum, or the stitching on a man's jacket—my senses do not discriminate.  
I do have the occasional client whose tastes don't always align with my vision. When that happens, I remind them that my job is to create spaces that communicate their individual style and lifestyle. It may be my touch, but it is their lasting fingerprint. 
I don't know if it I can identify a specific skill that I'm most proud of but I can say that I'm a proud mom of two wonderful kids and am fortunate to have the most loving and supportive husband. They are my heart and soul and inspire me every day. They have taught me patience and acceptance in the things I cannot change, and unconditional love. 
---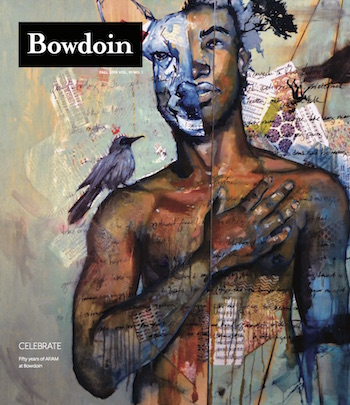 This story first appeared in the Fall 2019 issue of Bowdoin Magazine. Manage your subscription and see other stories from the magazine on the Bowdoin Magazine website.