Published October 22, 2019 by Rebecca Goldfine
Profiles in Residential Life: Levi McAtee '22
Residential Life, or more commonly, Res Life, plays a big part in making the campus a comfortable place for students to live, study, work, and have fun.  Its mission is to make Bowdoin feel like home for every student.
College House proctor Levi McAtee '22 is one of thirty-five proctors living with first-year students in one of the eight first-year halls. 
This profile is part of a series on students who work for Res Life. 
---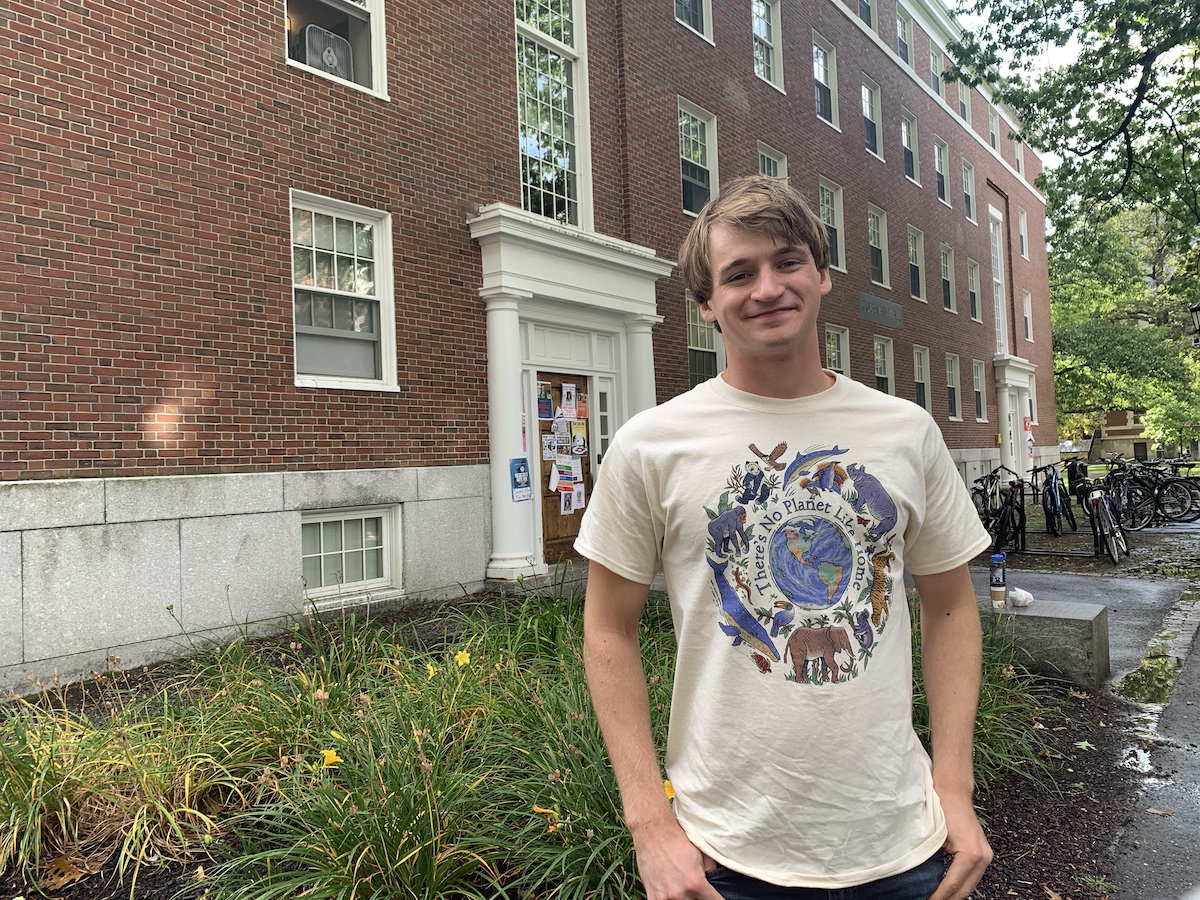 When you ask Levi McAtee why he wanted to work for Residential Life, he is quick to mention a few perks. You get your own big single, for one. But, he adds, this alone is not enough to take on the responsibility of looking out for other students and helping them navigate their first year at Bowdoin.
"I think I had a pretty rough first year in a lot of ways, and in a lot of common ways," he said. "I felt like if I could do my first year over again with my brain now, I would do a lot better. And I'm in a position where I can help other people do that."  
Yet, even his acquired wisdom and insight, which he feels he's in a position to pass onto others, wasn't enough to clinch the decision for him. That came with his gratitude for the help of a particular upperclass proctor last year.  
"After winter break I was feeling pretty sad. ...And at Bowdoin I felt pretty lonely last year," he explained. "I come from a very tight-knit community, a small town in Maine, and all my friends were people who had my back for years."
Late one night, his misery peaked, and he began to pace the halls, unable to sleep. "I am not the type of person to ask for help," he continued. "I feel much more normal when I am helping other people." While usually he felt equipped to handle his own lows, this time, he said his sadness felt like it was attacking him from the inside. 
Not many people were up at that hour of the night. But an upstairs proctor, Anarelis Ramirez '19, was awake. She took one look at McAtee and asked whether he wanted to join her in her common room and chat.
"She listened to me for thirty minutes, and me talking made me cry and that released some of that uncomfortable feeling," McAtee recalled. "I felt listened to. She was comforting, and her being there and making eye contact with me and reacting to what I was saying just worked for me."
He knew it was unlikely he could repay the graduating senior for her kindess, so he decided instead "to pay it forward," and become a proctor himself.
And McAtee is enjoying his job a lot this year. He has fifteen first-year students on his floor, and he says they've bonded well. 
"There is a decent Coleman Third culture, and that makes me happy to see," he said. "I feel partially responsible for setting that tone, by first accepting the idea of a floor as a unit, a culture. And part of it is the character of the kids. So, it needed a little bit of luck, and a lot of energy!"
To illustrate his point, McAtee shared an anecdote. "Here's a funny little story: During Res Life training, there is a thing we do called Behind Closed Doors." It's special training where students act out scenarios that proctors might encounter, from drug use to depression.
"Behind each door is a specific situation, so you go in and work with the situation," McAtee explained. "One of them is you're standing behind the door, and music is being played way too loudly, and you hear, "Three, two, one—shots!" And there is no alcohol allowed, so you have to intervene—you open the door and deal with it."
On the first Friday night of campus, McAtee was relaxing in his room before dinner. "It's 5 pm, and I was laying on my couch watching Netflix, and I hear bellowing outside my door: 'Three, two, one'...and I'm like, No way! It's too soon, and it's only 5 p.m. I refuse to accept this is happening."
He opened the door to investigate. "And I see one of the quietest girls on my floor laying on a long board and shooting down the hall. The other students had made a luge run from one end of the hall to the other."
He jumped into the fray. "So naturally I participated. And I set the record. But I smashed my ankle in the process. One of the guys brought in frozen chicken for me to use as an ice pack and then they sat with me and played Mario Kart while I healed."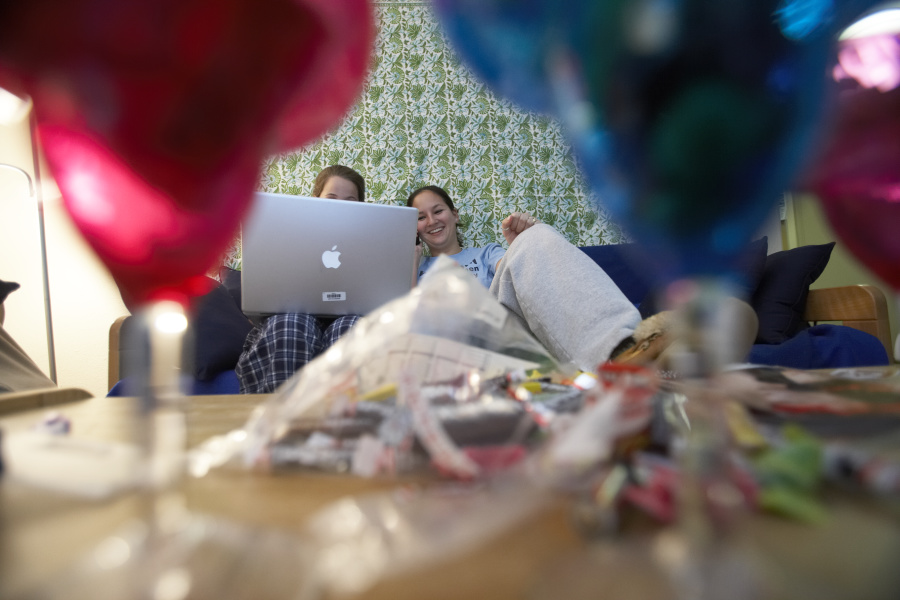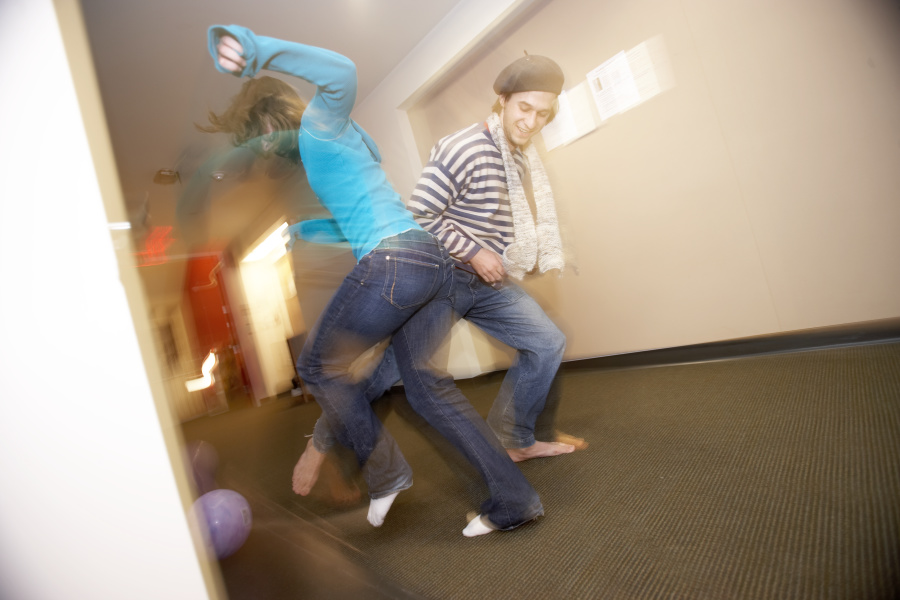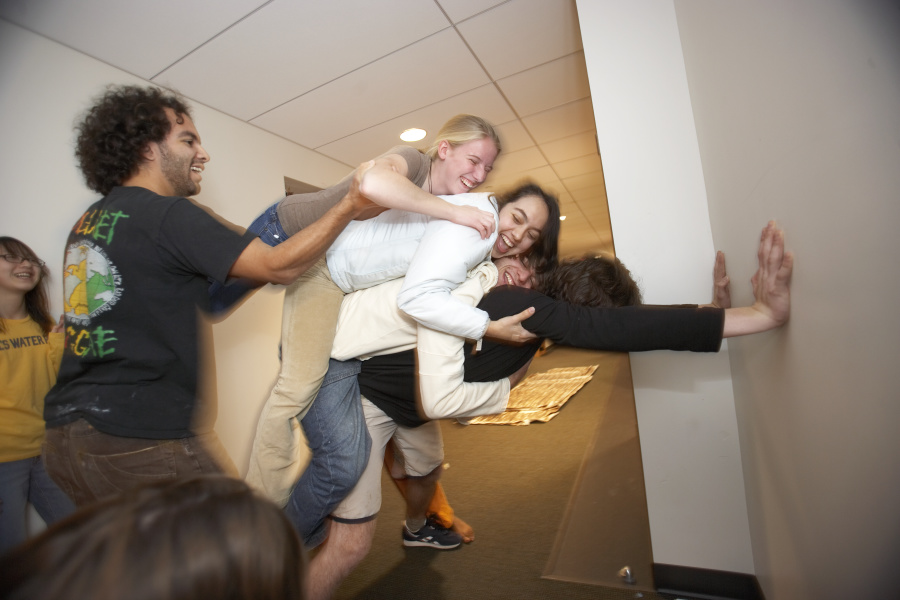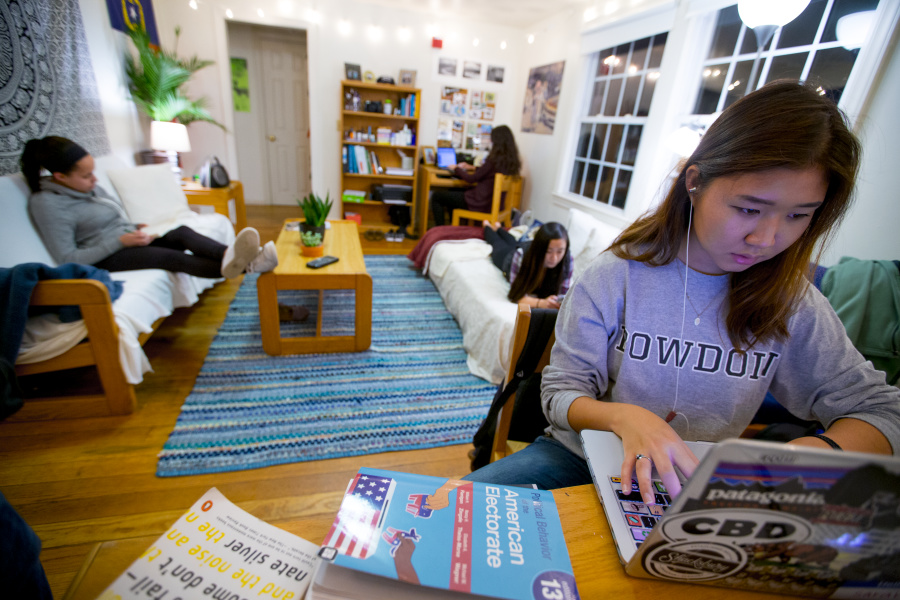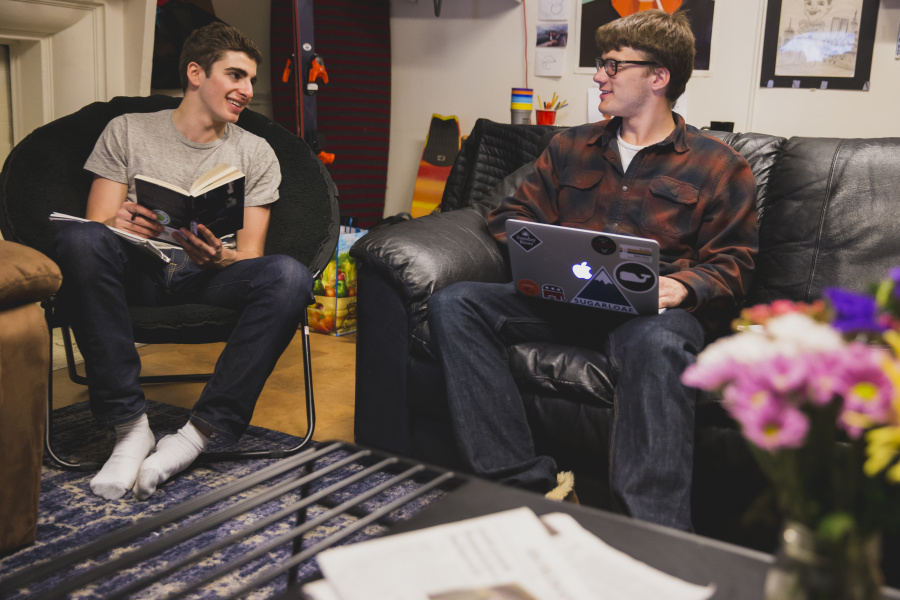 A bit of background on Residential Life's student program 
As director of residential education, Whitney Hogan '07 oversees all the training for her corps of student employees (which includes weekly Wednesday night programs in addition to two intensive trainings in August and January). She says the responsibility of each of the seventy-nine students on the Res Life staff is to ensure every student feels a place of belonging at Bowdoin.
"In the first-year spaces, we're focused on thinking about all of the things that get in the way of making Bowdoin feel like home for someone," she said. "Is it homesickness, is it adjusting to the social scene, is it finding community in the residential hall or outside the residential hall, is it navigating a mental health issue, or figuring out gender expression?"

Res Life staff are trained to remove these barriers, either by helping students one-on-one or pointing them to campus resources. They're trained to address mental and physical health issues and alcohol and drug use—as well as work with diversity and difference.
"We're doing crisis response and making sure people are safe and supported, but we're also thinking critically about how we can make sure people are feeling belonging and community in residential spaces," Hogan said. "So a lot of our training is on inclusion, diversity, and difference, and making sure we're meeting the needs of all students."
There are several types of Res Life staff positions: first-year proctors, residential advisors (RAs), College House proctors, and head proctors and head RAs. All are relatively well-paid campus jobs that are awarded, in a competitive application process, to sophomores, juniors, and seniors. (It's common for over 100 students to apply for about thirty new positions every year.) 
Each of the thirty-five floors in the eight first-year residential halls has a proctor who lives in a single on the floor. Additionally, these proctors collaborate with an affiliated RA who lives elsewhere but helps out with dorm programs. In their own dorms, RAs also focus on building cohesive communities. College House proctors live in one of Bowdoin's nine College Houses.
"The common denominator across all people on staff is they believe Bowdoin is a place where everyone can belong. The biggest set of skills are softer leadership skills—how to communicate about difference and across difference," Hogan said. "They can live their own authentic selves and are also pretty magnetic—people are drawn to them."