Published September 25, 2019 by Rebecca Goldfine
New Club Supports Students of Color in Computer Science
Silicon Valley and the technology industry are notoriously homogenous. People of color and women remain underrepresented at many companies. But a relatively new computer science club at Bowdoin is doing its part to tackle the issue by offering encouragement, career tips, and networking connections to its members, many of whom are poised to help change the demographic balance in tech after graduation.
Nelson Andrade '20 took his first computer science class his sophomore year, which he considers to be a late start compared to other students.
The fact that he even signed up for a computer class is a credit to his tenacity. "I was scared to do tech, and I didn't think I had the background of people who do tech," he said. He is a first-generation college student. "I didn't think there were many Latinos, specifically, in the industry and thought maybe this isn't the spot for me." 
After taking the intro class, though, he was hooked. He relishes the problem-solving aspect of computer science and "how fun it is." And he connected with a couple of upperclass mentors who were part of a nascent club called Students of Color in Computer Science (SCCS). "After I met all these other people of color, I thought, if they can do it, why can't I?"
Now Andrade, as a senior computer science and sociology major, says he's in a position to support younger students starting out. "I thought I could be a resource for them," he said. This year, he's leading SCCS with Jhadha King '20. They have approximately fifteen students on the roster.
A big focus for the group is helping Bowdoin students network and find internships and jobs at tech companies and start-ups. Andrade says he learned about his summer internship, at Tamr in Boston, after hearing from Tamr employee Kamaal Palmer '19. Palmer was a founding member of SCCS.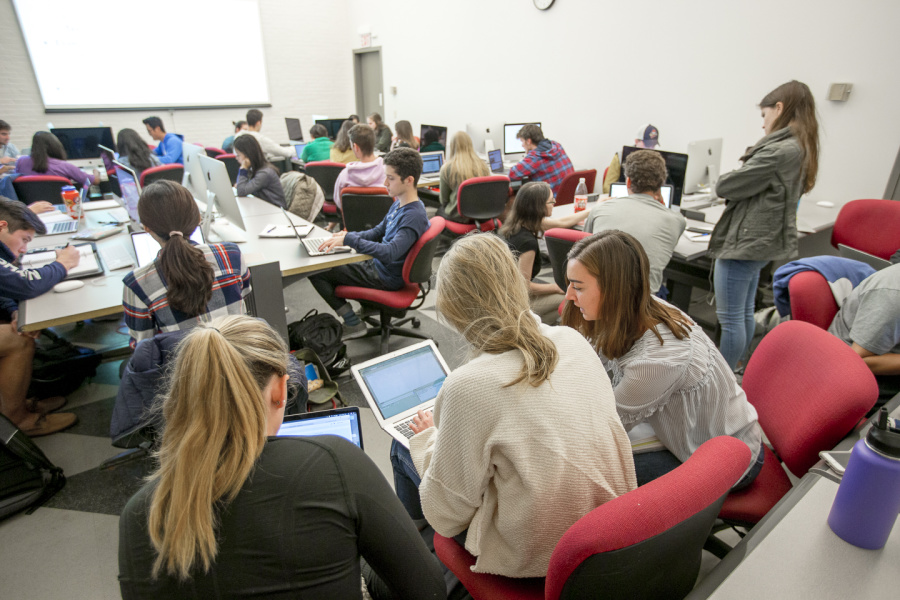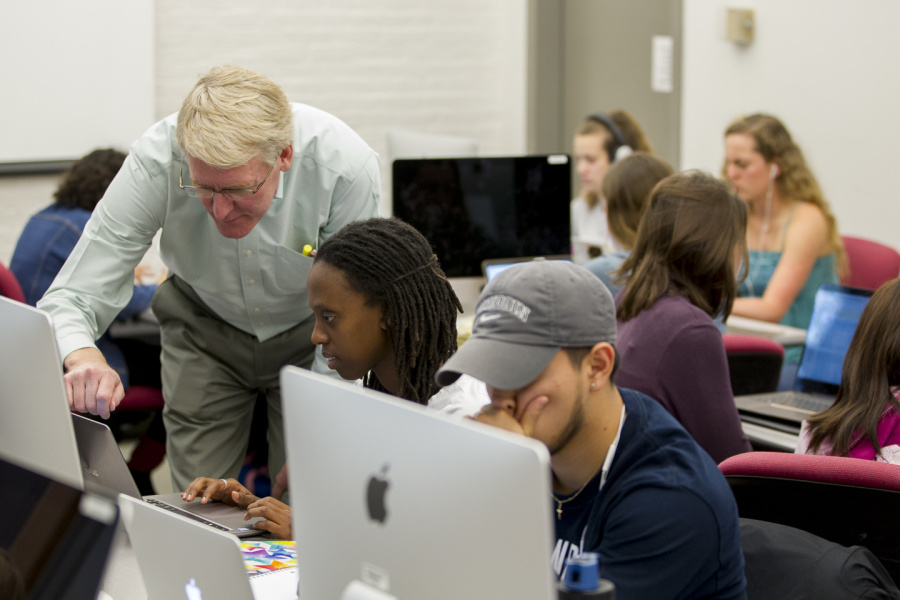 Associate Professor of Computer Science Stephen Majercik, who's serving as the club's advisor, said he's optimistic the club will have the same success as Bowdoin Women in Computer Science (BWICS).
Grace Handler '17 and Madeline Bustamante '17 founded BWICS in 2014, and the efforts of that group, combined with the department's push to hire more women faculty, has led to significant growth in the number of women students in the department, according to Majercik. 
Last fall, twenty-one women were computer science majors (out of sixty-eight total), and twelve women were minors. (The college doesn't keep public statistics about the racial make-up of majors.) Majercik said that's a big change from fifteen or twenty years ago, when the department would have maybe one or two women and students of color declare CS their major, at best. But while the numbers are healthier today, he'd like to see them grow even more.
A new initiative at the College, the Bowdoin Diversity in Computer Science and Tech Initiative, was launched with a generous donation by a young alumna from the Bay area to provide travel grants to women and students of color to attend technology conferences. These events, like the Grace Hopper Celebration of Women in Computing and the ACM Richard Tapia Celebration of Diversity in Computing, help students discover technology companies and make professional contacts. It's not unheard of for undergraduates to walk away from them with solid job offers.
"As the student body at Bowdoin becomes more diverse, we are seeing more students of color in computer science classes and majoring in computer science," he said. He and his colleagues agree they "should be doing something actively to make the department a more welcoming place for students of color in the same way we tried to do that for women." 
As club advisor, Majercik says he'll support initiatives the club wants to pursue, including helping to identify and bring guest speakers to campus.
Andrade said the emphasis of SCCS this year will be on inviting alumni to campus, fostering industry connections, setting up mock technical interviews for students, and offering a bit of academic mentorship.
"People are more encouraged when they know there are people behind them, in their corner," Andrade said. "And that's what we want to be able to provide for students, another little push of encouragement."