Published September 10, 2019 by Rebecca Goldfine
From College Student to Climate Scientist: Junior Anneka Williams' Alaskan Summer
In Alaska's Arctic tundra, Anneka Williams '21 faced "the steepest learning curve" of her life.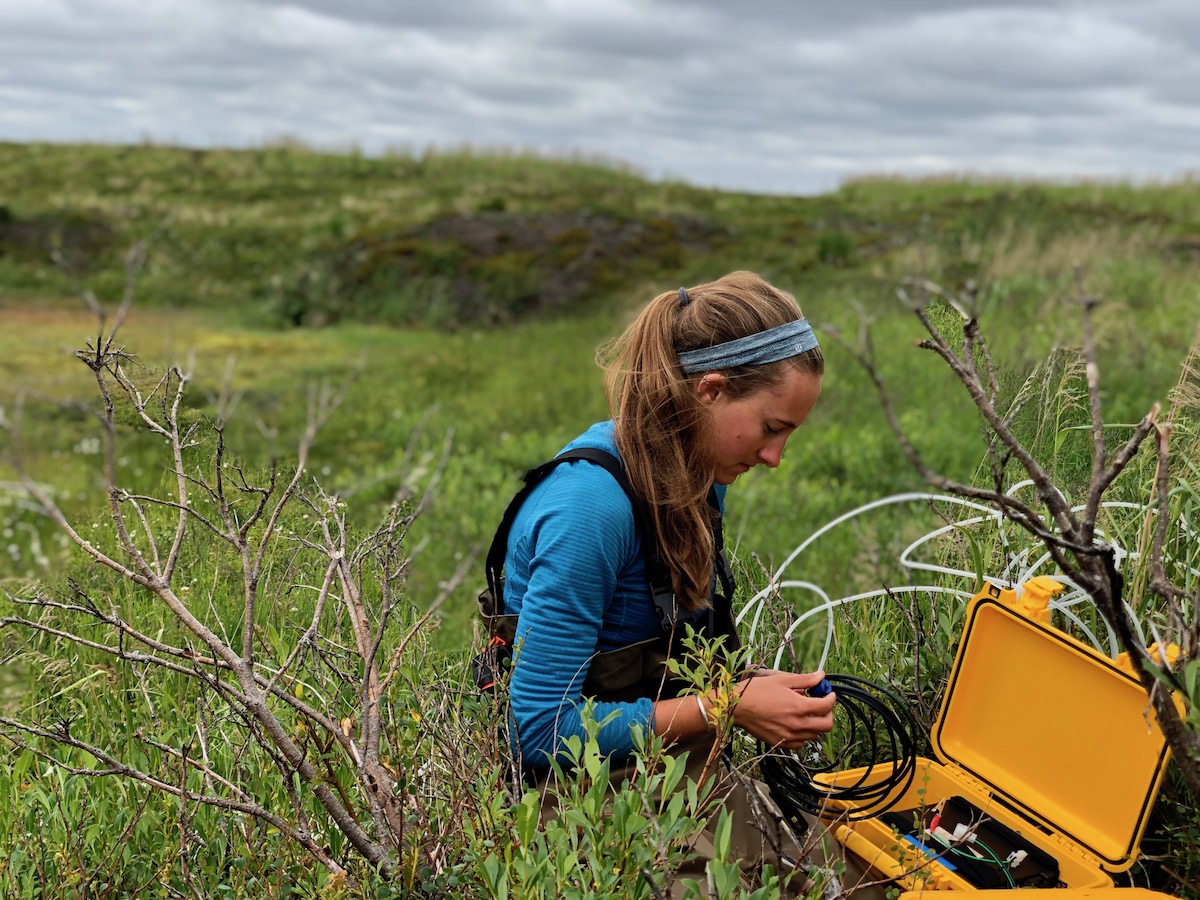 She had just three weeks to come up with a question—one with no known solution—about the environment around her, then determine the answer by designing a logical experiment that would produce reliable data.
"The faculty asked, 'What are you wondering about this place? What are you curious about?'" Williams said.
"I've never been asked to come up with a [scientific] question before," she added. "As students, we're so used to providing answers." In this case, she would have to do both.
Despite the restricted time, and the imperative to absorb a lot of new information quickly, Williams succeeded. She'll be presenting her findings at the American Geophysical Union Conference in San Francisco this December, along with several other researchers who traveled to Alaska with her on this unique trip.
Williams was one of nine undergraduates who participated in a selective seasonal program called the Polaris Project, funded by the National Science Foundation (NSF) and run by Woods Hole Research Center in Massachusetts. The NSF covers all the participants' travel costs and provides a stipend to the students.
Each summer, the Polaris Project pulls together a team of scientists—both those just starting out in their careers, like Williams, as well as graduate students and faculty—to do research in the Arctic. Williams' group traveled by commercial plane, and then by float plane, to a remote field site in the Yukon-Kuskokwim Delta.
Several experienced scientists join each trip, but not to seek support for their research agendas. Rather, they serve more as mentors for the students, who are asked to discover something new about the environment they're in and the many ways it is changing. 
"The Polaris Project," according to its website, "tackles one of humanity's greatest challenges—global climate change—in one of Earth's most remote and vulnerable environments: the Arctic." It focuses on bright young people to help put them "on trajectories to solve the most pressing scientific and societal challenges."
Throughout the five-week trip (three in Alaska, two back at the lab in Massachusetts), Williams heard the message that she is the future of science, so why not start now? "All the undergraduates and I had this funny moment of realization," she recalled, "that there was so much invested in us." She added that while they were "incredibly grateful" they also felt daunted by the responsibility and the expectations.
Anneka Williams: Two influential Bowdoin classes
Earth, Ocean, and Society, Spring 2019, with Associate Professor of Earth and Oceanographic Sciences Emily Peterman. "I thought that was really good because it was interdisciplinary. We talked about earth's resources, how they form from an earth sciences perspective, and also about their geopolitical standing." 
Human Being and Citizen, Fall 2017, with Professor of Government and Legal Studies Paul Franco. "That was a political philosophy class where we thought about what it means to be a human being and a citizen. It's a class I think about a lot."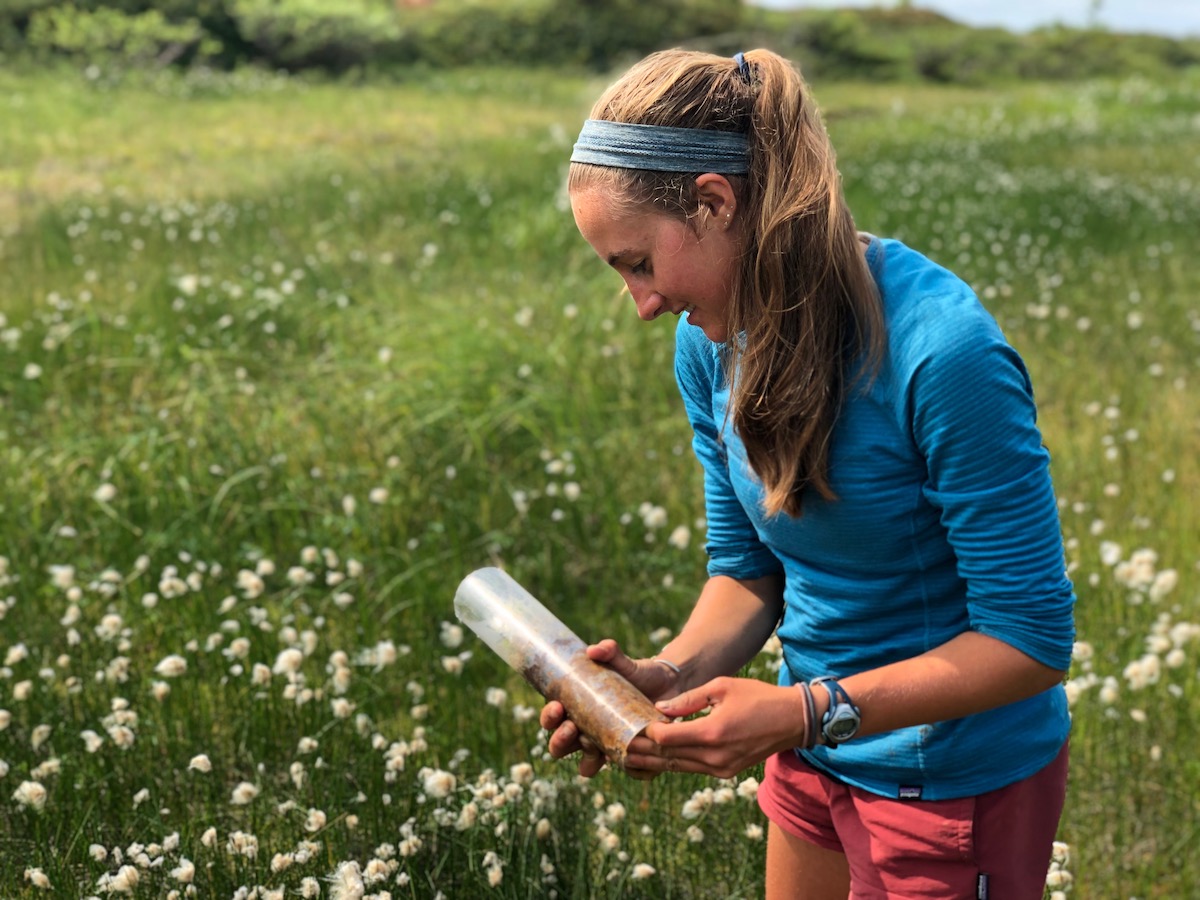 Under that pressure, in a landscape of "cracking earth, soft moss, and numerous lakes," Williams set out to answer this mystery: How are wildfires in the Arctic impacting plant-mediated methane flux in Arctic wetlands? Or, in more basic terms, how is the increasing incidence of Arctic wildfires—which are being driven by climate change—affecting the release of methane by plants?
Methane is a potent greenhouse gas, stronger than carbon dioxide. But no one has looked at long-term changes in the emission of methane from fire-damaged areas of the Arctic.
By comparing soils and plants in an untouched area with one that had burned in a wildfire in 2015, Williams found that the burnt area is emitting more methane than the unburned area, even four years later. "It's a previously unrecognized positive feedback loop," she said, meaning, unfortunately, that effects from climate change are contributing to and worsening the crisis.
Inspired by her summer work, Williams is taking a plant physiology class this semester to learn more about the processes behind the phenomenon she discovered. Ideally, she said she'd love to return to the Polaris Project next summer to continue collecting data that could support a yearlong honors project at Bowdoin.
A biology major and an earth and oceanographic science minor, Williams wants to pursue a PhD in earth science. But she does not want to cloister herself in a far-off spot in a lab, publishing scientific papers that will be too technical to appeal to nonscientists. She envisions having a broader reach.
"I don't want to just be the person who identifies a problem and stops there, or to be the person who suggests solutions but doesn't fully understand the problem," she said. "If I identify an issue, I would also love to identify a solution—and be part of the storytelling process."