Gleaning Fellow Helps Feed the Hungry
Published by Tom Porter
Have you ever thought how great it would be if there were no food waste? Or at least a lot less of it? It's an issue that gleaners are trying to address. Gleaning is a practice dating back to biblical times, in which unwanted crops are given to the poor. Today, it's enjoying a resurgence in popularity as a way of addressing food insecurity, and for one Bowdoin senior it's been an eye-opening experience.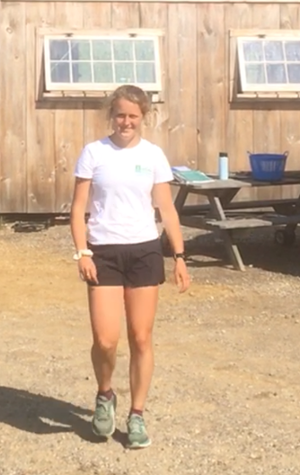 Anne McKee '20 is hard at work on one of the hottest days of the summer. She's weighing vegetables and packing them into boxes at Scatter Good farm in Brunswick, just a few miles from the Bowdoin campus.
Tomatoes, zucchini, lettuce, cucumbers, cabbages, and onions—they're all being loaded onto trucks and taken to local food banks, Headstart programs, sharing tables, and other community organizations that deal with hunger issues.
McKee, a history and environmental studies coordinate major and a Japanese minor, is the recipient of a Maine Community fellowship organized by the McKeen Center for the Common Good. She's one of nearly thirty Bowdoin students who worked with Maine-based nonprofits and public agencies over the summer, each of them receiving $5,000 in funding from a variety of sources.
She's with a group called Merrymeeting Gleaners, which harvests surplus produce from a number of farms in the midcoast area and donates it to those in need.
Scatter Good farm produces food for a nonprofit food bank called Growing to Give, explains McKee, so all their food is donated, but most of the farms Merrymeeting Gleaners works with are run commercially. "This means they grow more than they can sell and end up with extra produce, which would otherwise be thrown away, so we're preventing a lot of food from going to waste."
Going into her senior year, McKee, who is from central Maine, says food security is a field she would love to continue working in. "But, more than anything, learning more about how close the communities are in the midcoast area was really valuable."