Published July 30, 2019 by Rebecca Goldfine
Reflections on a Vanilla Blueberry Life: Ellie Sapat '20 Writes about Maine, Memory, and Food
For the rising senior and
English major
, writing about food is a way to explore connections between people, places, and cultures.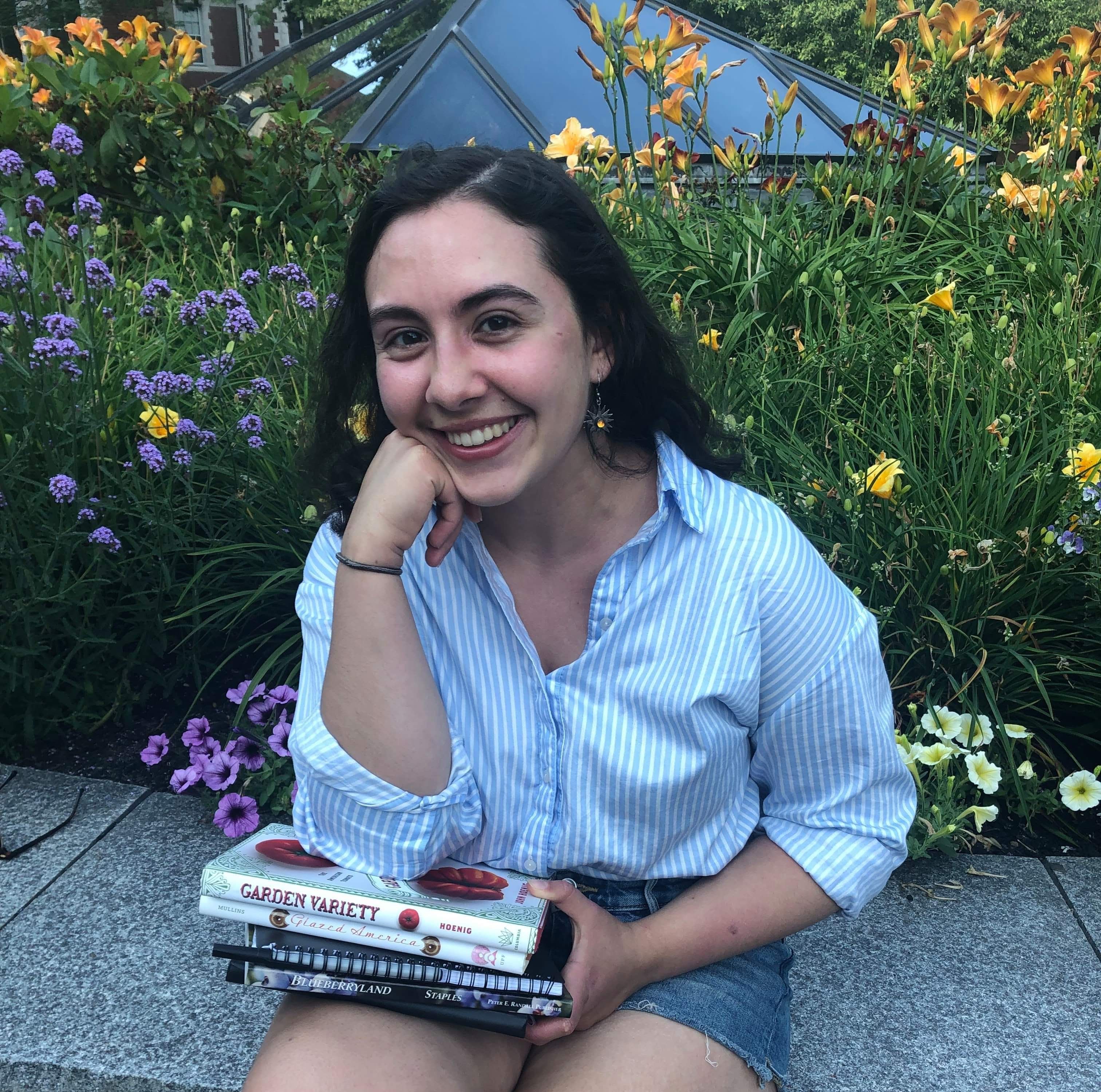 Sapat is working on a collection of essays about growing up in Maine, and her reflections are filtered through the food that has accompanied and enriched her life and relationships: vanilla, donuts, blueberries, and tomatoes.
She was inspired to write her first food-themed essay in Jane Brox's English class on foodwriting, Advanced Narrative Nonfiction: Writing About the History, Culture, and Politics of Food.
"I wrote about my mom, who has strong opinions about vanilla," Sapat said. Her mother—a talented baker—insists on only using real vanilla, even though it is the second-most expensive spice, after saffron.
Despite her mom's fervent conviction (and the many desserts with real vanilla she has been treated to), Sapat rebelled. "I've grown up with such an amazing baking life—but I am such a sucker for artificial vanilla," she admitted.
After probing vanilla's role in her relationship with her mom, she became intrigued with the word's contradictory nature: While vanilla is an exotic, expensive flavoring, it is also used to describe something commonplace, blah, and boring. "That's an interesting tension, and I love tugging on the two," she said.
She decided she'd like to keep writing food essays, and applied for Surdna Foundation Undergraduate Research Fellowship to support an independent project. "I wanted to continue writing about things I had a close personal connection with and that also had interesting social and cultural connections," she said. "I'm so grateful to have a summer to try out writing full time," she added. 
Her subjects: Yum Yum, Wild Blueberries, Taste Buds
The Extraordinary Ordinary: A Vanilla Essay
By Ellie Sapat
The smell of vanilla seemed to linger in the air, always a little longer than I expected. As a young kid, it once smelled so good to me, that I asked my mom if I could have some to taste, plain. She laughed, "Vanilla doesn't taste good on its own! It works to make everything else taste amazing." I couldn't believe her. Holding the vanilla bottle, in direct defiance of my mom, I snuck a drop of the extract before she could stop me. The flavor hit me like a sharp reproach, and it was not the vanilla I knew. This taste was dark and bitter and strong. Read more of the excerpt.
She has recently finished a draft of an essay about donuts, in which she describes a bakery called the Yum Yum Shop in Wolfeboro, New Hampshire. Her family owns a cabin there that her great-grandfather built many years ago.
"We all went to Yum Yum when I was a child. We've been going for years and years, but it recently shut down," Sapat said. Her grandather, too, recently passed away. And when Yum Yum reopened with new owners, it felt different to her. "The essay ended up being about tradition and innovation and loss," she said.
(In the essay, she also writes about Frosty's Donuts in downtown Brunswick, an early-morning destination for her and her friends—and many other students—who like to make 4:00 a.m. donut runs after pulling all-nighters. "It's an award for being awake at that ungodly hour!" Sapat said.)
Like the incongruity she explores with vanilla, she also reflects on how such an iconic, classic food as the donut can still be vulnerable to shifting food trends and people's insatiable need for the new—like "the cronut, donuts on the tops of over-the-top milkshakes, called freakshakes, and as vehicles for ice cream," Sapat listed.
Sapat's preliminary research into the history of the donut has also revealed a Bowdoin connection. The first-known reference to the pie that inspired Sapat's favorite donut, the Boston creme, is in the Esta Kramer Collection of American Cookery—the Bowdoin College library's collection of over 700 American cookery books, some almost 250 years old. Indeed, this collection—and her mom's extensive trove of cookbooks—has inspired Sapat to consider writing an essay about the evolution of cookbooks and kitchens.
Below is a post from the Instagram account Sapat and her friends run, goodfoodbadphoto, chronicling their culinary creations.
Two other essays she's working on explore blueberries and the many times her mom screeched the car to a stop when she spotted wild blueberries on the side of the road. "If we came across a blueberry patch, we'd grab whatever we could to put the berries into," Sapat said. Her mom's mission, supported by the whole family, was fresh blueberry pie.
Her other essay in the works is about tomatoes from her mother's garden. "My sister hates them, but I love them," Sapat said. In the piece, she explores personal tastes and their origins, as well as her relationship with her older sister.
After this summer of writing, Sapat is considering extending her project into a yearlong honor's English thesis. Her mom has come up with a title already: Chowing Down East. 
"Food offers such an interesting way to figure out connections between people, places, and cultures," Sapat said. "And when you're cooking, there's a wonderful end product. There's a wonderful end product if you're writing about it, as well."