Published June 26, 2019 by Bowdoin Magazine
Law and Lore
Jen Flynn '96 spent the first fifteen years of her career with the Boston Red Sox, starting in sales and marketing and eventually becoming senior vice president and general counsel for Fenway Sports Management and senior vice president and assistant general counsel for the Boston Red Sox.
After a stint as senior vice president of business for MLB Advanced Media, she is now special advisor to Larry Lucchino, president/CEO emeritus of the Boston Red Sox and chairman of the Triple-A minor league affiliate of the Red Sox. 
After graduating from Boston College Law School, I accepted a sales and marketing position with the Boston Red Sox as an entry to the sports business industry with which I'd been familiar from an early age, thanks to my grandfather, Bill Flynn. He was the Boston College (BC) director of athletics for thirty-four years (1957-1991), and most of my youth was spent at BC games and events, overhearing discussions about things like television and radio rights deals, sports facility development, and conference participation matters.
Shortly after I joined the Red Sox, the team was sold to new ownership (Fenway Sports Group), and I transitioned to a legal role for that group, which was led by John Henry, Tom Werner, and Larry Lucchino. They brought with them a keen entrepreneurial spirit and high-RPM intensity. During my fifteen years with the organization, I was involved, in various legal capacities, with the organization's significant growth and diversification, including through acquisitions such as Liverpool Football Club; the formation of new businesses, including an athlete and property representation business that included LeBron James as a client; and expanded uses of Fenway Park that included summer concerts and various non-baseball events. In one such event, it was fun for me to see that the Bowdoin women's hockey team participated in "Frozen Fenway," and that the Polar Bears were victorious in that game against Connecticut College.    
In addition to work associated with expanding Fenway Sports Group's portfolio, I was fortunate to be involved in the ten-year process to conduct major improvements to Fenway Park, which extended its life structurally and created significant enhancements to the fan experience in a manner that stayed true to its long and storied history. Those projects provided me the opportunity to participate in various legal and business matters working with an interesting array of individuals and groups, including neighborhood associations, city and state agencies, architects and developers, and other creative minds, including Larry Lucchino and nationally renowned baseball planning and development executive Janet Marie Smith.  
I'm thrilled that, after a stretch with the former technology affiliate of Major League Baseball, MLB Advanced Media, I've had the good fortune to rejoin Larry Lucchino and Janet Marie Smith to work with an extraordinary team of people bringing professional baseball to the City of Worcester, Massachusetts, in a new ballpark that will be part of a large-scale redevelopment to transform the city's historic Canal District. The ballpark will integrate many of the city's local flavors, culture, and history—which incidentally, by extension, includes the Bowdoin Polar Bears. The new ballpark will be named Polar Park, per a deal between the team and Polar Beverages, the Worcester-based company led by Ralph Crowley '73. 
During my time at Fenway, the addition of the Green Monster seats on top of the left field wall was my favorite improvement to the ballpark, and watching the Game Four 2004 ALCS comeback win against the Yankees from those seats with my dad and sister is probably my most memorable Fenway moment. It's exciting that Polar Park and its unique elements are going to provide people in Worcester and beyond the opportunity to create special memories with their family and friends as well.
The majority of my career has been spent working under Larry Lucchino, who has a knack for putting smart, capable women in leadership roles and placing his trust in them. This includes, among others, his long-time (dating back to their days at Williams & Connolly in the late 1970s) legal advisor—and also a mentor and good friend to me—Maureen Cannon, as well as Janet Marie Smith, who Larry first partnered with in 1988 to build Oriole Park at Camden Yards in Baltimore. 
Over the many years I have worked for him, Larry has always had high expectations of his team, applied equally to women and men alike. Early on in my career, he often emphasized (strongly) the importance of speaking up at the table, conveying that he thought my opinions and advice were valuable. That was motivational and empowering. He also made time to be available for any advice I may have needed with any legal matters, given his expertise as a former practicing attorney. For me personally, therefore, my experiences working as a woman in the baseball industry under Larry Lucchino over the years have been positive, and he's been an important mentor to me, for my development both as a lawyer and as a business executive. 
I played basketball and softball at Bowdoin, although I didn't have the greatest luck with injuries during my time in Brunswick. Despite the injuries, I still was able to gain so much from being a part of the Bowdoin athletics community, including friendships that are still strong today and skills I've applied throughout my career. As is often said, participating in sports prepares you for other aspects of life, such as the need to adapt to, and perform under, different coaching/leadership styles; being able to adjust your position or responsibilities for the needs of the team/organization; and learning to be fully accountable for your results. Plus, you get a good, memorable taste of how rewarding team/group accomplishments can be. 
The skills I learned at Bowdoin, and specifically as a psychology major, have certainly benefited me throughout my career. For example, as an in-house counsel for many years, I regularly had to provide advice and recommendations about various issues, whether relating to media rights, league rules, product offerings, or the like. The skills that I practiced and honed at Bowdoin were an asset to have in that regard. Much like a psychology paper, it was necessary to frame up and communicate the issue at hand concisely and thoroughly, taking into account all relevant contributing or associated data and facts, and make recommendations that addressed the issue thinking creatively, analytically, empathetically, and strategically. I've found that having the ability to be resourceful enough to address a wide range of issues arising in the sports and entertainment business has been an asset throughout my career, and I largely attribute that ability to skills I developed at Bowdoin. 
Hopefully it's not too surprising, but it's probably worth mentioning that it's been my experience that there is unquestionably a key role for women in leadership in professional sports.
I'm grateful for the friends I've met through Bowdoin, and for the experiences the school has afforded me.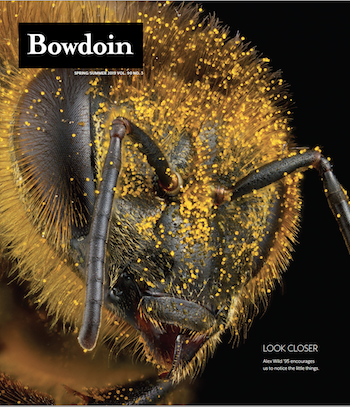 This story first appeared in the Spring/Summer 2019 issue of Bowdoin Magazine. Manage your subscription and see other stories here.