Ahead of the Curve
Published by Tasha Graff '07 for Bowdoin Magazine
BEFORE MOVING TO BOSTON to attend graduate school, before meeting his wife, Edith, before having children and grandchildren and great-grandchildren who would attend Bowdoin, Hugh Bain Snow, of the Bowdoin Class of 1926, spent the winter of his sophomore year sleeping outside in a tent.
He did it on a bet, and it earned him a nickname that stuck—Blizzard. Thirty years later, Blizzard's son, John Ingalls Snow II '57, spent a warmer sophomore year living on campus, as John's daughter, Judith Snow May '91, did a generation later. Though she never met him, May treasures a photograph of her grandfather. The tent is covered in enough snow to make it look like an igloo, and Blizzard stands there, hands in his pockets, a smirk on his face, a Bowdoin "B" emblazoned on his sweater.
May's father came up with the idea to create the Snow Family Fund to help Bowdoin students choose teaching as a profession, as a way to honor the remarkable teachers who prepared generations of the Snow family for Bowdoin. "Dad had strong teachers in grammar school, as well as high school. They were serious teachers with high expectations," May explains. "Dad respected the value of good teachers who encouraged him and wanted to make teaching a viable career for Bowdoin students who might otherwise pursue more lucrative paths. Most of all, he wanted to have a positive impact on aspiring educators."
For hundreds of years, Bowdoin has prepared students to become teachers. I recently went back to campus to learn about the most recent iteration, Bowdoin Teacher Scholars (BTS), which is financially supported by the Snow Family Fund. I started by visiting my former professor, current Associate Dean for Academic Affairs and Professor of Education Charles Dorn, who believes not only in the importance of training highly qualified teachers for careers in public education but also in giving back to a system that is under-resourced.
---
"I think of preparing students to be certified to teach in public schools as one of the College's most tangible expressions of its commitment of the common good."
—Professor of Education Charles Dorn
Bowdoin Teacher Scholars include current students and recent postgraduates who become experts in their fields by majoring in their content areas, and also taking foundational courses in pedagogy and research to minor or receive a coordinate major in education. Scholars then partake in a fourteen-week practicum in local public schools across the state to gain Maine Teacher Certification, with reciprocity for teaching throughout the entire US. "We hope students will stay in Maine, but we prepare them for the national job market," says Professor of Education Doris Santoro. Santoro discusses the value of a program some might view as vocational, and, like Dorn, she underscores the support of Bowdoin faculty across departments, the role of the common good, and the benefits of liberal arts to teachers. "The fact that our students are already attuned to making connections across disciplines and have, in essence, learned how to learn, gives them the flexibility of mind required of any quality educator."
BTS alumni populate schools in Maine and across the country, and the program has a 100 percent success rate with job placement. Thanks to the endowed gift from the Snow Family, students who complete the BTS program receive loan reimbursement and a stipend to cover transportation and fees. Additionally, Bowdoin now allows alumni to come back to campus within two years of graduating to complete BTS tuition-free; postgraduates receive a larger stipend to cover housing, food, transportation, and certification fees. Santoro explains the significance of this support to remove financial barriers:
"There are legitimate concerns about the investment families make in education and the type of pay that future teachers encounter. These are real concerns, but we're now able to offer a no-cost entry into teaching. That is as essential as it is powerful, and it makes Bowdoin unique among its peers."
In the past nine years, BTS has produced seventy teachers, representing a variety of disciplines. About 30 percent earn certification in English language arts, 30 percent in social studies, 15 percent in math, 15 percent in science, and 10 percent in world languages. The Maine Department of Education, which evaluates all certification programs in the state every five years, recently gave the College a commendation for the diversity of candidates entering the teaching profession through BTS. About a third of the scholars are students of color, well above the national average. Santoro wants to continue this charge. "The work that we're doing to attract and retain teachers of color in Maine, one of the whitest states in the nation, is important and something we are committed to continuing and expanding." In reporting this story, I spent time with four Bowdoin Teacher Scholars.
"I hoped I would love it, but I didn't know just how much."
—Angela Wunderlich '19
The Spanish Teacher
Angela Wunderlich '19 grew up in St. Paul, Minnesota, and came to Bowdoin with the idea that she wanted to be an environmental studies major. The summer after her first year, she worked at a family camp in northern Minnesota and realized how much she liked working with young people. She soon switched her major to Hispanic studies and education. "I had a class that was called Thinking and Writing Caribbean with Professor Nadia Celis, and my whole mind opened up to the literary world. I had only learned the language before that point, and we learned about identity, race, gender, and it was so localized that we got to dive in." The class, along with her education coursework, ignited Wunderlich's passion for teaching. "I hoped I would love it, but I didn't know just how much." Wunderlich explains how this love of literature helped her bond with her mentor teacher, Becca Lynch Nichols, at Casco Bay High School.
"Being able to follow my mentor teacher as a guidepost—this human, passionate, smart, and wholehearted teacher—showed me that teaching is a lifestyle and one that I love and want to continue. You can view teaching as pouring work in, but through my students, I found it's reciprocal."
A member of the track team at Bowdoin, Wunderlich spoke about her coach Peter Slovenski's support of her choice to complete BTS. "He said to me, 'As long as you're committed to the team, we'll make it work. I'll support you in any way.'" Wunderlich appreciated the structure and connection that athletics provided to her teacher training. "I'm someone who needs an exercise outlet, and it was nice to come back from teaching every day, go to practice with my teammates, and then have my night to prepare for the next day, even if it's just practicing patience and self-forgiveness." I tell her that twelve years into my teaching career, I still need lessons in both of those areas. She nods, smiling. "If there's one thing I've learned, it's teaching is more than a job. To be able to form relationships with kids, to be able to watch their personalities emerge, and laugh with them and challenge them, that makes me happy."
The English Teacher
Tess Hall '19 grew up in Cumberland, Maine, and this bright-eyed Bowdoin senior is no stranger to public education. The fourth generation of educators in her family, she can't remember a time before wanting to be a teacher. Her great-grandfather was a professor, her grandmother was a high school English teacher, as is her mom, Hope (Lipp) Hall '92. In fact, both of Hall's parents teach at Thornton Academy in Saco, Maine.
Hall took an education class her first year at Bowdoin. "Every semester, my education classes were my favorite," Hall says. "Getting to go into schools and also read about education and talk with others who are interested in trying to improve the system was inspiring." In the spring semester of her senior year, Hall began her practicum in Farmingdale. An early riser, she would make a cup of coffee and, since her car radio was broken, listen to an audiobook on her commute. Our conversation devolves into book recommendations. Hall recently finished Station Eleven, by Emily St. John Mandel; I just read The Incendiaries, by R. O. Kwan. We talk about a book she taught with her mentor teacher (Richard Russo's Empire Falls) and books she wants to teach (a postapocalyptic elective).
"To be able to teach the power of literature and writing, and inspire others in the way I've been inspired, is why I'm doing this and why I keep thinking about it."
Hall is currently in the job market, wants to stay in Maine, and would love to get a job at Hall-Dale High School with her cooperating teacher Kimberly Sellers. "I couldn't have asked for a better mentor. We got along so well and collaborated all the time, brainstorming together, getting excited by ideas and by our amazing students."
The Science Teacher
Olivia Bean '17 is just about to finish her first year as a science teacher at Portland High School (PHS). A chemistry major at Bowdoin, Bean completed BTS as a postgraduate in the second semester after graduation, securing a full-time job just a few months later. She arrives at a coffee shop in Portland wearing a helpful nametag. "Oh, I just gave blood," she says, tearing it off and settling in for our interview. Bean grew up in Cleveland, Ohio, where she attended public schools.
She came to Bowdoin planning on becoming a doctor, but in her first year took an education class and then began mentoring through the McKeen Center, finding joy in both. The idea of becoming a teacher slowly solidified for her. "I want every student to feel like they have something valuable to contribute to the classroom and be open to each other's ideas."
Bean finds PHS an encouraging place to work, with supportive colleagues and wonderful students. As a teacher of color in a predominantly white profession,* Bean reflects on her role for students.
"I think a lot about what it means for students who have similar identities to me to see themselves in me, to be a mirror. For students who don't have similar backgrounds to me—for me to do what I do and be who I am—I can be a window."
Bean shares a recent memory of a student asking to touch her hair. "I talked with her, and as an adult, I was able to teach and moderate that experience in a way that later on, when she's interacting with peers, it will be different. Ultimately, I know this quick lesson will allow her to interact positively with more people, and that's important to me."
When I asked Bean about her plans for the summer, she casually mentioned that she "got a grant." Upon further questioning, Bean shared that she received a Knowles Fellowship, before pivoting back to talking about ninth-graders. She didn't explain what I already knew: The prestigious Knowles Teaching Fellows Program, a five-year fellowship of $150,000 designed to support exceptional, early-career math or science teachers, is granted to just thirty-five teachers in the nation. When I meet with Professor Santoro later that afternoon, I mention Bean's humble response to my question about her summer. "Oh, that's Olivia," she says.
"This is about joy, it's about love. It's not about money."
—Matt Bernstein '13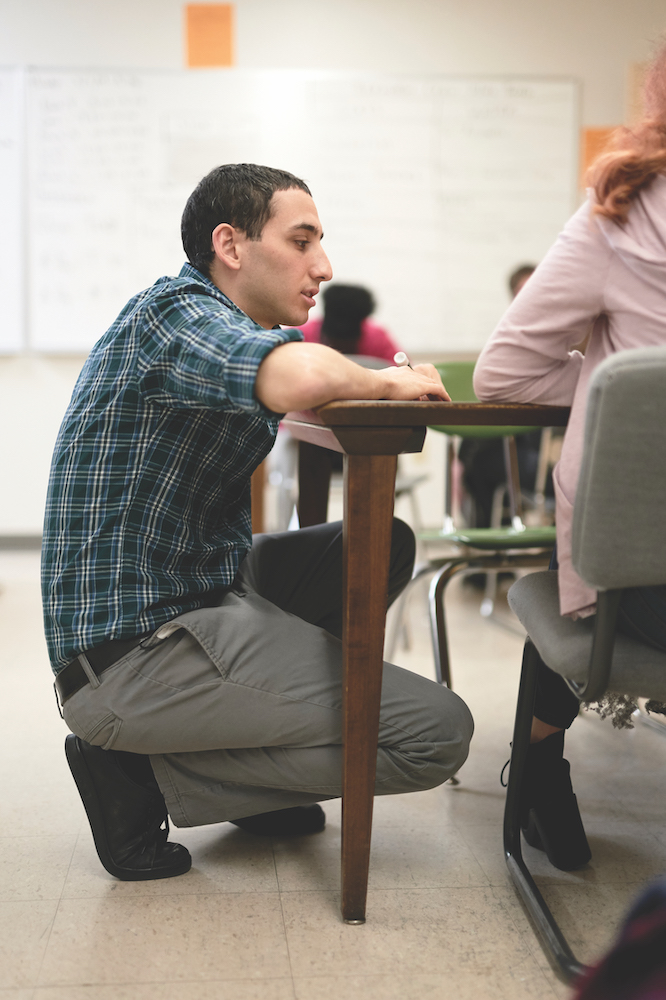 The Social Studies Teacher
Matt Bernstein '13 loves teaching. His entire face lights up when he talks about his students—he moves around in his chair, he gesticulates, he grins. A history major who was born in New York City, Bernstein spent all his school-aged years in London and arrived at Bowdoin interested in BTS. "I had it in my mind that I wanted to be a teacher, and I knew I could get my certification undergrad, which was very appealing to me."
Bernstein completed his teaching practicum in the spring semester of his senior year at Casco Bay High School. A year later, he applied for a full-time job there and has been teaching at the expeditionary learning school ever since. In thinking about how he's grown as a teacher in the past six years, Bernstein reflects on the hardships many of his students endure.
"When I first started teaching, I think I overcorrected and put artificial ceilings on kids. Now I keep my expectations high, but I understand my students' struggles better."
I ask about what keeps him going, and he doesn't hesitate: "The biggest joy in teaching for me is the kids. Recently a kid asked me why I wanted to be a teacher, and I said, 'Being around you all is great, and I feed off your energy,' to which the student wonderfully responded, 'Wow, Bernstein, that's kind of selfish.'" We laugh together about the pithiness of teenagers. When I ask about his family's reaction to his career choice, he laughs again, asking me if talked to his mother. "My parents support me in this choice. Everyone does. Sure, it would be nice if teaching had a better status in society, but this is about joy, it's about love. It's not about money."
Looking Forward
With current staffing levels, BTS can sustain fourteen students per year, though ultimately the education department would like to see the program serve more students and to allow postgraduate students to complete practicums in the fall, as well as the spring semester. Santoro explains that many students reach out to her about BTS in their junior year.
"Our courses prioritize excellent teaching, pedagogy, and curriculum, combined with the need to teach for social justice. This appeals to students who are seeking to work for the common good and see themselves as improving the world in which we live." If students don't take core education courses early on, it is difficult to complete the program due to the department's size. Santoro's hope for the next five to ten years is to see BTS increase structurally.
"I would like to expand so that students could take education coursework as postgraduates. This aligns with our mission, especially if we continue to offer this tuition-free with a stipend from the Snow Family Fund. So many teachers stay in Maine, and this would be exciting for both the College and the state."
Excitement is exactly what I feel after meeting these four passionate and inspiring teachers. I keep thinking about something Bernstein said near the end of our interview when I asked if he thought he'd be in the classroom for the foreseeable future, and he articulated something that echoed throughout all my interviews and my own life: the love of the work. "I just can't imagine a better job. I don't have to tell you it's really hard and frustrating, but, big picture, it's incredible work. Sometimes it scares me that I found something I love so early on, but then I think, why would I ever do anything else?"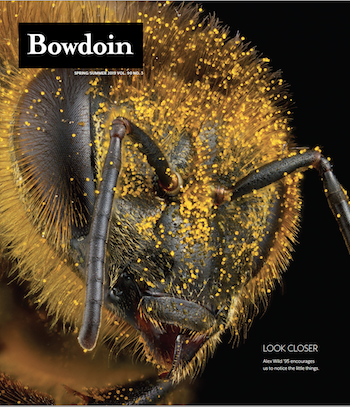 Tasha Graff '07
is a poet and essayist, and teaches English at South Portland High School in South Portland, Maine. Read more of her work at tashagraff.com.