Published May 13, 2019 by Aleksia Silverman '19
Out Seniors Honored at Annual Dinner
The Sexuality, Women, and Gender Center recently hosted its seventh annual Dinner Celebrating Out Seniors at the Cram Alumni House.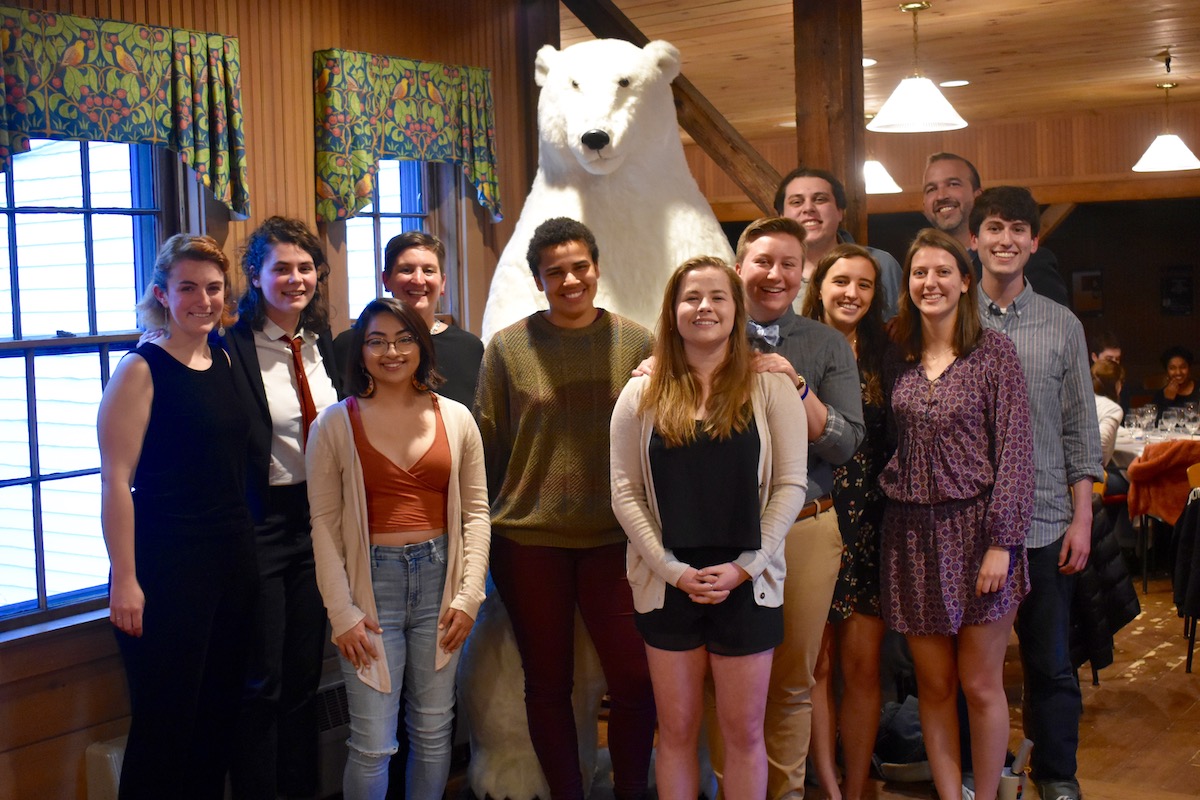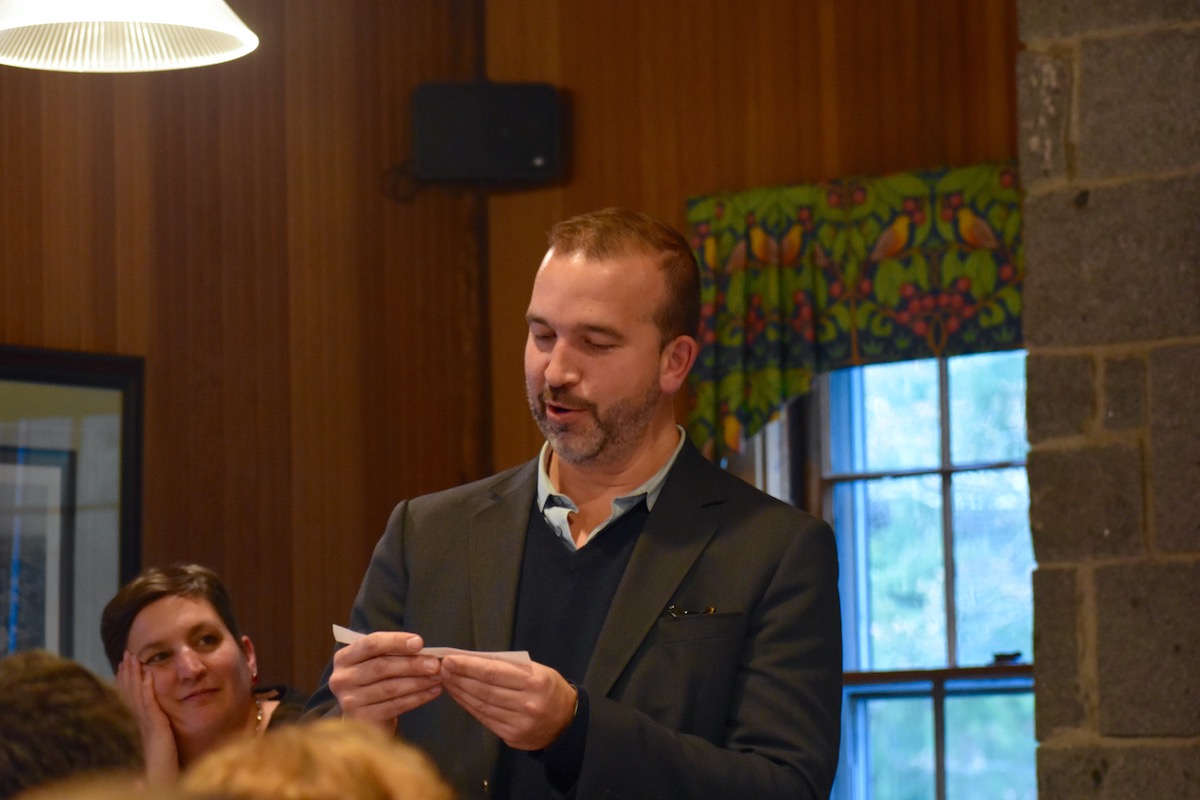 Each year in May, LGBTQ students of all classes come together with staff and alumni to recognize and celebrate graduating seniors. Attendees are treated to a dinner, including Bowdoin's signature dessert, the Bowdoin log.
This year, students reflected on their identities, the highlights of their years at Bowdoin, and their hopes for their lives and the world after graduation.
Special guest Matt Roberts '93 delivered an address on how best to enter the creative field, and how he valued Bowdoin. Roberts, an Emmy-winning producer and head writer for the Late Show with David Letterman, shared advice about navigating the transition from Bowdoin and making an impact on a creative industry. He stressed the need to create when you feel inspired, and to persist through "life's ebbs and flows of passions and interests." 
He also praised Bowdoin's supportive community, which continues well after graduation. "Events such as tonight underscore that, as great Bowdoin is to be at as a student, it's a great community for alums, too," Roberts said. "One of the things I wished I understood—when saying goodbye to friends, and the Bowdoin campus—that you don't really need to give it up. You can still be an active alum."
Kate Stern, director of the Sexuality, Women, and Gender Center, presented Roberts with the "Rainbow Polar Bear Award," an award for "creative and courageous commitment to Bowdoin's LGBTQA community," and for his "instrumental work" helping to create LGBTQ alumni events across the country, including in New York.
Three seniors were given the Rainbow Polar Bear Award for their contributions to the Bowdoin queer community. One senior was commended for enthusiastically and warmly hosting Quinner (a weekly dinner for queer students). Another was praised for running OUTPeers and OUTAllies, a program that shows visible support to LGBTQ students across campus.
Before the start of the dinner, Tim Foster, dean of student affairs, was also presented with a Rainbow Polar Bear Award for his long-term support for LGBTQ students and the growth of the Center. 
Kate Stern stressed that the queer community at Bowdoin extends beyond those assembled at the dinner. As she congratulated the seniors and expressed her gratitude for the accepting atmosphere at Bowdoin, she also raised a toast to those who are not out. "Students may not come out at Bowdoin," Stern said. "People come out when they want, how they want, to whom they want."
Staff and alumni also presented students with reflections from queer alums. Graduates from 1948 to 2018 shared pieces of advice on dating, living truthfully, coming out in the workplace, and bringing lessons learned at Bowdoin into a postgrad life.
Attendees valued the inclusive, intimate nature of the event, and the opportunity to celebrate with good friends. "Though I am out on campus, I'm much more comfortable being recognized at a small event with good friends and good food than in a more public manner at graduation, especially since I'm not out to all of my extended family," said one senior. "I really enjoyed the intimacy of the dinner."