Published April 04, 2019 by Clay Starr '19
Tentacle, Spectacle: Hugo Hentoff '19 Pulls Off Two Plays in Two Weeks
Two plays means multiple sets of rehearsals, promotions, casting, staging, and prop details—not to mention his other classwork. But Hugo isn't stressed. "This is something that's really easy for me to be passionate about. And I'm figuring it out."
On April 1, the theater major performed his senior studio project, Octopuses Are Gay: A One-Man Show in Eight Parts.
On April 12 and 13, he will direct the Masque and Gown production Too Much Light Makes the Baby Go Blind.
Octopuses Are Gay
Hentoff wrote, directed, and acted in this show for his senior studio course, which requires all theater and dance majors to create a capstone project. 
It's an honest, personal narrative about growing up gay, with depression, and "kind of weird." But Hentoff found it difficult to talk about himself, so he chose the octopus as his champion and framed his discussions through the cephalopod in eight thematically distinct parts.
Why octopuses? ("It's octopuses—plural—by the way," the senior added. "Not octopi.")
"I [bleeping] love them. They are such queer animals. They have insane, curious, complex minds that are so advanced, but have nothing in common with our brains. They're the closest things we have to alien intelligence. They're queer, but not less than."
Hentoff's passion for theater started in high school in Washington, DC, when, on a whim, he decided to write a play for a one-act festival. He never submitted it, but decided to participate as an actor. The next year, Hentoff switched high schools and started a one-act festival at his new school. 
"There is a real interdisciplinary strength to Hugo's performance. It's about bringing together all of his interests in writing, performance, music, representation—and lip-synching full out to Sia. For Hugo, octopuses became the perfect metaphor—for queerness, awesome-ness, and celebrating what it is to live the Life of Hugo."

—Professor of Theater Davis Robinson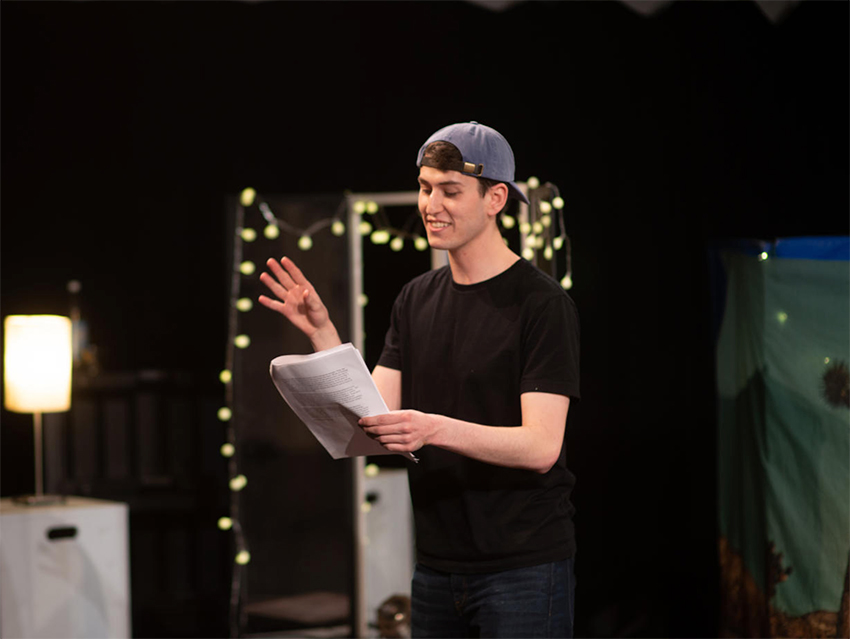 Too Much Light Makes the Baby Go Blind
Too Much Light Makes the Baby Go Blind is a famous neofuturist piece. A product of the Chicago arts scene, this play isn't like typical theater.
"Neofuturism is honest. It's heartbreakingly human. It's fun. It's fast. It's wacky. It's genius. It has all the things you'd want in a play, condensed," Hentoff said.
He also said it's good for those with short attention spans. "I love theater, but I get bored all the time. I was not bored for a second when I saw the show [for the first time]. The plays were short and sweet, and they got to the point. They were able to convey so much truth and comedy in anywhere from ten seconds to four minutes. I went back five or six times, and it was completely different every night."
Here's how it works:
Thirty short plays are performed in exactly sixty minutes. If the timer (yep, there's a timer) goes off before all the plays are done, that's it.
Another catch: the order of the plays is entirely up to the audience.
There is a menu in every program that numbers each play title from one to thirty. It's up to audience members to call out the number of the play that they want to see.
Toward the back of the stage, sheets of paper numbered one to thirty hang from a clothesline. The corresponding play titles are written on the back of each sheet. When the audience calls a number, the actors race to the clothesline to grab what they've heard.
The title is read. The actors yell "Go!" and perform.
When the play is over, the actors yell "Curtain!"
Repeat.
THE DETAILS
See the Masque and Gown main stage production Too Much Light Makes the Baby Go Blind on April 12 and 13, at 7:00 p.m. and 9:30 p.m. (both nights), in Wish Theater.

Me (cheesy sports-question voice):
"This is your moment, Hugo. How do you feel?"
Hugo (pausing for effect):
"It's all right." 
How can I guarantee that the show is going to be great?—reader, this is a shameless plug: I'm in Too Much Light Makes the Baby Go Blind.
Along with audience engagement, the central aspect of neofuturism is that the actors aren't really actors. They are playing themselves on stage, or at least a version of themselves.
"You are not trying to fit a character," Hentoff said. "You are really trying to make the words true to you." 
That's why Hentoff didn't "look for actors" when he was casting. "I was looking for collaborators who could be themselves on stage unselfconsciously. I love telling the audience the truth and letting actors bring their whole selves to these plays." 
Hentoff cited Associate Professor of Theater Abigail Killeen as one of his greatest influences. "As a director, she really pushed me to understand a play's text. She would always ask more questions than make statements."
Studying away at the renowned theater company Second City in Chicago was another formative experience. "I learned so much about acting with honesty. It's just more effective to go for the truth, especially with comedy."