Published April 16, 2019 by Rebecca Goldfine
Person by Person, Annie Rose '20 Helps to Address Homelessness
When Annie Rose '20 received a Maine Community Fellowship from Bowdoin last summer to work for a homeless organization in Brunswick, she was taken aback to learn there were two shelters in this small town—and that even they could not handle the demand for services.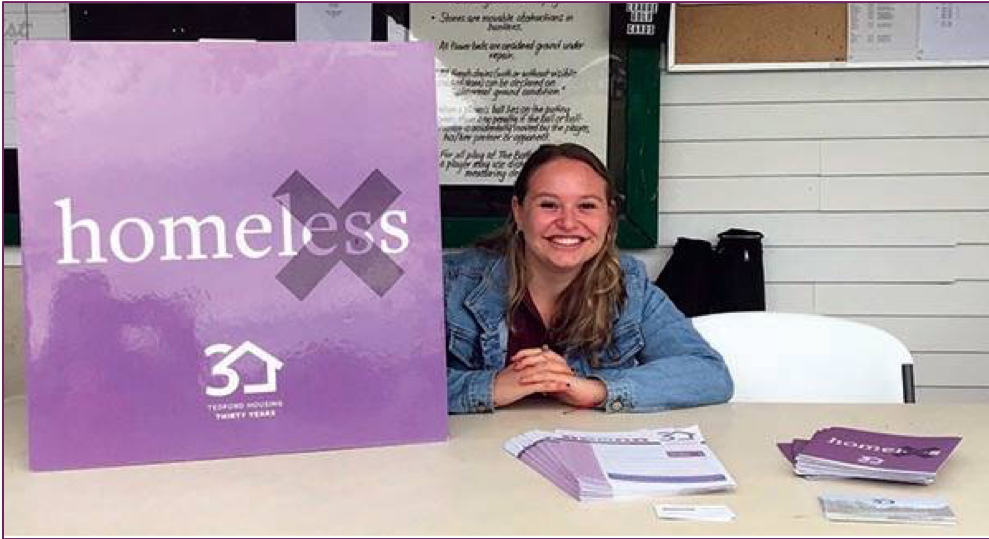 "I didn't know, so I assumed other students didn't know," she said. 
After that eye-opening summer at Tedford Housing—in which she also collaborated with a tight network of local organizations that help people struggling with homelessness, food insecurity, and lack of health care—Rose decided to forge more ties between this part of our society and Bowdoin.
"I had an opportunity to be welcomed by that community," she said. "But we need more opportunities to build bridges."
A doer as well as a thinker, Rose quickly set about making her vision a reality. 
In February, she invited the directors of the four organizations she collaborated with last summer to campus for a panel discussion. More than sixty students attended to hear from the directors of Tedford Housing, which manages Brunswick's homeless shelters; Mid Coast Hunger Prevention Program, which runs a soup kitchen and food pantry; Oasis Free Clinics, which provide affordable health care; and The Gathering Place, a daytime shelter for homeless people and others seeking companionship, warmth, and food.
"There were so many questions from the audience about the organizations, their missions, and the people they work with and the challenges they face," Rose said. "I saw wheels turning in students' heads."
Among the many highlights for Rose that evening was the attendance of Dave Profit, who is Bowdoin's associate director of safety and security. 
"I was invited and I've always had a soft spot in my heart for these organizations and what they do to help folks in the community," Profit said. "I was fascinated by the work Annie was doing and wanted to see what was happening locally."
Earlier in the year, Rose requested a meeting with the heads of security—including Profit, director Randy Nichols, and assistant director Tim Hanson—to discuss how Bowdoin's security team treats homeless people they encounter on campus. (Nichols said it's not uncommon for security personnel to meet with students, whom, he added, often have good ideas.)
"I was curious and wanted to learn more," Rose said. "What are Bowdoin's interactions with the homeless population? What is the protocol? If someone identifies as homeless, are they directed to services, or are the police called to direct them to services?" she asked.
After meeting with Rose, Nichols said he's more careful with the language he uses in campus security reports, which are publicly searchable online. Rather than describing someone as a "transient," which Rose says carries negative connotations, his team refers to people with no home address as "currently living in Brunswick."
"We don't want to be insensitive," Nichols said. When a Bowdoin security officer encounters a homeless person seeking shelter in a campus building—which often happens during breaks when many students have gone—security officers call police who can connect that person to local services. "We are careful about their health and wellbeing, and their safety," Nichols said. 
Rose is working in other ways to connect Bowdoin to the community. She has started a new student club on campus to do arts and crafts with children living at Tedford's family shelter on Federal Street.
And she never misses a Brunswick town meeting to be an advocate for Tedford Housing as it tries to get permission to build a larger homeless shelter in town.
As a psychology and education major, Rose is interested in children and learning more about "how kids become adults, how do we become who we are, and what happens to kids when they face the adversity of unfortunate childhood events."
She's been awarded a Denning Fellowship from Bowdoin to pursue this topic in greater depth this summer. She plans to partner with Tedford Housing's family shelter and its program for youth to look into ways of building resiliency in young people who survive difficult experiences.
One idea she wants to explore is how mindfulness and meditation might protect children from the worst effects of trauma. "I am wondering how we can use mindfulness as a tool or early intervention for any kind of adverse childhood experience," she said. 
Growing up in Long Island, New York, Rose had role models in her mother, who is a nursery school teacher, and aunt, who runs an after-school program for the children and siblings of cancer patients. "I come from a line of caretakers," she said. "I saw how amazing it is to do this work, where you can see change at an individual level."
She added, "I love the idea that we can be individuals but rely on one another. I think that is just beautiful."