Published February 11, 2019 by Tom Porter
College Announces Three Tenured Professors
Two Bowdoin professors—one from the English department, the other from history and Asian studies—are promoted to tenured positions, while a third scholar, currently at the University of Puerto Rico School of Medicine, prepares to take up a tenured post at the College. All appointments take effect on July 1, 2019.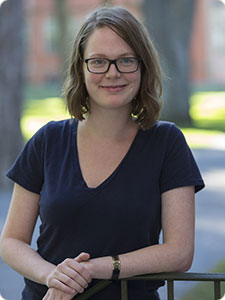 Assistant Professor of English Maggie Solberg came to Bowdoin in 2013 after earning her PhD at the University of Virginia. She earned her bachelor's at Saint Hilda's College, Oxford University in 2005. It was while she was at Oxford that Solberg developed a love for medieval literature.
Awarded the Karofsky Prize for Junior Faculty in 2016, Solberg has focused her research on British medieval literature and culture from Beowulf to Skelton and English drama and the cult of the Virgin Mary (a subject on which she has recently published a book.) She has taught a variety of courses, including Joan of Arc, Chaucer's Dreams, and King Arthur and the Knights of the Round Table. This semester she's teaching Beowulf (ENG 2017) and English Renaissance Drama (ENGL 2200/THTR 2823).
Solberg has served on the Student Fellowships Committee and the Bowdoin College Museum of Art Advisory Council, has organized the 2015 symposium Science before Science, and has been an advisor on the BASE program, which helps students who face above-average challenges in adjusting to academic life.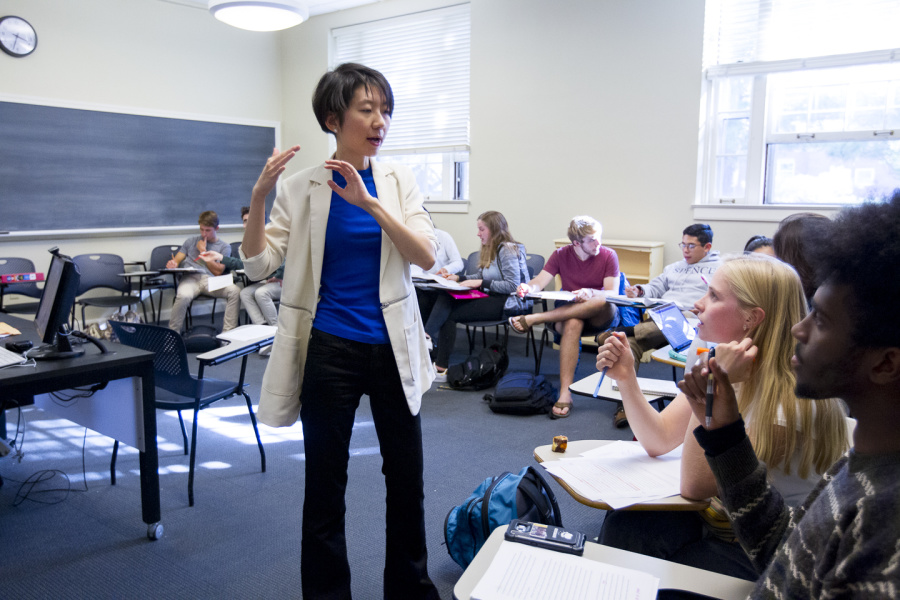 Assistant Professor of History and Asian Studies Leah Zuo joined Bowdoin in 2012, a year after earning her PhD at Princeton University. She earned her BA from Peking University in 2004. Her scholarship centers around the cultural and intellectual history of pre-modern China, middle period China (900-1300), epistemology, history of science and medicine, material history, and gender studies. 
Zuo has taught many classes at Bowdoin, including Foundations of Chinese Thought, Late Imperial China, China's Encounter with the West, and Revolutionary China. This semester she's teaching China's Path to Modernity: 1800 to Present (ASNS 2012/HIST 2322) and Neo-Confucianism (ASNS 3010/ HIST 3321).
She has served on the President's Working Group on Knowledge, Skills, and Creative Dispositions, as well as the Faculty Development Committee. Zuo also organized the 2014 Kemp Symposium: Visions of Reality: Science and Other Means of Seeking Knowledge.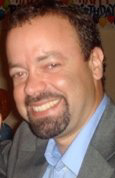 Manuel E. Diaz-Rios will be joining Bowdoin as professor of neuroscience and biology. He is currently a tenured professor of anatomy and neurobiology at University of Puerto Rico School of Medicine. He had previously been a postdoctoral fellow at Cornell University from 2003 to 2006. He earned his PhD at University of Puerto Rico, Medical Sciences campus, in 2003, and his bachelor's, also from University of Puerto Rico, in 1996.
He specializes in neurophysiology and neurochemical mechanisms in vertebrate animals. Diaz-Rios has taught courses in human anatomy, embryology, neuroscience, neurobiology, and physiology.
His service at University of Puerto Rico includes time on the Admissions Committee and the Accreditation Committee, as well being Director of the Neurobiology Imaging Facility and performing outreach work to attract more students to science.