Back from Abroad: Brenda Macias '20
Published by Bowdoin News
Brenda Macias '20, a mathematics major from Chicago, traveled to the other side of the earth—to found neighborhoods that felt like her own.
How did you choose where you would study abroad?
I studied Arabic at my high school in Chicago. My instructor was from Jordan, and he would show us such beautiful pictures of his home. Back home, I lived in a neighborhood that was home to Palestinian and Jordanian immigrants, so I felt at ease right away with the shops, restaurants, and my fellow neighbors.
Was there a time when you felt lost, confused, or misunderstood?
As a woman traveling, for the most part, alone—I had to carefully navigate and respect cultural norms. For example, women must always ride in the back of taxis, even though men often ride in front.
Additionally, as a Latina, I did not fit the mold of what an "American" looked like. But I was also privileged in that I "passed"—meaning some people thought that I was Arab. Unlike my white peers, I was not glorified or readily recognized as an American. 
I lived with a host and felt right at home, because the family dynamics were similar to that of a Mexican household.
I was constantly saying, "thake" which means delicious... because the food was so delicious.
My host sister called me her sister right away, and it felt very endearing. I would go on outings with my host family, and I started to feel like I was a part of the family.
The home-cooked meals were amazing—I have yet to find hummus and fatteh as good as the hummus and fatteh I had in Jordan. 
Colloquial
"Shoo fee ma-fe" translates to "what's good?"
And I love the response, it's so lyrical:
"Sa-fe-ya ma-fe-ya".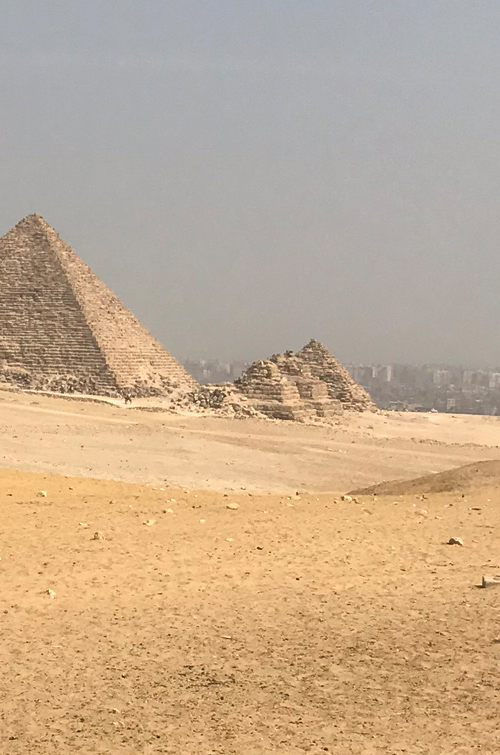 "Because I was often traveling and navigating Amman with limited Arabic, I learned how to communicate better, and really assert myself."
What's been the hardest part about getting back into your Bowdoin routine?
Interacting socially with people has been the hardest. So many people will hit you with the question, "how was abroad?"—and although I love seeing my friends, I found myself repeating the same thing over and over. 
Also, every morning I ate labneh (a yogurt spread) and apricot jam on pita bread... wow writing this makes me miss it so much!