Published November 05, 2018
The Story of Labrador's First Snowmobile, a Converted Model T Ford
Jamie Brake, archaeologist for the Inuit Nunatsiavut Government of Labrador, will deliver a lecture, "Back on Tracks: The Recovery and Restoration of Labrador's First Snowmobile," at Bowdoin College. The lecture will take place on Thursday, November 8, 2018 at 7:00 pm in Kresge Auditorium in the Visual Arts Center. It is free and open to the public.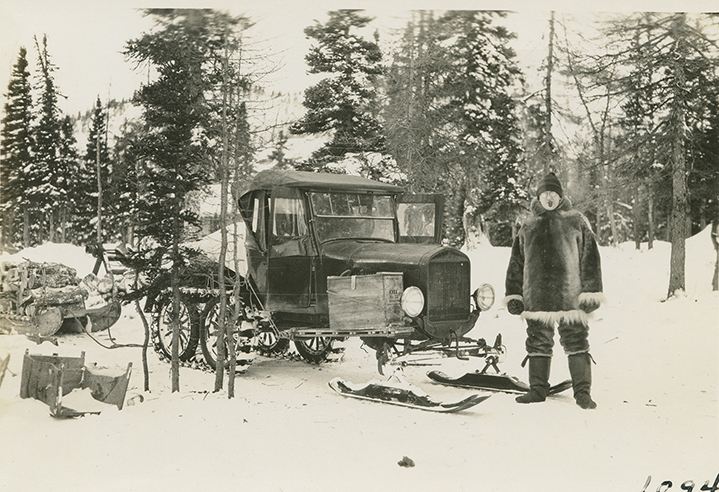 Mr. Brake will tell the amazing story of a Model T Ford taken to Labrador in 1927 by Arctic explorer Donald B. MacMillan. His lecture will include film footage of the vehicle in operation in 1927-28, as well as contemporary footage of the newly restored snowmobile navigating Labrador's snowy terrain once again.
In the summer of 1927 MacMillan loaded a Model T Ford, along with a kit to convert it into a snowmobile, onto one of his expedition ships and took it to Labrador for use on a year-long scientific expedition. Once the sea ice formed, he and the expedition scientists traveled by snowmobile while conducting research in central Labrador. The snowmobile often towed one or two komatiks (sleds) laden with supplies. Inuit and Innu, who had never seen an automobile, let alone one with skis instead of front wheels, were delighted to accept rides on the snowmobile or one of the komatiks it pulled.
MacMillan left the Model T in Labrador when he returned south in 1928, and in 1995 archaeologists found it. The vehicle was in pieces and being scavenged. In 2013 a team directed by Jamie Brake retrieved the vehicle and took it to the community of Nain. Rather than towing a komatik, this time the Model T traveled on one pulled by modern snowmobiles.
The chassis and all recovered parts were sent to Port au Choix, Newfoundland, where, with the help of Model T Ford enthusiasts throughout the world, machinist Frank Noseworthy restored the historic vehicle and got it running again. Mr. Brake will discuss the snowmobile's amazing 91-year journey and plans for its future. His lecture is funded by the Arctic Museum's Russell and Janet Doubleday Endowment.
The Arctic Museum is open Tuesday-Saturday 10:00 am to 5:00 pm, and from 2:00 pm to 5:00 pm Sundays. Admission to the museum is free. The Museum is closed Mondays and on national holidays. For more information please call the Arctic Museum at 207-725-3416 or visit the Arctic Museum website.