Published December 03, 2018 by Bowdoin News
Remembering the Day George H. W. Bush Became a Polar Bear
Conditions in Morrell Gymnasium were described as "sauna like" when George Herbert Walker Bush became the first (and last) sitting US vice president to receive an honorary degree at a Bowdoin commencement.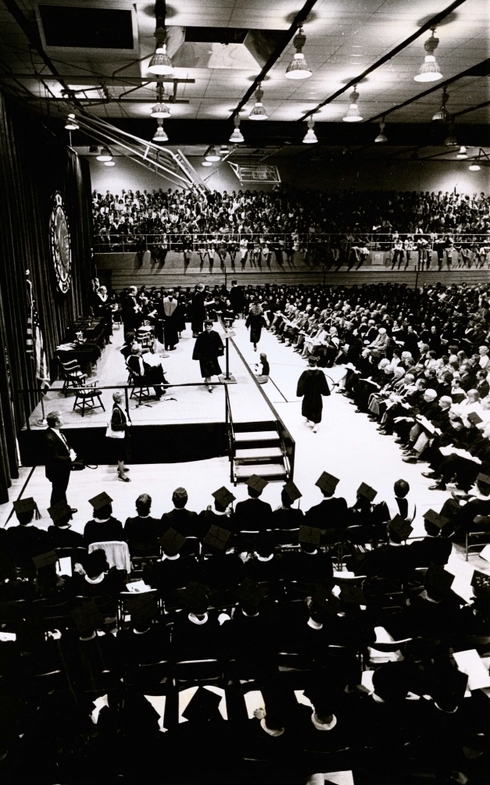 The ceremony had been forced indoors by "ominous" skies at a time when those responsible for the vice president's security weren't taking any chances. It had been just over a year since President Ronald Reagan had been gravely wounded by a gunman outside a Washington, DC, hotel, and a Secret Service detail arrived on the Bowdoin campus nearly a week before the big day to plan security measures. In anticipation of a ceremony outside, the Secret Service had inspected the heating system beneath the Quad and ordered manhole covers to be spot welded ahead of the event. But when it looked like the skies might open for the third time in the previous five commencements, graduation was shifted inside. 
This was more than a decade before a tent would be installed on the steps of the Walker Art Building to shield the stage party from the elements and before the construction of Farley Field House and, later, Watson Arena meant that everyone attending an indoor graduation at Bowdoin would be able to find a seat. On that day—May 29, 1982—Morrell Gym was filled to capacity, and not everyone was so lucky. With the gym beginning to exceed a safe capacity, the Secret Service ordered the doors closed. But, despite the crowds and sticky temperatures, spirits were hardly dampened for those inside as 358 seniors received bachelor of arts degrees from President A. LeRoy Greason.
Accompanied to campus by his wife, Barbara Pierce Bush—a distant cousin of Bowdoin graduates Franklin Pierce and Henry Wadsworth Longfellow—the vice president enjoyed Bowdoin's 177th Commencement seated next to Merton G. Henry '50, chair of Bowdoin's board of trustees. Neither Bush nor any of the five other honorary degree recipients offered remarks that day—in keeping with Bowdoin tradition the only speakers were graduating seniors, including Wanda E. Fleming, Jeffrey P. Hopkins, Christopher Kraus, and Hermon E. Fleming Jr. The Old Guard marshal was William H. Thalheimer '27—who would go on to donate the family property on Orr's Island that is today Bowdoin's Schiller Coastal Studies Center. Professor of Psychology Alfred H. Fuchs served as faculty marshal. Actor Gary Merrill '37 offered several readings at the ceremony, and when the time came, President Greason awarded Vice President Bush an honorary doctor of laws degree while a phalanx of kneeling photographers recorded the moment for the national news.
"In welcoming you to our Bowdoin community, we welcome a man of justifiable national prominence—and we welcome a Maine neighbor," read the honorary degree citation, acknowledging Bush's family ties to Kennebunkport, Maine, where he spent nearly every summer of his life—including a final summer this year.
It wouldn't be the last time George H. W. Bush visited the Bowdoin campus—in the late 1990s, well after his years in public service, he was spotted in the bleachers near Farley Field House cheering on a nephew whose Colby Mules were battling Bowdoin in men's lacrosse—but the experience of that 1982 Commencement prompted Bowdoin to debate the wisdom of awarding an honorary degree to a sitting political figure of such prominence. 
"A Loss to the Nation"
Former Maine US Senator George J. Mitchell, a member of the Bowdoin College Class of 1954, called Bush's passing "...a loss to the nation" in an interview broadcast Sunday morning on National Public Radio's "Weekend Edition."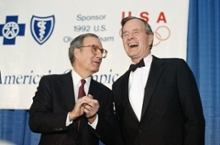 Mitchell, a Democrat who served as majority leader of the Senate during the Bush administration, remembered that he and Bush "often disagreed, but you knew where you stood." "I trusted his word," said Mitchell.
Mitchell noted that without the "hyper-partisanship" that exists today, the two were able—despite their political differences—to enact landmark legislation like the Clean Air Act of 1990 and the Americans With Disabilities Act. 
Bush, said Mitchell, was "an honorable man, a decent person, a good American…really a war hero. He devoted his life to improving the wellbeing of the people of his country."
Still, it was a day to remember—the day the man who would go on to serve as the forty-first president of the United States became an honorary Bowdoin Polar Bear.