Safa Zaki Is Inaugurated as Bowdoin's Sixteenth President
By Tom Porter. Photography by Fred J. Field and Michele Stapleton.
For only the sixteenth time in its nearly 230-year history, Bowdoin College has inaugurated a new president. To add further historical weight to the occasion, this is also the first time the post has been held by a woman.
On October 14, 2023, Safa Zaki was formally invested into office in a ceremony on the Bowdoin Quad.
"In Safa Zaki, we believe we have found a leader who appreciates the history and traditions of our college and the academy, who can meet the challenges of today and tomorrow," said Scott Perper '78, chair of the board of trustees.
The ceremony began with an invocation by Director of the Rachel Lord Center for Religious and Spiritual Life Oliver Goodrich. Addressing the attendees on campus, as well as watching around the world, he said, "Your presence here today affirms your support of not only President Zaki, but also of the College and its educational mission to form wise, ethical, compassionate graduates who are prepared to lead in a world that is desperately in need of humane leaders," added Goodrich.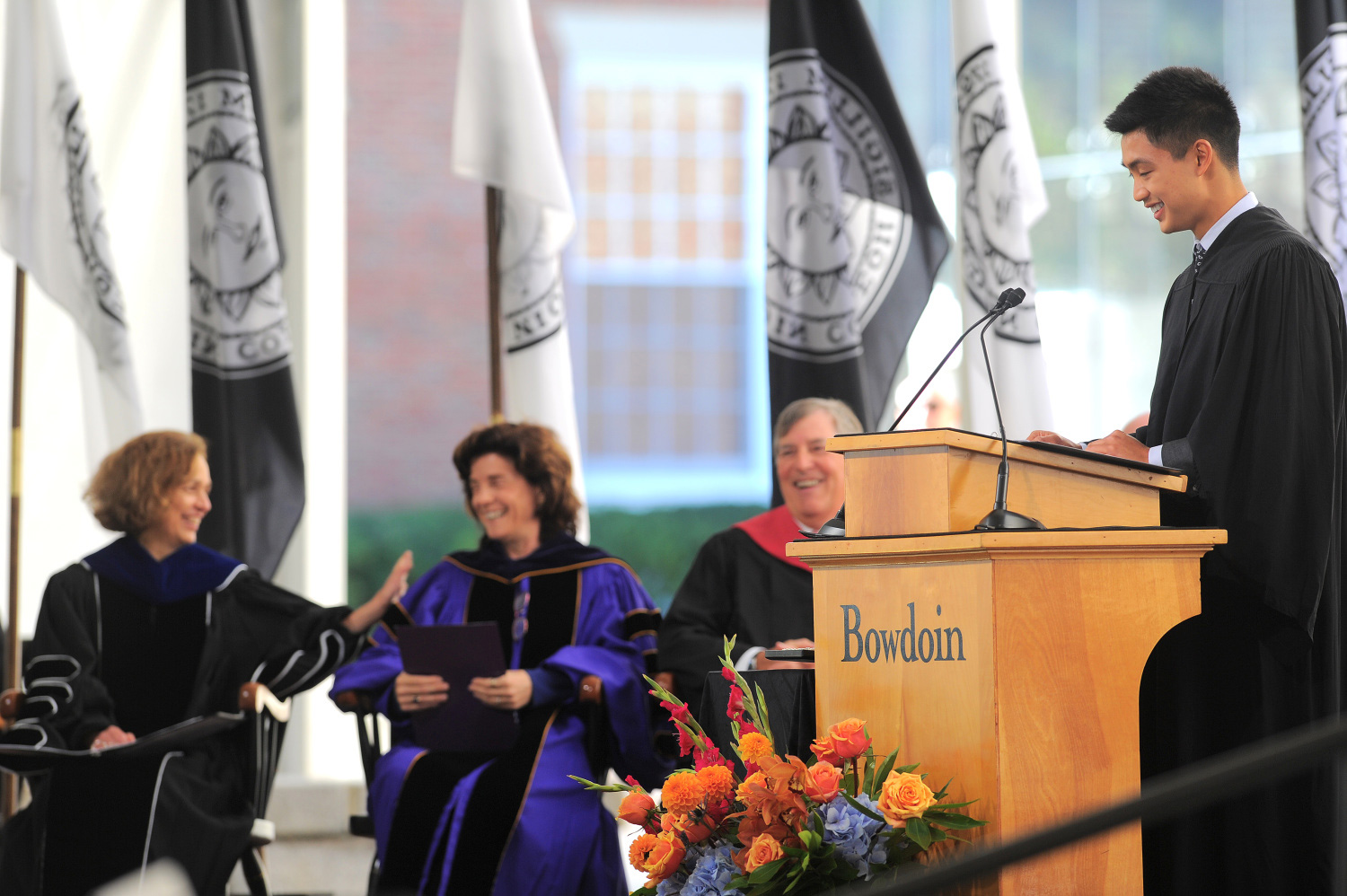 After an official welcome by Perper, who was also a member of the Presidential Search Committee, greetings were delivered by five speakers. Professor of Chemistry and Biochemistry Danielle Dube gave remarks on behalf of the faculty; representing the student body was Paul Wang '24; councilor Abigail King spoke for the town of Brunswick; greetings "for the state" were delivered by Olympic gold medal-winning marathon runner Joan Benoit Samuelson '79, P'12; and speaking "for the academy" was Maud S. Mandel, president of Williams College, where Zaki served as dean of the faculty and the John B. McCoy and John T. McCoy Professor of Psychology before coming to Bowdoin.
After her investiture into office, Zaki delivered her inaugural address, in which she thanked all the speakers and other attendees at the event (which included Governor of Maine Janet Mills), as well as members of the wider Bowdoin community for her warm welcome. 
As Bowdoin's first woman president, Zaki honored all the women who had come before at Bowdoin, starting with Marion Holmes, Ruth Yeaton, and Marguerite Little, who eighty years ago became the first women to teach at Bowdoin. A shout-out also went to Helen Cafferty, who fifty-one years ago "became the first female faculty member to go through the ranks; and I am honored that she is in the audience today," said Zaki, who also paid tribute to the women who graduated in 1975—the first graduating class to be fully coeducational.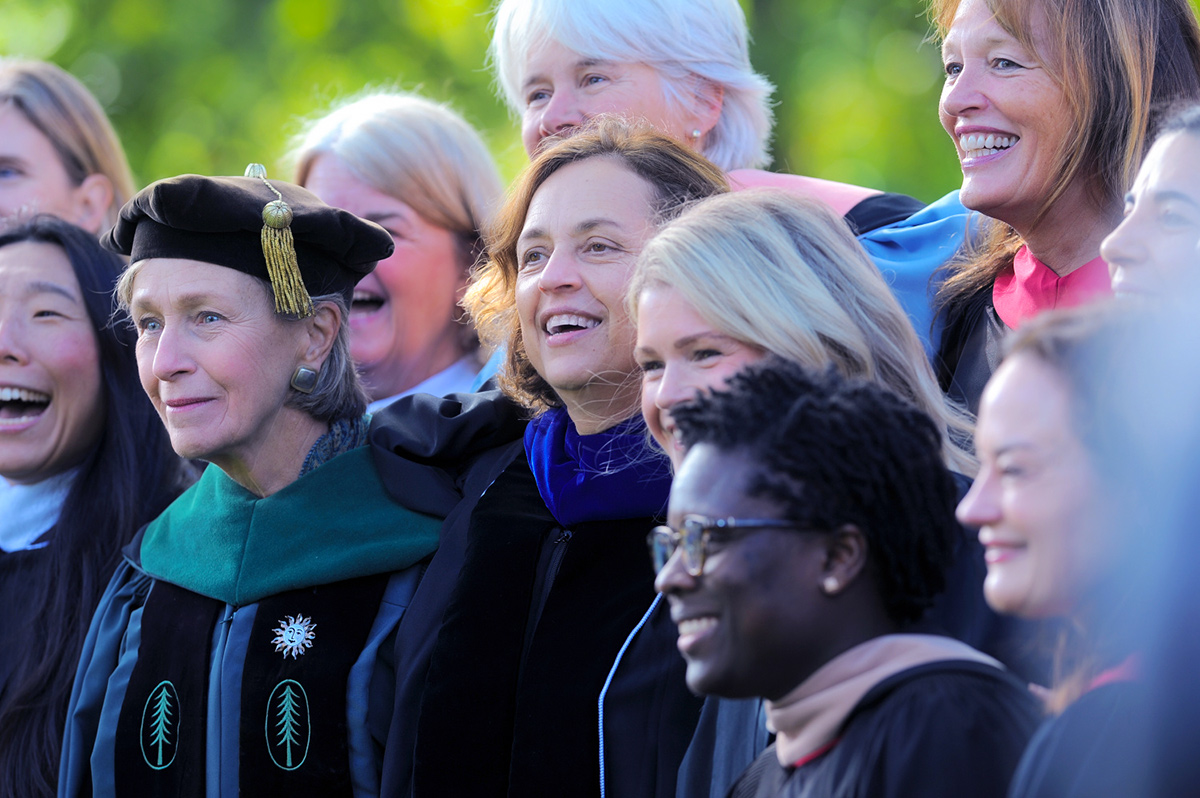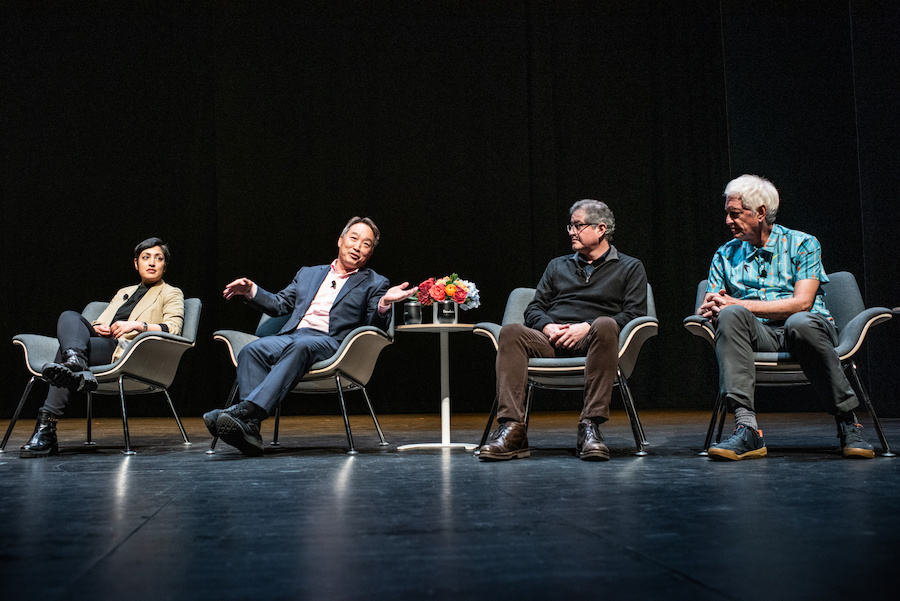 As part of the celebratory inauguration of President Safa Zaki, a diverse panel of artificial intelligence experts reflected on how society might best position itself to embrace the new technology and generate the most good.
Zaki told the audience she had been thinking a lot about the meaning and value of a liberal arts education. She talked about the liberal arts in terms of sound, describing it as "a symphony we can only make together. It is the sound of students and faculty talking about ideas and trying to solve problems from the vantage point of many different disciplinary and interdisciplinary lenses. You can hear this sound in every classroom, in dining halls and residential houses, on athletic fields and in other campus spaces.
"I can tell you from my own experience teaching psychology and cognitive science classes that students approach the material with questions that come from wide-ranging fields in the classes they are taking," she continued. "That sound—the sound of the liberal arts—doesn't just exist, it needs to be made... through practice and discipline, through slow, patient, and sometimes difficult work."
Zaki talked about her background, which involved a childhood growing up in many different places. "My parents encouraged us to be open to and excited about learning from the people we met and the places we lived, a value that has profoundly enriched my personal and professional life." This experience, she said, serves her well at Bowdoin, which Zaki described as "a community of people from many different places who have different life experiences, and who hold different beliefs and practice different traditions. It is one of the great gifts of a place like this."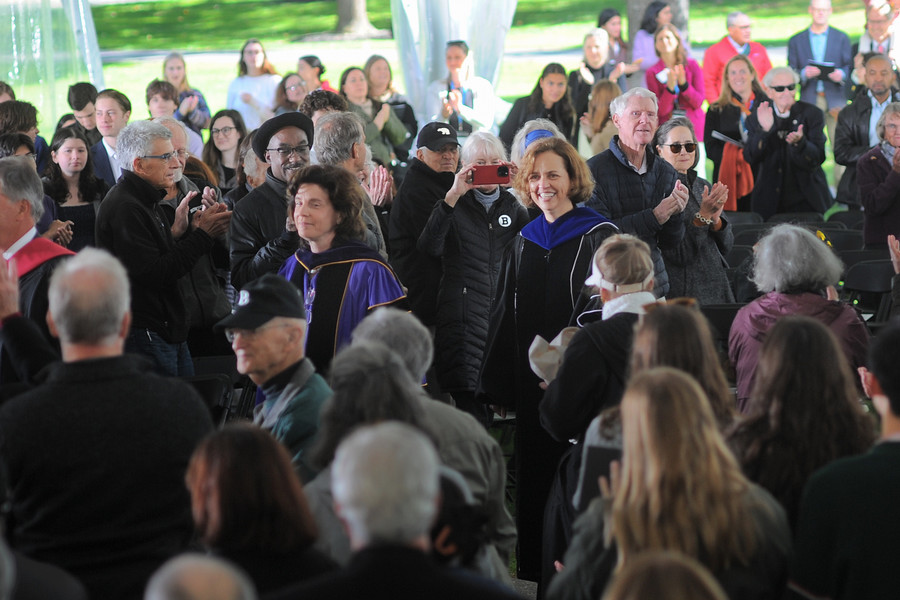 The inauguration of Bowdoin's newest president involved three days of activities, including student performances, a panel discussion about artificial intelligence, and the ceremony itself.
The challenges and opportunities of artificial intelligence was another theme tackled by Zaki in her address. While some might think the proliferation of artificial intelligence will make a liberal arts education less relevant, she said she thinks it makes it more powerful. "We need more than ever students who understand ethics, who understand complexity, contingency, who welcome and learn from multiple perspectives, who resist flattened-out explanations," she added.
Zaki ended her address with more "thank yous," expressing her gratitude to the Bowdoin community for the warm welcome she and her family have received since her first visit to campus back in March. "I want to thank you in advance for the conversations we will be having about the work we do here together," she said, adding that she expects some of those conversations to be challenging: "We won't always agree."
Music at the ceremony included original work by Professor of Music Vineet Shende. The processional piece was Fanfare for a New Day, performed by a student and alumni brass ensemble and conducted by Shende himself. The interlude music was another composition by Shende called Zephyr, performed by Anya Workman '25 on flute and Robert Beckwith Artist-in-Residence George Lopez on piano. For the recessional, Lopez was accompanied on piano by guest artist Gulimina Mahamuti for a performance of Slavonic Dances, op. 46, no. 1 (Furiant) by Antonin Dvořák (1841–1904).
View the inauguration program (.PDF) »