Published September 11, 2017 by Rebecca Goldfine
1st 'What Matters' Conversation Tackles Healthcare
Is healthcare a human right?
Interested students, staff, and faculty discussed this question in a community conversation held on campus last Friday afternoon. They began by parsing the meanings of health and healthcare before considering some of the thorny political questions surrounding healthcare in the US.
The McKeen Center for the Common Good each year responds to issues of local or national importance to the Bowdoin community by hosting a series of open forums called What Matters. Faculty are often invited to lead the discussions, and participants are encouraged to share their perspectives. "We hope you gain understanding of the many voices in the room," said Tom Ancona, a McKeen Center associate director who helps organize the What Matters events.
Associate Professor of History David Hecht facilitated Friday's conversation, "Healthcare: A Human Right?" Hecht teaches an interdisciplinary seminar, Public Health and the Liberal Arts, which Bowdoin recently began offering in response to students' growing interest in public health.
To launch the discussion on healthcare, Hecht began by asking the "deceptively simple question: What is health?"
"Before you can talk about healthcare as a right, you have to assess what it is we are talking about in the first place," he explained. "Is healthcare a right? For who? And what sort of healthcare and to what kinds of health outcomes are we talking about?"
Throughout the event, Hecht offered a series of questions for students to think about, including, "What is the difference between health and healthcare? What are the kinds of healthcare issues that get a lot of attention in this country and what do not?"
Besides breaking into smaller groups to address these questions, some of the attendees also sent in answers via text. Ancona collected and displayed the responses in a real-time word cloud he projected on a wide screen.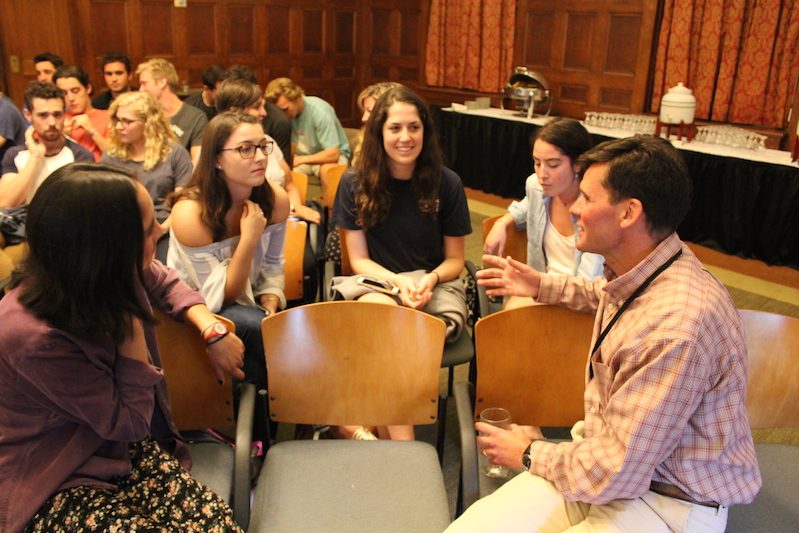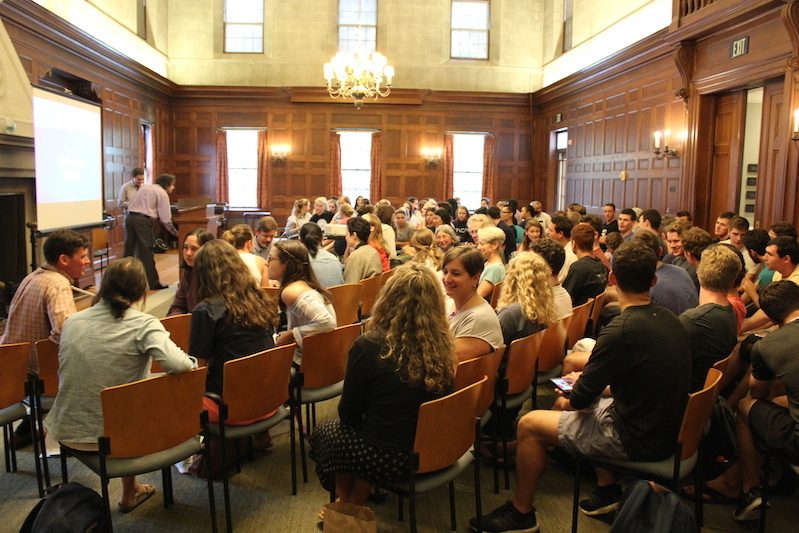 The event was sponsored by the McKeen Center, Health Services, Peer Health, the Eisenhower Forum, Howell House, and the men and women's hockey teams.