Published February 28, 2017 by Rebecca Goldfine
New Public Health Course Meets Rising Student Demand
Responding to increasing interest in public health by students—who see it as a potential career, a way to practice the common good, and/or an interesting field of study—Bowdoin is offering a new course this semester called Public Health and the Liberal Arts.
The class is interdisciplinary and approaches the study of public health from the vantage of the humanities, social sciences, and sciences. Guest lecturers and Bowdoin faculty give weekly talks—which are all open to the public —on subjects such as epidemiology, medical ethics, environmental health, public policy, disability, nutrition, pharmaceuticals, health inequalities, and mental illness, as well as on the history, globalization, and literary representations of health.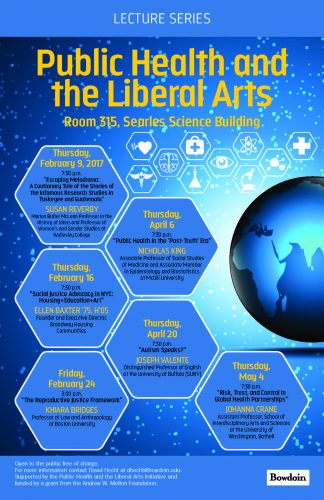 David Hecht, associate professor of history and the class instructor, designed the course after launching a broader initiative two years ago with other faculty and Interim Dean of Academic Affairs Jen Scanlon. The college wanted to create more public health programming to respond to the rising number of Bowdoin students seeking public health offerings here.
Funding from the Andrew W. Mellon Foundation to enhance thematic instruction across the humanities and humanistic social sciences at Bowdoin is supporting the six outside speakers, who include historian of medicine, an affordable housing expert, a reproductive justice lawyer, a medical anthropologist working on HIV in Africa, a literature and autism scholar, and a biomedical ethicist.
Students had to apply for one of the 18 spots in the class. Those with a pre-med orientation are well represented in the class, as are "students who are very clear that they are interested in health issues from a policy perspective," Hecht explained. Many have already had experience in public health, either through an internship, study abroad program, or academic project. The diverse backgrounds of students brings additional perspectives on health to the class, according to Hecht.
He added, "The idea of this initiative or this class is not do an intro to public health and not to replicate what a place like Johns Hopkins University does in an undergraduate major in public health. It is to look at what Bowdoin, as a liberal arts college, can contribute to the study of public health."