Published May 18, 2017 by Rebecca Goldfine
What Happened When Students Read News From the Other Side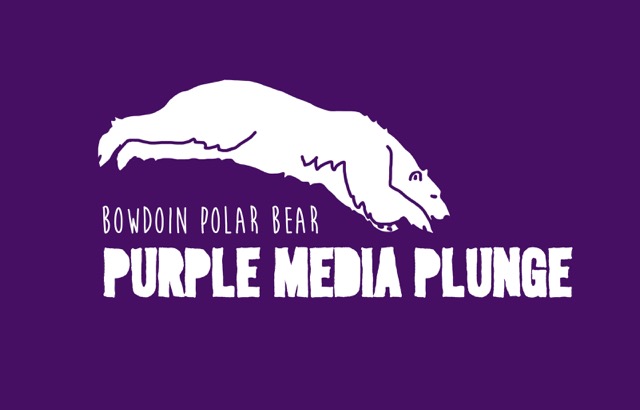 For one month, fifty-two students and one staff member forced themselves to break from their comfortable routines by reading news from across the political divide.
They were volunteers in the Polar Bear Purple Media Plunge at Bowdoin, an experiment in bipartisan news exposure organized by Assistant Professor of Economics Dan Stone, Associate Director of Student Affairs Kate Stern, and McKeen Center Associate Director Tom Ancona. Students Marina Affo '17, Dan O'Berry '17, Justin Wallace '17 and Drew Van Kuiken '17 also helped plan and run the project.
The plunge was launched due to interest across campus in finding ways to counter deepening political polarization, a divide that is reinforced by the growing popularity of overtly left- or right-leaning news sources.
In addition, Stone said he was initially inspired by a research project he worked on with Wallace that had required them to read headlines from a variety of sources. "Honestly, reading these headlines that I never would have come across otherwise made me realize these sources are more reasonable than I'd given them credit for," he said. "I thought this was a good experience and if it happened to me, it could be the case for others, too."
The plunge comes at a time when the media landscape is increasingly fractured — both by partisan politics and social media. Studies of "motivated ignorance" show the lengths people take to avoid alternative points of view — even refusing cash offered to them to read an article they disagree with. A study commissioned by the KIND Foundation has found that over 60 percent of Americans get news from social media, but only five percent of US adults see social media posts that differ from their perspectives.
To participate in the Bowdoin media project, "plungers" pledged to read the daily headlines, if not the complete stories, from three news outlets — Fox News, CNN, and MSNBC — for one month. The three outlets were selected because of their prominence and because they form a natural group representing a variety of perspectives. (Plunge organizers emphasized that they were not endorsing the quality of any of these outlets.) Before the challenge began, and once again after it was complete, Stone and his students surveyed the participants.
Stone began the experiment knowing there was a chance it would backfire. In fact, the "backfire effect" is a well-documented phenomenon in political science. It refers to people's tendency, when confronted with facts that challenge their beliefs, to double down on their beliefs rather than changing their minds.
But the results of the plunge indicate that extended exposure to alternative views, which has not received nearly as much study, might be more effective in combating polarization.
For one, the findings show that the plunge increased the majority of participants' interest in getting diverse news. Before the plunge, the majority, 57 percent, said that they "occasionally, rarely, or never" got their news from sources that did not reflect their ideological bent. After the plunge, 66 percent said they would make more of an effort to get more politically diverse news in the future.
The survey results also showed that participants' favorability ratings for Fox News and CNN increased significantly over the month, and also rose somewhat for President Donald Trump — a notable finding given that the majority of participants identified as falling on the left side of the political spectrum.
But when these same participants were asked if they thought the experience had shifted their perceptions, they believed their feelings had not changed. "An obvious concern with this experiment is that since participation was voluntary, they may have wanted to think about the other side of the political spectrum more favorably," Stone noted. "But the fact that left-of-center people didn't realize their ratings toward Fox and Trump had improved suggests this wasn't the case."
The results of the plunge are intriguing enough — despite a few caveats, such as the small and self-selected sample and the study's limited incentives — to warrant a research paper, Stone said.
Tom Ancona has been handing out T-shirts to successful plunge participants, and asking them about their monthlong purple media undertaking. "Everyone said it was a positive experience," he said. And even if they don't continue reading both leftwing and rightwing news sources, he said the experience "opened students' eyes to what other people are getting from their news on a daily basis."