Published March 31, 2017 by Rebecca Goldfine
Campus-wide Media Project Targets Red/Blue News Divide
Whether it's the sites we choose, the stories our friends post, or the news that algorithms use to populate our feed, more Americans are learning about current events through a particular partisan lens.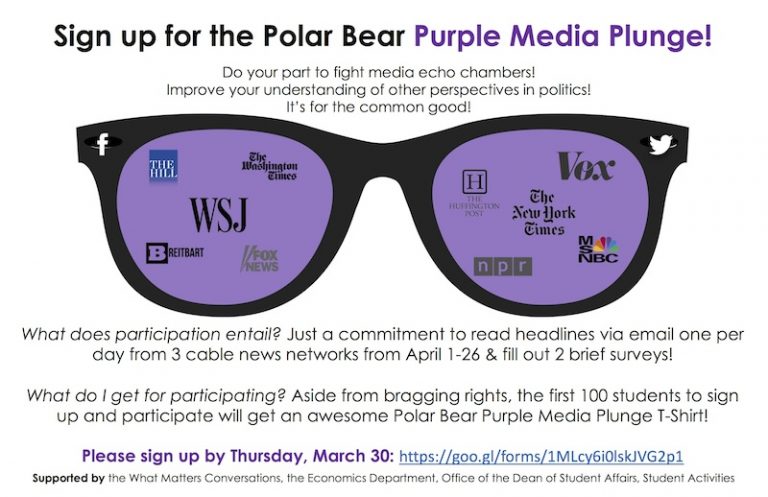 An experimental project on campus, starting Saturday, is encouraging students to stray from their comfortable news sites — where they can reliably read articles with a liberal or conservative bent — and to try reading news from the other side.
The Polar Bear Purple Media Plunge launches April 1. Volunteer participants pledge to read the major headlines from three cable news channels with differing partisan reputations — CNN, Fox, and MSNBC — each day until April 26. Staff and faculty are welcome to join.
"To be clear, we're not endorsing any of these media outlets — just the idea that it's good for society to push ourselves to be exposed to different perspectives and to learn about what drives our fellow citizens' perspectives, opinions, etc. — and to encourage others to do the same," emailed Dan Stone, an assistant professor of economics who helped design the project.
McKeen Center Associate Director Tom Ancona and Kate Stern, who is associate director of student affairs and the director of the Resource Center for Sexual and Gender Diversity, are assisting the project, as are Marina Affo '17, Justin Wallace '17, Daniel O'Berry '17 and Andrew Van Kuiken '17.
"We're all sort of stymied by the current media/political environment, so we figure it's worth trying something unconventional, even if it's something of a long shot."—Bowdoin economist Dan Stone
The Purple Media Plunge follows a campus What Matters conversation, "Red Feed, Blue Feed: Through what lenses do we view our media?", that was held Monday night, March 27. Students gathered in the pub to discuss how the national media model has changed in just a couple of decades — from a handful of widely read or viewed news sources — to a splintering of media outlets on the Internet. They also debated the benefits and drawbacks of our new media landscape, according to Ancona, who organized the event.
Ancona said he sees the Plunge as a way for Bowdoin community members to gain exposure to different perspectives outside their daily experience, a mission that reflects the goal of the McKeen Center's What Matters discussion series. As of Thursday afternoon, about 80 students had signed up for the Plunge.
After working with Wallace on a research paper that had them both reading news articles from diverse media outlets, Stone said he developed a greater appreciation for the complexity and variety of content he found. He began wondering what the longterm consequences might be of being exposed to media we don't normally look at.
"I wasn't aware of research on such longterm exposure," he continued. "There is research on some not so great 'backfire' effects in the very short-run, but I think it's possible effects could be more positive — that understanding and even empathy could be enhanced — with longer exposure."
Participants are only asked to read daily headlines — not full articles — to reduce their time commitment. They will also fill out a brief pre- and post-survey.
While the experiment could lead to a journal article or student research paper, Stone said the Media Plunge is mainly for fun and to, hopefully, be a good experience for participants. He notes that the sample of participants is not random, and regardless, outcomes are impossible to predict.
"I'd be happy if some participants find this worthwhile and push themselves to keep doing this sort of thing going forward," Stone said. "I'd be thrilled if this catches on — if outcomes were good and led to other colleges/organizations doing something similar."