Published January 16, 2014
Digital Humanities @ Bowdoin – Allison Cooper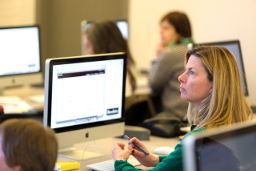 On January 13-16 of 2014, nearly two dozen Bowdoin faculty members are taking a turn as students in a short course for faculty titled "Digital Humanities @ Bowdoin," as part of the College's new Digital and Computational Studies Initiative. Some of the course participants have already gotten their feet wet with projects that take advantage of computational methods and tools. Assistant Professor of Romance Languages Allison Cooper describes her current project:
My project is an extension of research that I am engaged in for my book in progress, Modern Rome between the Sacred and the Profane, which examines Rome's dual identity as capital of modern Italy and capital of Christendom. I'm particularly interested in films in which the city functions as more than a generic setting and that create meaning through associations with its symbolically rich history and topography. Directors like Roberto Rossellini (Rome, Open City, 1945), Federico Fellini (La Dolce Vita, 1960), and Nanni Moretti (Habemus Papam, 2011), for example, have sited some of modernity's greatest challenges – total war, consumerism and secularism, among others – in the heart of the Eternal City.
My digital humanities project will support my research as I compile a filmography of Rome films that offer a compelling illustration of the relationship between the city and Italian cinema. As I select films to study and their most significant scenes, I'm converting the latter to digitized clips, writing brief narrative descriptions that highlight their relevance, and tagging them with markers for director, actor(s), year of release, and genre, as well as for their most distinctive formal aspects (mise-en-scene, editing, cinematography, sound, etc.). Eventually, I intend to build a website to host this curated collection of the clips, along with a comprehensive filmography of Rome films and a bibliography of further readings for each film represented in the collection. Finally, my teaching appointment at Bowdoin is shared between Italian and Film Studies, and this data would also be a useful component for an eventual course on Rome and Italian cinema.