Published September 20, 2006
Bringing Underground Chinese Cinema to New Audiences
It could have been a movie plot. A Chinese scholar and her student hit the streets of Beijing in search of underground films. They have just a handful of names, no contacts.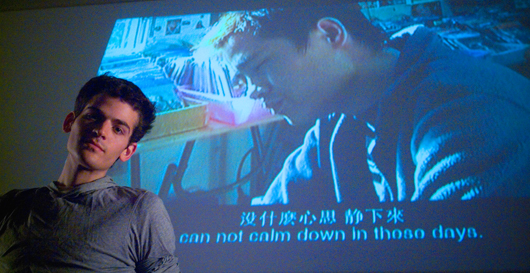 After one lucky introduction to a film Web-page editor, Bowdoin Associate Professor Shuqin Cui and her student, Jordan Schiele '07, learn of an independent documentary film screening at a small salon. There, they meet the film director, who introduces them to another.
Over the course of a month in China, Cui and Schiele increasingly find themselves drawn into a closed world — what the Chinese call quan zi, or circular network — peopled with independent documentary film directors, film critics, and a woefully small audience of mostly European film viewers.
This is what they came for: an immersion into the world of independent Chinese documentary filmmaking.
Jordan Schiele spent July at Bowdoin reviewing films from China. "Transplanting these films away from the commotion of Beijing allowed me to more introspectively grasp their meaning," he said.
Far from the booming commercial images of modern-day Beijing, said Cui, these films often show the "mundane realities and the most disadvantaged social groups, such as floating populations, laid-off workers, homosexuals, HIV/AIDS victims, prostitutes, and others left behind by the new economy.

"Documentary films are an important component of official and commercial media in China," she added, "but independent documentary filmmaking is totally different. They are really underground. Often with a digital camera in hand, the director follows those underrepresented and keeps distance from the government. Independent and marginal, however, they have been largely isolated from potential audience and market distribution."
Cui and Schiele want to change that — at least in their corner of the world. After a highly successful "treasure hunt," they returned to Bowdoin in July with a collection of rarely seen documentaries that, according to Schiele, "present a fascinating contrast to what the Western media presents of China today."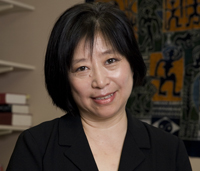 On Film Censorship
Public screening for these documentaries is critical, says Shuqin Cui, given recent censorship of noted Chinese filmmaker Lou Ye. The director was banned from filmmaking for five years after screening his new feature, "Summer Palace," at the Cannes Film Festival in August 2006. The film failed to get government approval due to its inclusion of footage from the student rebellion in Tiananmen Square.
"Censorship is a sensitive issue in China," noted Cui, who is an author and scholar of Chinese cinema. "The country has opened itself dramatically, but censorship remains a serious threat to artists. Many independent film directors face a dilemma: compromise to meet official regulations in order to get the films approved, or remain true to oneself but risk censorship.
"That's what makes the documentaries simultaneously significant and controversial: They present a people and a place from angles that few have seen before.
"Without support for distribution, showings inside China remain limited to art salons and small gatherings, but filmmakers are making great efforts to have their works solicited for international film festivals and introduced to a much wider audience. I feel a great responsibility to introduce their powerful works at least to the Bowdoin community."
Schiele has organized "On The Border," a retrospective of six of these films, which will be shown on campus Thursdays at 7:30 p.m. at Smith Auditorium, Sills Hall, from October 5 through November 9, 2006. The series is co-sponsored by the Film Studies and Asian Studies departments.
"I developed this project in order to provide fellow Bowdoin students and Brunswick residents with a more holistic and less mainstream perspective on modern Chinese issues," noted Schiele, an Asian studies/government major who has studied, traveled and worked in China four times in the past two years.
"When I first arrived in China, like most newcomers, I was instantly done in by the development and construction, the size of what is taking place there," he explained. "There are characters you confront in the big metropolis that you will pass by, because you are in awe of the big buildings.
"With additional visits to places where that is not taking place, suddenly you're confronted with a far less visual experience. You are presented with an almost static landscape of things not having changed for the past 100 years. It's difficult for those who don't speak Chinese to penetrate these levels of Chinese society. I hope these films will offer new perspectives."
The first film in the series is a work by director Da Yong Zhao titled "Life on Nanjing Road." It reveals the hidden lifestyle of homeless bottle collectors in a highly upscale shopping district in Shanghai. The filmmaker created it entirely with his own funds.
Schiele describes it as "unexpectedly comic, melancholic and realistic. It is perhaps one of the most introspective documentaries produced and directed by an independent director in China."