Historical Information
Photo album:
A look back at Bowdoin Commencement ceremonies from years past.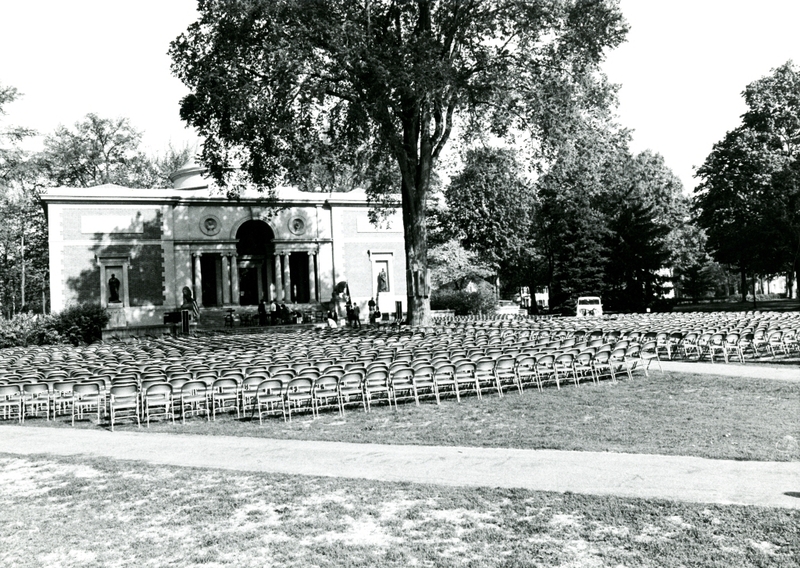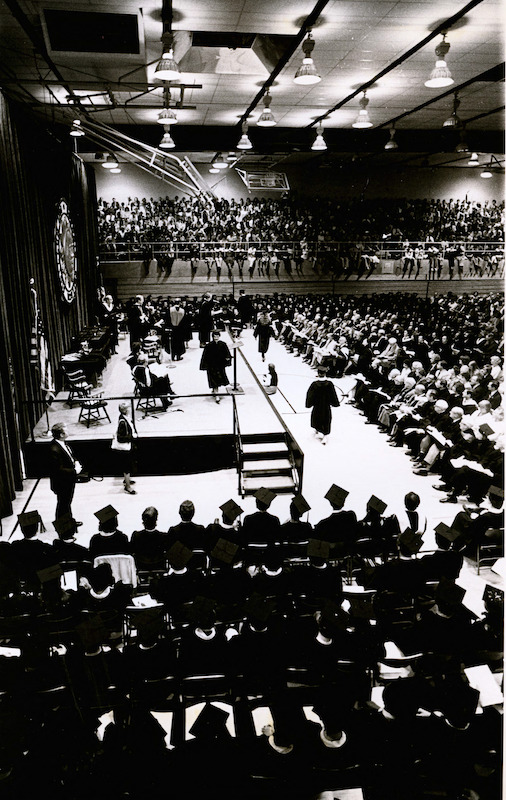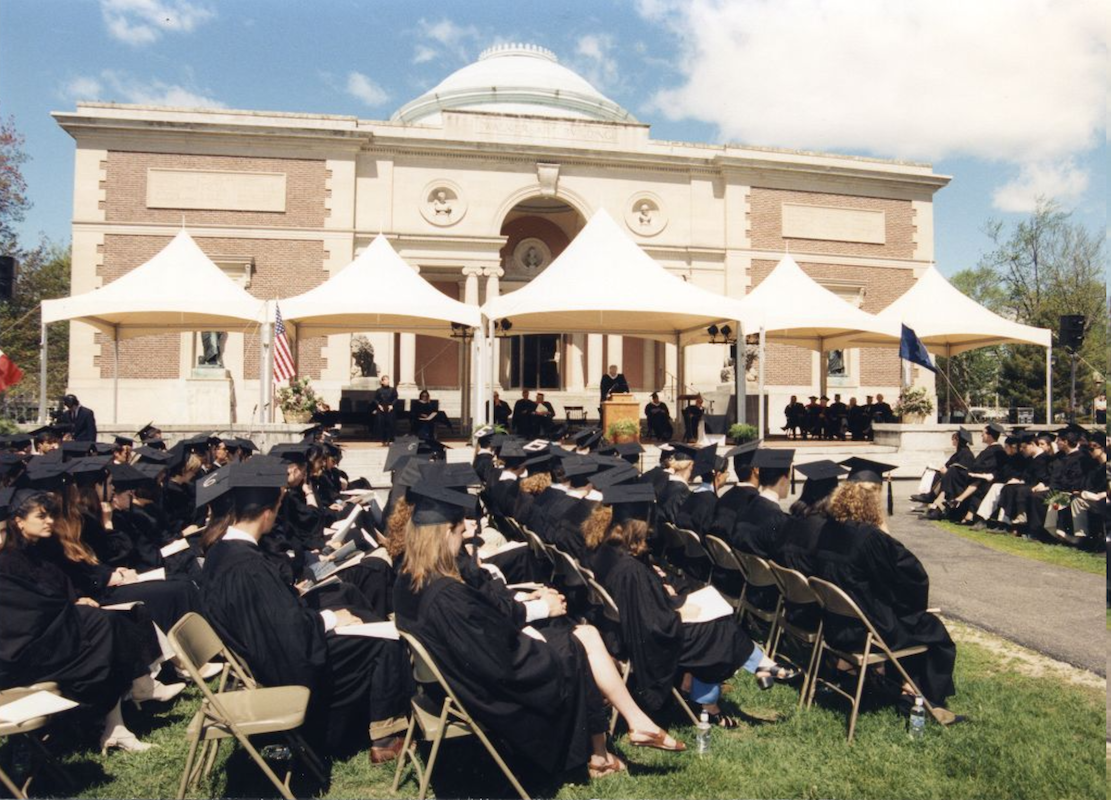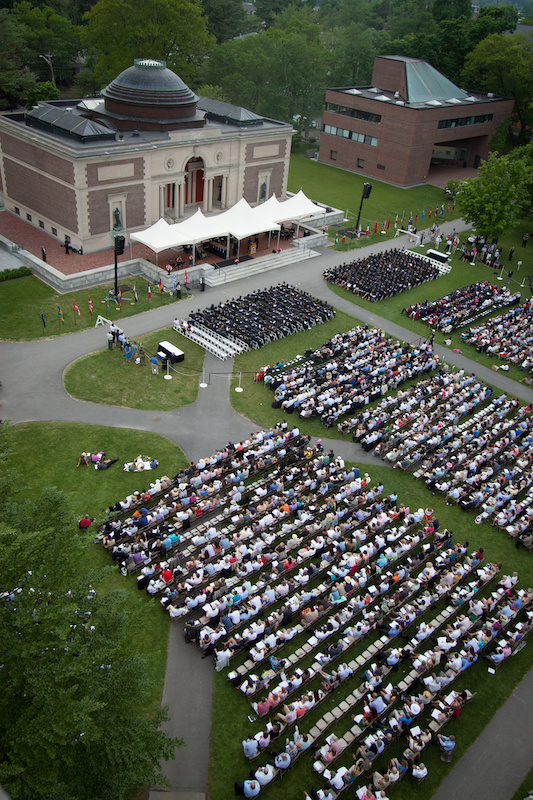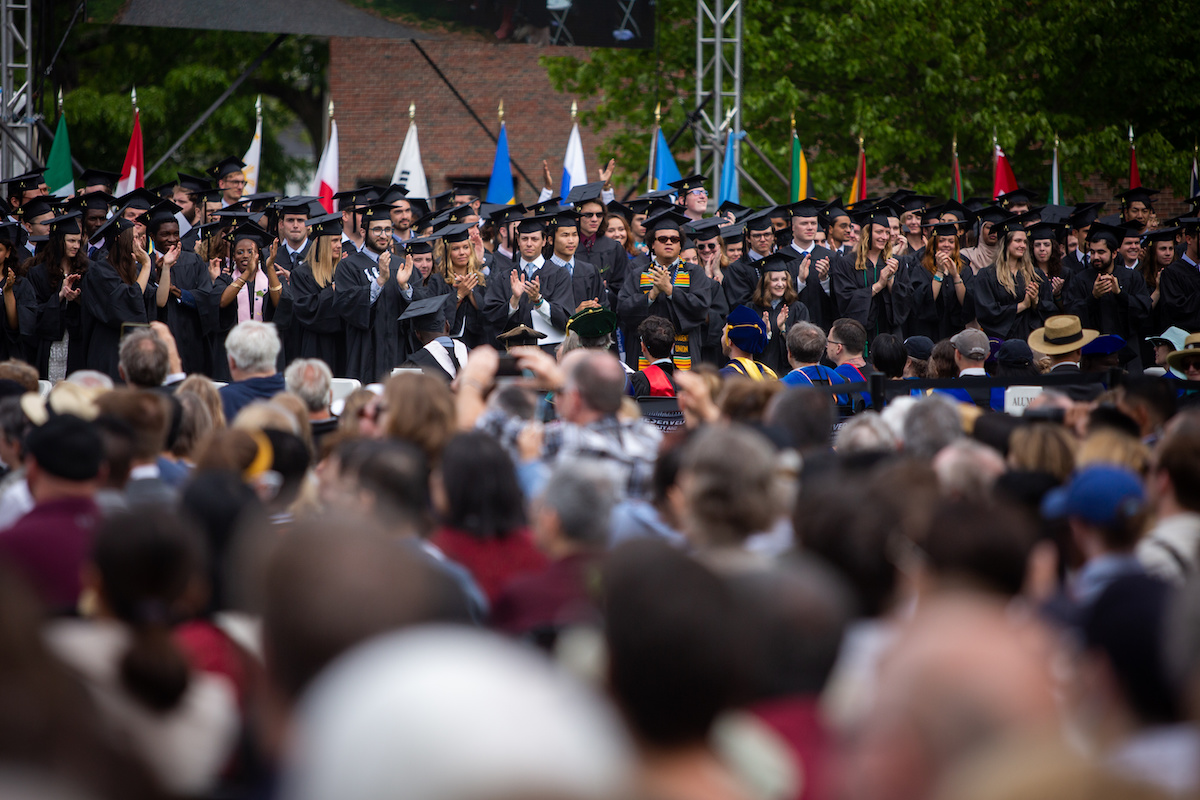 Historic Celebrations
1806: Bowdoin's first Commencement was held in the Second Meetinghouse of First Parish Church across the street from the College. Seven students graduated, four more than graduated the following year, in 1807. The first graduation ceremony took place during torrential rains, and though it was held inside, President Joseph McKeen had to deliver his address while holding an umbrella over his head because of leaks in the roof of the newly-completed meetinghouse.
1824, 1825: The Governing Boards voted to give the Marquis de Lafayette an honorary degree in 1824, but since he never came to Maine that year, the degree was awarded in a special ceremony in Portland in 1825.
1826: John Brown Russwurm, Class of 1826, became the first African-American to receive a degree from Bowdoin, and became the third African-American to receive a degree from a college or university in the United States.
1852: Commencement during Bowdoin's semicentennial celebration took place in a large tent on the quad. Franklin Pierce (1824) and Nathaniel Hawthorne (1825) were in attendance.
1865: In a one-day visit to Maine, Gen. Ulysses S. Grant received an honorary degree. Four years later, he would become the eighteenth president of the US. 
1875: On the day before Commencement, at the fiftieth reunion of the Class of 1825, Henry Wadsworth Longfellow recited his poem "Morituri Salutamus," an elegiac reflection on youth and age.
1877: The last year in which every graduate had a speaking part during the Commencement ceremony. Addresses were given in Latin, German, and occasionally Greek or Hebrew. The custom of selecting student Commencement speakers through competition began in the 1880s.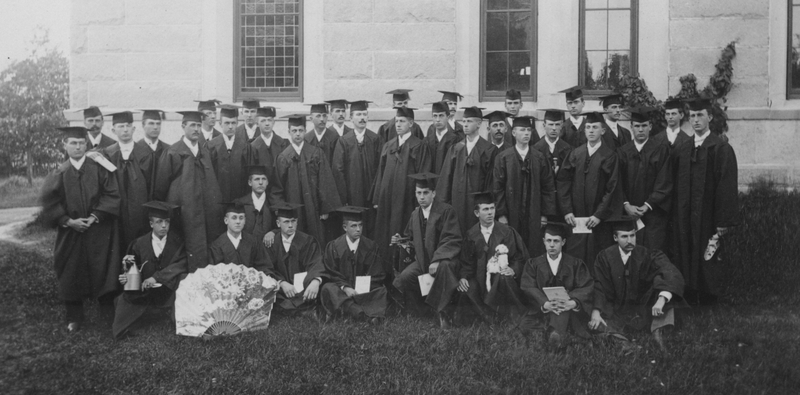 1890: This class was the first to introduce the custom of wearing academic regalia (caps and gowns) at Commencement.
1901: Sarah Orne Jewett was presented with an honorary degree, becoming the first woman to receive a degree from Bowdoin and the first woman to receive an honorary degree from an all-male college in the United States.
1914: Admiral Robert E. Peary (1877) received an LLD in honor of his reaching the North Pole in 1909.
1918: Only thirteen seniors were present at graduation to receive their diplomas. (The other 84 students were engaged in military service during World War I.)
1942: Beginning with a summer session in 1942, Bowdoin offered courses year-round in a trimester program to provide as much educational experience as possible for students before they were called up for World War II military service. This entailed having three Commencement exercises during the year— in September, January or February, and May or June. The trimester program lasted through the 1947-48 academic year. After Bowdoin returned to a two-semester academic year in 1948-49, there were still special graduation ceremonies that year to accommodate those whose college education had been interrupted by military service.
1965: The final Commencement was held in First Parish Church.
1970: A student strike to protest the US bombing of Cambodia brought an early end to the academic year in 1970, and students receiving their degrees did not wear traditional caps and gowns at Commencement.
1971: Susan Jacobson '71 became the first woman to receive an undergraduate degree from Bowdoin. She was also the first female Commencement speaker.
1986: This is the last year when Commencement and Reunion were held at the same time. The size of the events forced the College, starting in 1987, to hold Reunion on the weekend following Commencement, a tradition it maintains to this day.
2005: Bowdoin celebrated its 200th Commencement.
2020: Due to the COVID-19 pandemic, Bowdoin held its first virtual Commencement ceremony.
---
Notable Facts about Graduating Classes
The First
Seven graduates in 1806

The Smallest
Three graduates in 1807
Best Known
Class of 1825 with Hawthorne and Longfellow
First Black Graduate
John Brown Russwurm, 1826

First Woman Graduate
Susan D. Jacobson, 1971
---
Honorary Degrees
In the College's early days, students who had received degrees from one institution could also receive ad eundem (reciprocal) A.B. degrees from another. In 1806, eleven Harvard graduates and one graduate each from Dartmouth, Yale, and Brown universities also took Bowdoin degrees. Additionally, members of the Governing Boards and faculty could add a Bowdoin master degree to their list of credentials. Ad eundem and "courtesy" A.M. degrees for alumni are nineteenth-century relics that in no way diminish an exceptional record of awarding honorary degrees based on achievement and merit.
Bowdoin currently awards several honorary degrees each year. There are approximately 130 living Bowdoin honorary degree holders. Read the full list of honorands going back to 1918.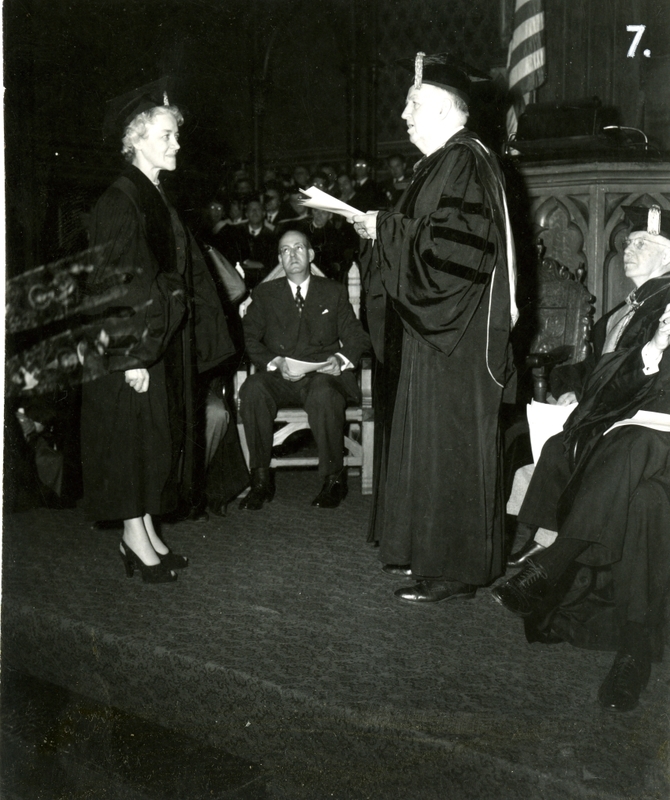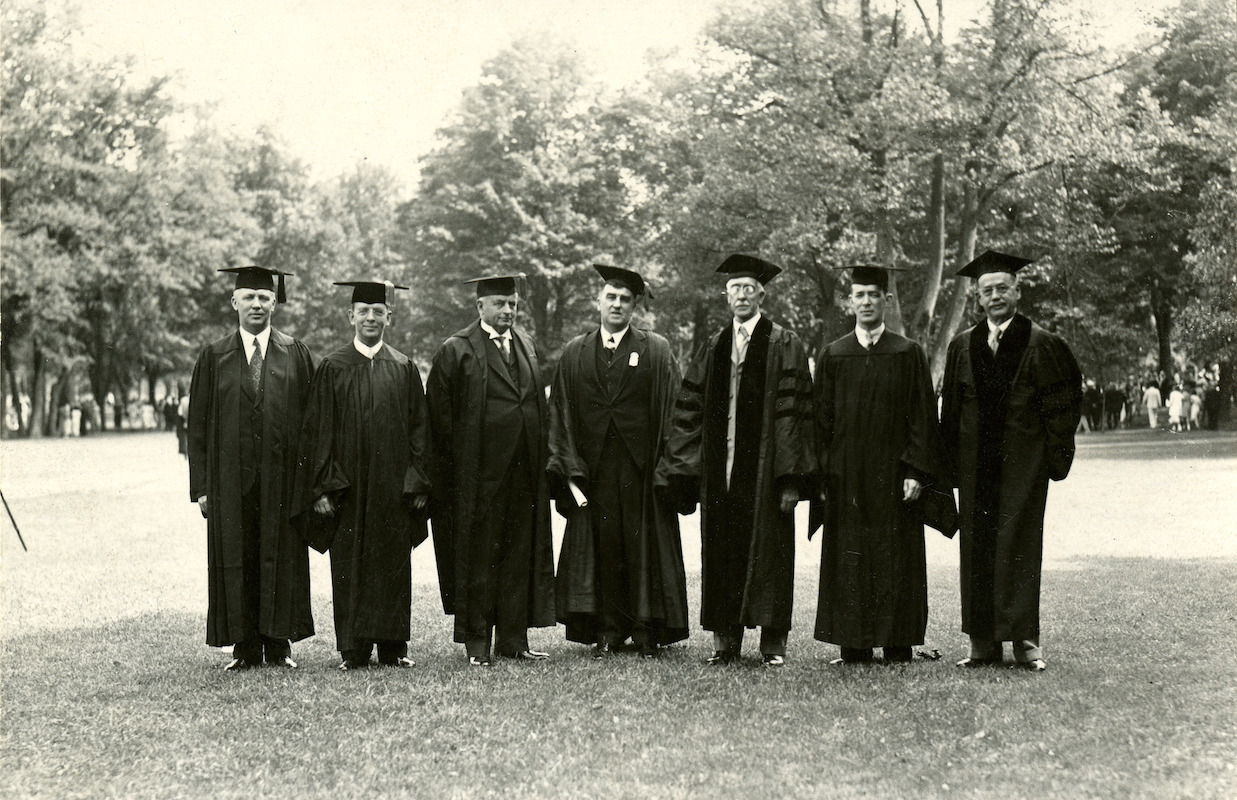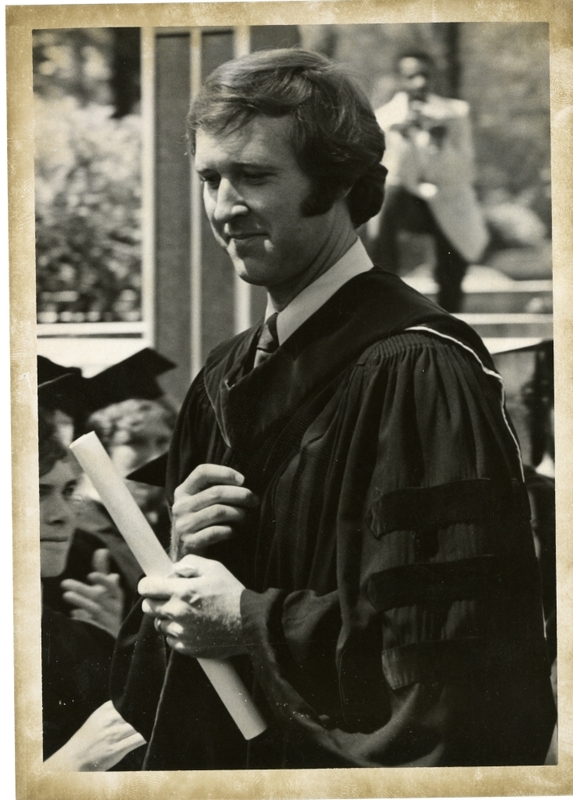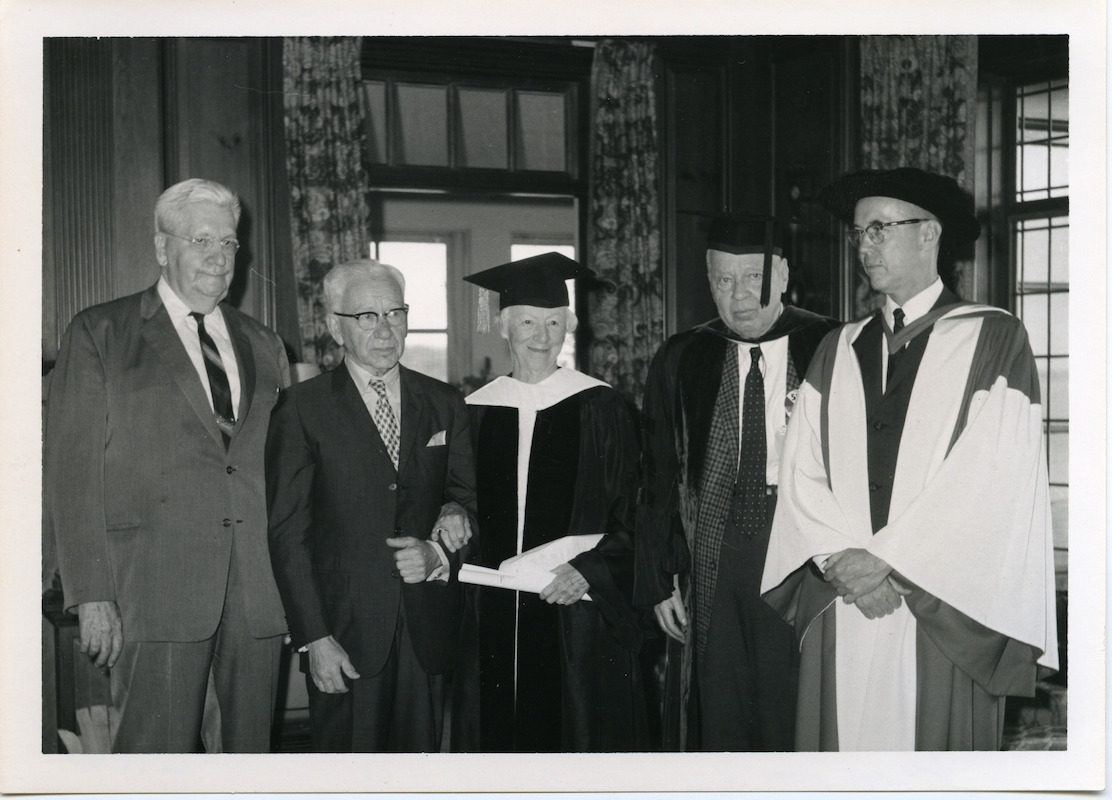 ---
Degrees Awarded
Bowdoin now confers only the Bachelor of Arts degree. To date, 32,566 degrees in academic programs have been awarded.
However, for 100 years, from 1821 to 1921, Bowdoin's Medical School of Maine awarded degrees to more than 2,000 doctors.
Bachelor of Science degrees were awarded from 1875 through 1883 (including to Robert E. Peary in 1877) through a scientific department inaugurated by President Joshua Chamberlain; and again from 1914 through 1949 to those whose programs emphasized mathematics over the classics.
Bowdoin also granted a total of 274 master's degrees in mathematics between 1962 and 1974.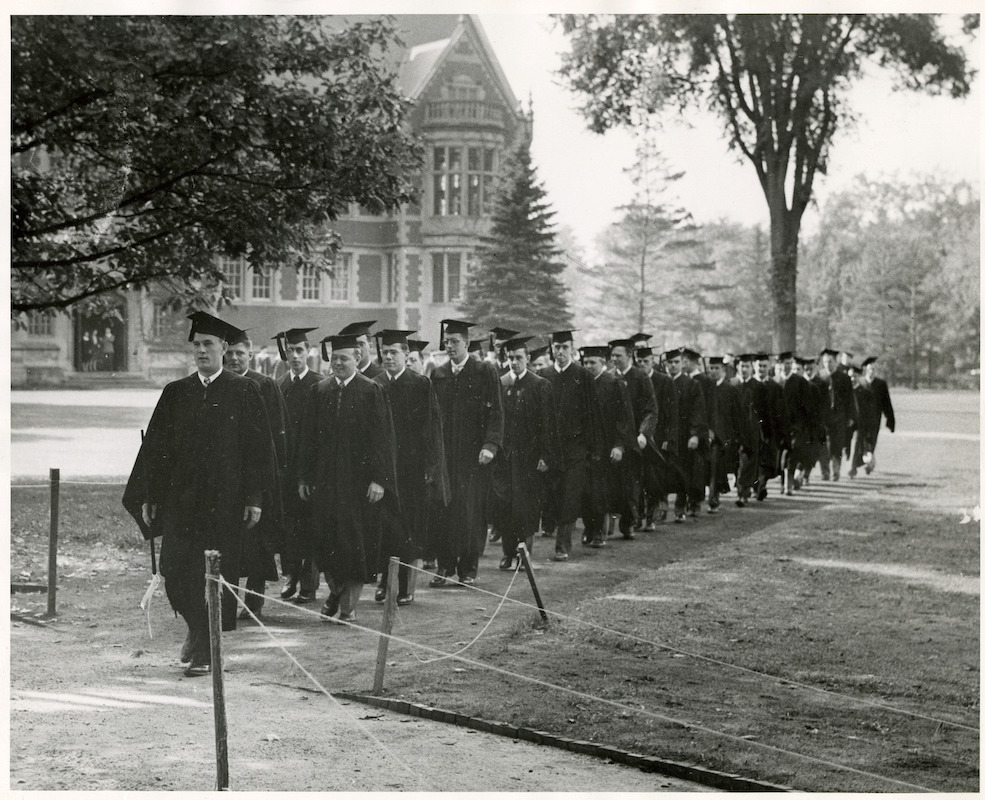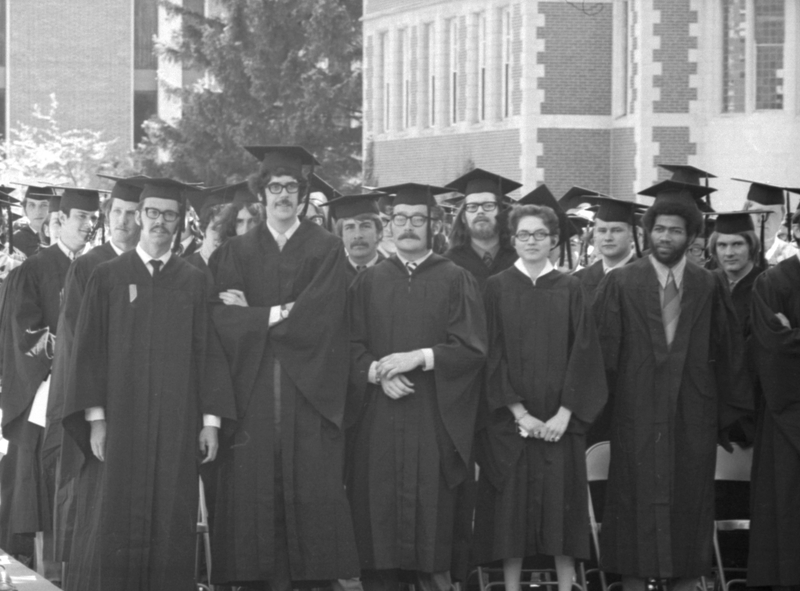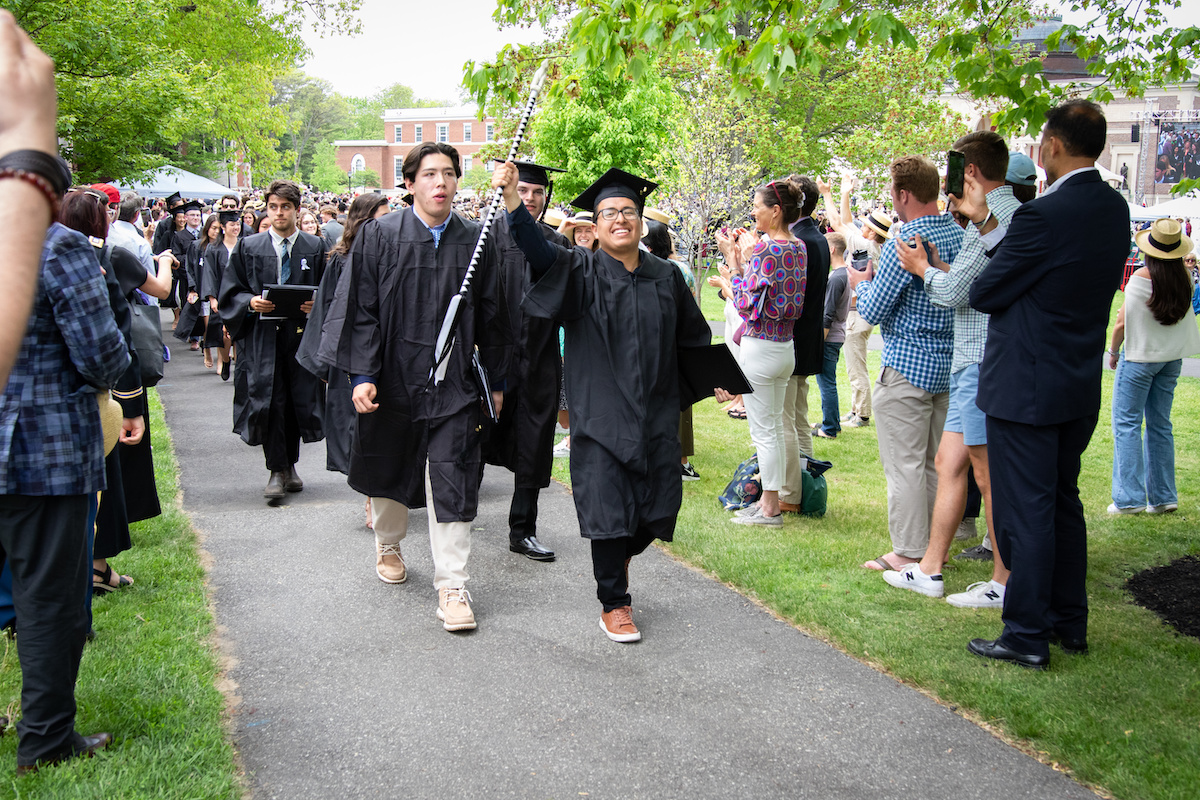 All photos Courtesy of the George J. Mitchell Department of Special Collections & Archives, Bowdoin College Library, Brunswick, Maine.