Explore Ancient Assyrian Reliefs

Once these panels were among two hundred that decorated the palace walls of King Ashurnasirpal II. When the king chose Kalhu as the royal and military capital of Assyria, it catapulted to fame and power.
Understanding the History
The great stone figures that today grace the Assyrian Gallery of the Bowdoin College Museum of Art were carved more than 2500 years ago for the palaces and temples of Ashurnasirpal II (883-859 B.C.), ruler of the empire of Assyria, centered in what is now northern Iraq. Move through the timeline below to get a better sense of the reliefs' deep history and how they came to be housed in the Bowdoin College Museum of Art.
A Deeper Look
Close examination of the reliefs provide details about Assyrian history and culture. Use the viewing screen below to see if you can find the items mentioned in each description.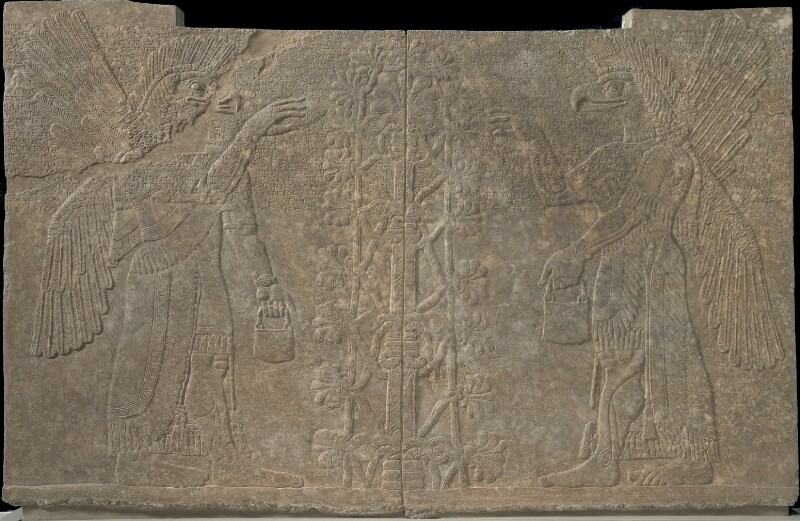 Two Winged, Eagle-Headed Spirits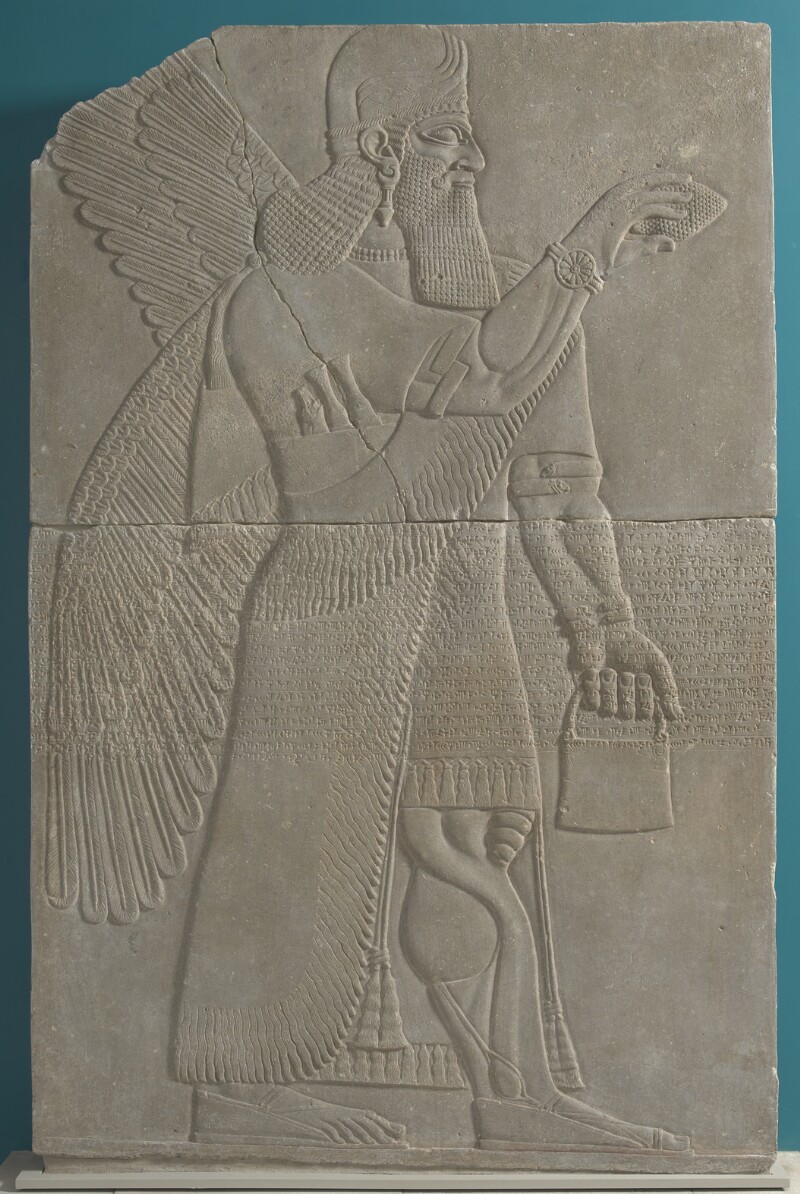 Winged Spirit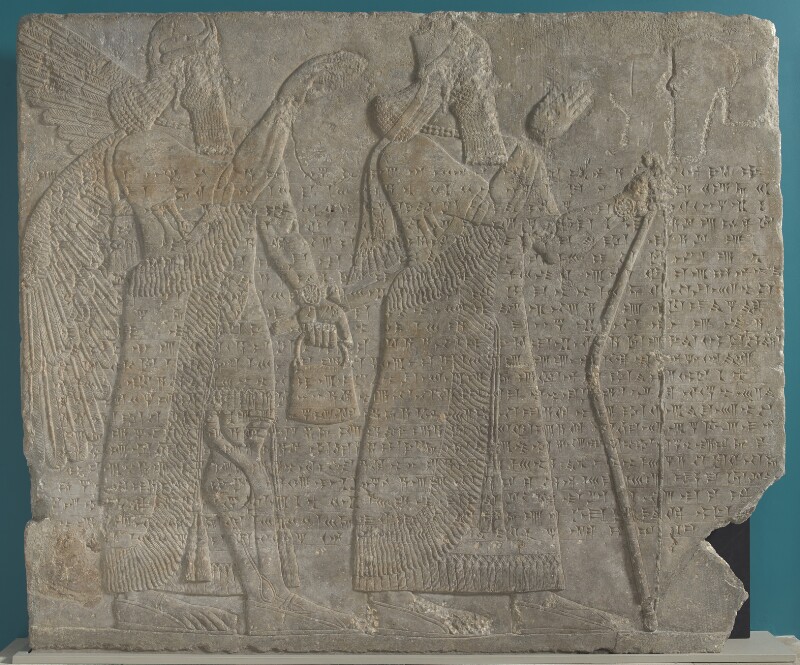 Apkallu Anointing Ashurnasirpal II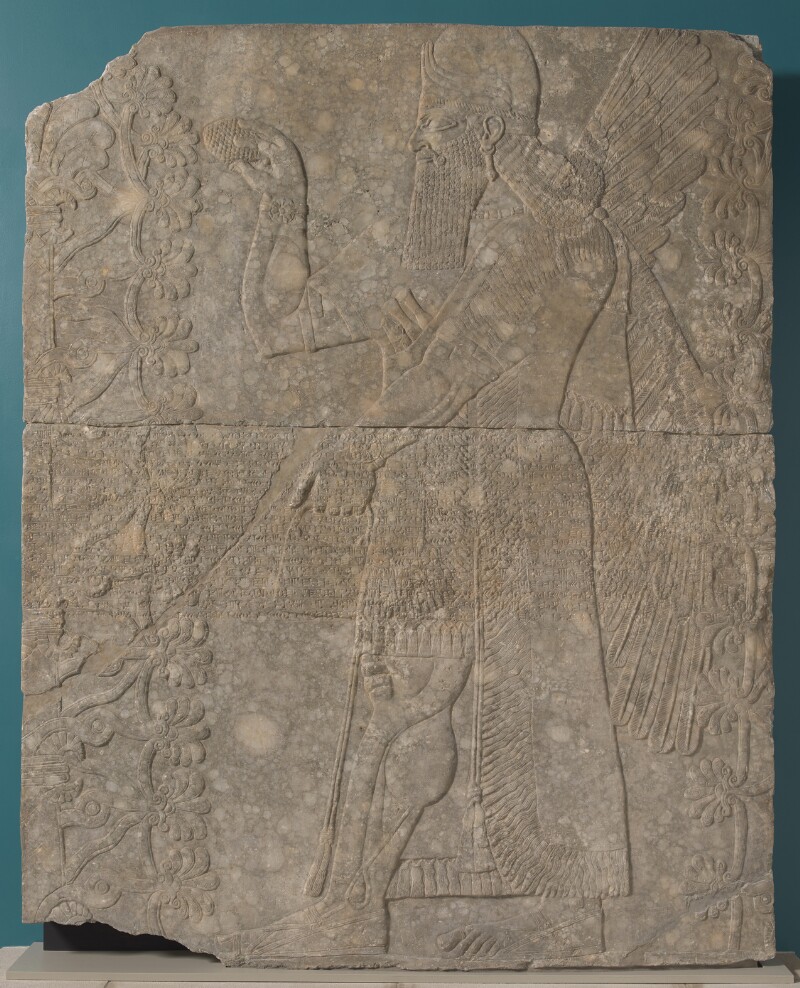 Apkallu and Sacred Tree
---
Paint a Relief
People today can appreciate the carved form and detail of Bowdoin's Assyrian reliefs, but the ancient viewer was treated to a much more colorful display. Although little color remains , it seems likely that many of the reliefs were painted.  White paint remains around the pupil of the Apkallu figure and a reddish-brown pigment highlights the sole of his sandal. Can you imagine what the painted figures might have looked like?

Try coloring this work yourself!
A photograph of colored light projected on the Apkallu
figure to create the illusion of a painted surface.
More Resources and Activities
Critical support for the Assyrian Collection at the Bowdoin College Museum of Art is provided by the Yadgar Family Endowment