Gendered Bodies: Toward a Women's Visual Art in Contemporary China, University of Hawaii Press, 2015.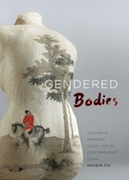 DESCRIPTION:
Gendered Bodies introduces readers to women's visual art in contemporary China by examining how the visual process of gendering reshapes understandings of historiography, sexuality, pain, and space. When artists take the body as the subject of female experience and the medium of aesthetic experiment, they reveal a wealth of noncanonical approaches to art. The insertion of women's narratives into Chinese art history rewrites a historiography that has denied legitimacy to the woman artist. The gendering of sexuality reveals that the female body incites pleasure in women themselves, reversing the dynamic from woman as desired object to woman as desiring subject. The gendering of pain demonstrates that for those haunted by the sociopolitical past, the body can articulate traumatic memories and psychological torment. The gendering of space transforms the female body into an emblem of landscape devastation, remaps ruin aesthetics, and extends the politics of gender identity into cyberspace and virtual reality.

The work presents a critical review of women's art in contemporary China in relation to art traditions, classical and contemporary. Inscribing the female body into art generates not only visual experimentation, but also interaction between local art/cultural production and global perception. While artists may seek inspiration and exhibition space abroad, they often reject the (Western) label "feminist artist." An extensive analysis of artworks and artists—both well- and little-known—provides readers with discursively persuasive and visually provocative evidence. Gendered Bodies follows an interdisciplinary approach that general readers as well as scholars will find inspired and inspiring. 114 color and 2 black & white illustrations.re.

REVIEW:

"Gendered Bodies is a groundbreaking work, a definitive study of contemporary Chinese women's art written in any language. It is filled with critical insight, abundant details, and an intimate knowledge of the current art scene. The book is a must-read for anyone who hopes to understand art and women's aspirations in contemporary China." —Sheldon Lu, University of California, Davis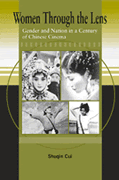 Women Through the Lens: Gender and Nation in a Century of Chinese Cinema,University of Hawaii Press, 2003.
Read the introduction
(PDF)
"The Return of the Repressed: Masculinity and Sexuality
Reconsidered" in A Companion to Chinese Cinema,
ed. by Yingjin Zhang, Blackwell Publishing
(forthcoming).

"The Search for Female Sexuality and the Negotiation with Feminism:
Li Yu's Film Trilogy" in Engendering Chinese Cinema, ed. by Lingzhen Wang
University of Cambridge (forthcoming).

"Alternative Visions and Representation: Independent Documentary Filmmaking
in Contemporary China" Journal of Documentary Cinema 4:1 (February) 2010.
"Kekexili: Moral Dilemma and a Man with a Camera," Chinese Films in Focus-2,
ed. by Chris Berry, London: BFI Publishing, 2008.
"Negotiating In-Between: On New-Generation Filmmaking and
Jia Zhangke's Films," Journal of Modern Chinese Literature and Culture,
18-2 (2006): 98-130, reprinted in Chinese Cinema after a Century:
The Interplay of Art, Politics and Commerce,
Hong Kong: University of Hong Kong, 2010.
"Ning Ying's Beijing Trilogy: Cinematic Configuration of Age,
Class and Sexuality" in The Urban Generation:
Chinese Cinema and Society at the Turn of the 21st Century,
(Duke University Press, 2006): 241-263.
"Raise the Red Lantern: Cinematic Orient and Female Conflict" in Film Analysis:
A Norton Reader, W.W. Norton & Company, 2005: 830-849.
Contributor, Encyclopedia of Contemporary Chinese Culture,
Routledge Press, 2005.
"Walking from the Margins and Outside the System: Independent Film Directors in Contemporary China," Post Script 20-2 (Winter/Spring 2001): 77-93, reprinted in Chinese Language Film: Historiography, Poetics, Politics, University of Hawaii Press: 2005.
Read the table of contents
and/or the introduction
(PDF).

"Stanley Kwan's Center Stage: The (Im)possible Engagement between Feminism and Postmodernism," Cinema Journal 39-4 (Summer 2000): 60-80, reprinted in Between Home and World: A Reader in Hong Kong Cinema, Oxford University Press, 2004.
Contributor (30 entries on Fifth-generation films),
Encyclopedia of Chinese Film, Routledge Press, 1998.
"Gendered Perspectives: The Construction of Subjectivity
and Sexuality in Ju Dou," in Sheldon H. Lu, ed.
Transnational Chinese Cinema:
Identity, Nationhood, Gender
University of Hawaii Press, 1997, 303-330.
"Desire in Difference: Female Voice and Point of View in Army Nurse" Annual of Film and Literature, Vol. II (Summer 1996): 63-72.