Published November 16, 2004
Professor and Students Alike Changed by Summer Study in China
Sometime during the spring of 2004, Bowdoin Associate Professor of Asian Studies Shuqin Cui put down her books on Chinese popular culture and addressed her class: "Why read books?" she said, smiling. "We should go to China."
Many of her students took her up on it. Bolstered in large measure by Freeman Fellowships -- which support students for language training and research projects -- 14 Bowdoin students traveled to China over the summer to participate in a variety of language-immersion programs, internships, and cultural exploration.
"From Brunswick to Beijing, you plunge into a world of differences," says Shuqin, herself a Chinese native. "The socio-economic changes in China are bewildering, too rapid to grasp. It's not socialist anymore, not completely capitalist. Beijing is a city of striking contrasts: the poor and the rich, the traditional and modern, the skyscrapers and alleys, the Forbidden City and Starbucks. It's precisely this socio-cultural churning and transition that lures me back."
It was the largest group from Bowdoin ever to travel to China, which is increasing as a Bowdoin summer-study destination, due to the strength of the Asian Studies Department and cross-disciplinary faculty research in China.
"From Brunswick to Beijing, you plunge into a world of differences. The socio-economic changes in China are bewildering."
It's also indicative of the growth of all summer programs, says Bowdoin's Director of Off-Campus Study, Stephen Hall. "When I started in this office," he says, "we were sending about 25 percent of students away for the full year. Now that's down to 15 percent. Nationally, the real growth area is summer programs or other short-term programs."
Shuqin spent the summer in Beijing serving as academic director for CET Academic Programs in Beijing, a leading study-abroad organization based in Washington, D.C. As such, she was responsible for curriculum design, teacher training, and oversight of 80 American students -- five from Bowdoin -- and their 60 Chinese roommates.
The program combines intensive language study with cultural immersion. Class assignments included street interviews of local people and visits to farmers' houses. "Chinese to get along for survival is easy," notes Shuqin, "but it's difficult to go up in levels."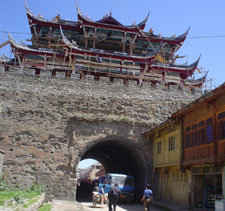 The first survival skills the students practiced were how to order meals and how to bargain, the latter of which is intrinsic to Chinese street life.
"One could not imagine how American college students bargained in the market, but they did so skillfully," says Shuqin. "First they negotiated -- in Chinese, of course -- a price one-third lower than the original. When the salesperson refused, the student pretended to walk away. At this point, the merchant would step in and say: 'Come back and take it.' "

During eight weeks in China, survival was replaced by growing confidence. Students organized group trips, venturing to Xian, Inner Mongolia, and even Tibet.
With just a year of Chinese language classes under his belt, Jordan Schiele '07 traveled to rural China to teach English in a Communist Party school. During eight-hour school days, with no textbook and a classroom filled with 150 students, Schiele says he learned to think on his feet -- in two languages.
"It was really tough at first," acknowledges Schiele, "but necessity breeds invention." He developed a vernacular curriculum, teaching students English words and phrases beyond the scope of traditional textbooks. Over time, his teaching became more creative. In one class, he staged a mock wedding, teaching Chinese students the American customs that vary greatly from their own. "It was very successful," he grins.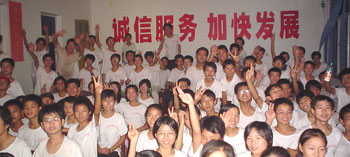 Although he has traveled widely, Schiele said his sojourn in China changed the way he views the world. "I've never felt exotic in my life, but when I went to China, people would just stare at me," he says. "Especially in the country and the smaller cities, where they don't get many foreigners. They were very welcoming; they think of us like movie stars."
Another Bowdoin student, Chengsi Xie '07, spent the summer interning with a rural economic-development project for Chinese women. Hers was a trip of unusual ironies. A Chinese national who is herself studying abroad at Bowdoin, she returned to her homeland to help rural Chinese women find what is to them a new language: self-assertion.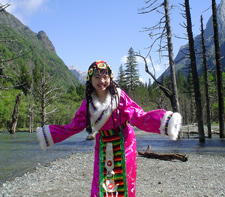 "This organization gives loans to local women, but Chinese women originally have an inferior social status to men," explains Chengsi. "So they will not try to think in that way. They are not willing to take loans. I worked to help women express their minds. After several weeks of training, we encourage team work and help women be able to speak publicly or be more willing to discuss their future."
"It makes me love the students," says Shuqin. "Their energy, their willingness to explore. No limits. They didn't just come here for a language program. What inspired them was the desire for a life-changing experience and a different view of the world."
The summer also had a profound effect on Shuqin, who has visited her homeland only rarely in the 20 years since she moved to the United States, where she completed her doctoral studies at the University of Michigan. This time, she brought her 20-year-old daughter, Lulu, back to China with her for a reunion with Shuqin's parents. "While I was attending graduate school in the states, my parents helped raise her until she was three," says Shuqin, "and this is her first time back. I was worried she didn't have close ties anymore."
However, says Shuqin, when her mother and her daughter saw each other again, it was a highly emotional moment. "With my mother lying sick in bed and Lulu burdened with a backpack, they embraced each other and cried," she says. "I saw the whole family, the connection, and the love."

Shuqin is a leading expert on Chinese cinema and author of the book, Women Through the Lens: Gender and Nation in a Century of Chinese Cinema. She is now turning her attention to women and writing in modern China. "Female authors and their works have always been an important part of Chinese literary history," says Shuqin, "Nonetheless, when it comes to publication or literary criticism, I don't think they've received fair evaluation. Translations of women's works into English lag too far behind publication. I'd love to explore how women write themselves into, as well as against, socio-cultural history and literary tradition."
Perhaps, as some of Bowdoin's best and brightest turn their attention to China, those voices will find new ears.