Professor of Government
Contact Information
jmartin@bowdoin.edu
207-725-3618
Government And Legal Studies

Hubbard Hall - 16
Teaching this semester
GOV 1001. Representation, Participation, and Power in American Politics
An introductory seminar in American national politics. Readings, papers, and discussion explore the changing nature of power and participation in the American polity, with a focus on the interaction between individuals (non-voters, voters, party leaders, members of Congress, the president) and political institutions (parties, Congress, the executive branch, the judiciary). Not open to students who have credit for or are concurrently taking Government 1100.
GOV 2010. United States Congress
An examination of the United States Congress, with a focus on members, leaders, constituent relations, the congressional role in the policy-making process, congressional procedures and their impact on policy outcomes, the budget process, and executive-congressional relations.
Education:
B.A. Marquette University
M.A. and Ph.D. Ohio State University
Ms. Martin is a Professor of Government with teaching interests and responsibilities in American national government and research methods.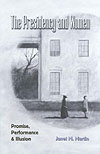 In 1989-90, she was an APSA Congressional Fellow, and worked as a legislative assistant for Senator Herb Kohl from Wisconsin, and Senator George Mitchell.  She is the author of The Presidency and Women: Promise, Performance, and Illusion (Texas A & M University Press, 2003; Winner of the 2004 Richard E. Neustadt Award); Lessons from the Hill: The Legislative Journey of an Education Program (St. Martin's Press, 1994), co-editor of The Other Elites: Women, Politics, and Power in the Executive Branch (Lynne Rienner Publishers, 1997), and author of the Instructor's Manual for a Delicate Balance: An Essential Introduction to American Government (St. Martin's Press, 1997).  In addition, she has published articles and reviews in The Journal of Politics, Western Political Quarterly, Presidential Studies Quarterly, and Congress and the Presidency.  In the spring of 1990, Ms. Martin participated in an exchange program in Ottawa, sponsored by the Canadian Government, to study the Canadian Parliament.  Before coming to Bowdoin in 1986 she taught at Gettysburg College for three years, including courses on Urban Politics, and Survey Research and Public Opinion Polls.  In 1978 and 1979 Ms. Martin was a graduate fellow in the Central Intelligence Agency's Summer Studies Program, and was a Regional Finalist in the 1983-84 White House Fellowship Competition.
Links:
Janet Martin Wins Prestigious Award for Book on the Presidency