Globally Acclaimed Composer
Vineet Shende's music has been called "startlingly intense and vivid" (Boston Musical Intelligencer).  It often deals with conceptual issues of timbral development, structural order, and the Japanese aesthetic concept of ma ("active" space and time).  Shende's music incorporates a wide variety of styles, including the modal and rhythmic world of Indian classical music, the visceral energy of rock music, and a harmonic language described as "hard to characterize, dissonant in some places and with celestial harmonies in others, but unusually accessible" (Portland Press Herald).
Recent premieres have included Naimittika Pralaya for double string orchestra and prepared piano, commissioned by the Boston Modern Orchestra Project, and Three Longfellow Poems for soprano soloist, two choirs and orchestra, commissioned by the Portland Symphony Orchestra.  His 12 Carnatic Preludes, after J.S. Bach (commissioned by Aaron Larget-Caplan), which reimagine preludes from Bach's Well-Tempered Clavier in the modal and rhythmic world of South India, have been performed over fifty times in seven different countries. Ensembles such as the American Modern Ensemble, the Amernet String Quartet, the Cassatt String Quartet, and the National Symphony Orchestra have all recently performed Shende's music.  Recent recordings include the "vigorous and sassy" (Gramophone Magazine) Throw Down or Shut Up!, on debut albums from the ensembles  Flexible Music and Throw Down or Shut Up! (who named themselves after the piece), and the "particularly outstanding" (American Record Guide) Sonetos de amor performed by soprano Elizabeth Weigle and guitarist Daniel Lippel on Lippel's album Sustenence.
Shende's formative years alternated between the cities of Chicago, Illinois and Pune, India.  His earliest music lessons were from his mother, a vocalist trained in North Indian classical music.  He holds degrees from Cornell University, Butler University, and Grinnell College.  His principal composition teachers have been Steven Stucky, Roberto Sierra, Michael Schelle, and Jonathan Chenette.  He has also studied music with sitar virtuoso Ustad Usman Khan and conducting with Stanley DeRusha and Scott Tucker.
Shende is a Professor of Music at Bowdoin College, where he teaches courses in composition, orchestration, music theory, film music, and Asian music.  He lives in Brunswick, Maine, with his wife, daughter, son, and dog in a nineteenth-century house that is constantly undergoing renovation.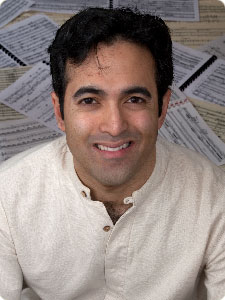 Education
DMA, Cornell University
MM, Butler University
BA, Grinnell College