Thomas Brackett Reed Professor of History and Political Science Emeritus
I have always been interested in the history of the welfare state amd the ideas behind it, and also the history of the welfare state in different countries. I pioneered the teaching of what was then called "Negro" history, starting a course at Bowdoin in 1965.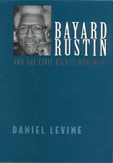 Recent publications include a book on Bayard Rustin (Bayard Rustin and the Civil Rights Movement, Rutgers University Press, 2000). I've been interested in him since he came to Bowdoin to speak in the 60s. He was an important but lesser known figure in the Civil Rights Movement from the 1940s to the 1980s. He maintained devotion to integration and non-violence, even as those two values lost their appeal for many in the black community.
Rustin was a strong supporter of organized labor. My next work is a study of welfare institutions within labor unions, particularly garment-trade workers centered around New York from 1920-1960.
April 28, 2006
Retirement Lecture: Another Sort of Radicalism »
Previous Experience: Assistant Professor, Earlham College; Visiting Professor, University of Copenhagen; Visiting Professor, University of Munich, Germany
Education
PhD, History, Northwestern University
MA, History, Northwestern University
AB, History, Antioch College