Director of Bowdoin Chorus Emeritus
Former Director of the Bowdoin Chorus and Rachmaninoff Choir, Anthony Antolini, graduated from Bowdoin College and holds graduate degrees in music and Slavic Studies from Stanford University. When he was in high school in New York City his first music mentor was conductor and organist Thomas Dunn. He later studied conducting with Harold Schmidt, Charlene Archibeque, George Guest, Helmuth Rilling and Vladimir Minin. 
He joined the Bowdoin Music Department faculty in 1992 after teaching at Cabrillo College in Santa Cruz County, California. His specialty is Russian choral music. In 1976 he was an IREX scholar at Moscow State University. In 1988 he published the first modern, bilingual edition of Sergei Rachmaninoff's Liturgy of St. John Chrysostom.  His award-winning television documentary on this subject, "Rediscovering Rachmaninoff," has been broadcast on public television nationally and won a Silver Apple Award for best music documentary in 1990.  In 1988 he was awarded the Distinguished Alumni Medal from Moscow State University for his work in popularizing Slavic choral music. He has since become recognized as one of the leading specialists in the development and use of transliterations and "singing" translations of Russian choral music. He is editor of the Icons in Sound series at Paraclete Press and editor of a Russian choral series at E. C. Schirmer Music Publishing. In 1999 he was a featured speaker at the national convention of the American Choral Directors Association (ACDA) and in 2000 at the ACDA convention in Baltimore. He was elected by the Maine Chapter of ACDA as "Conductor of the Year" for the 1999-2000 season.
Since 1991, Antolini has been artistic director of Down East Singers, a community chorus based in Rockport, and serves as music director at the Episcopal Church of St. John Baptist in Thomaston, where he plays a 2003 Bedient tracker organ. The Rachmaninoff Choir, which he has directed since 1987, has toured the major cities of the former Soviet Union, the Russian Far East, Serbia, Bulgaria, and Greece as well as many US cities.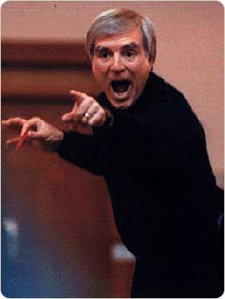 Education
PhD, Slavic Studies, Stanford University
MA, Music and Russian, Stanford University
BA, Music and Russian, Bowdoin College