Visiting Scholars Tap George Mitchell Northern Ireland Papers for Pioneering Digital Project
By Tom Porter
Academics from England and Ireland visited the Bowdoin campus recently to study the papers of Senator George Mitchell '54, H'83, in particular his role in bringing peace to Northern Ireland twenty-five years ago.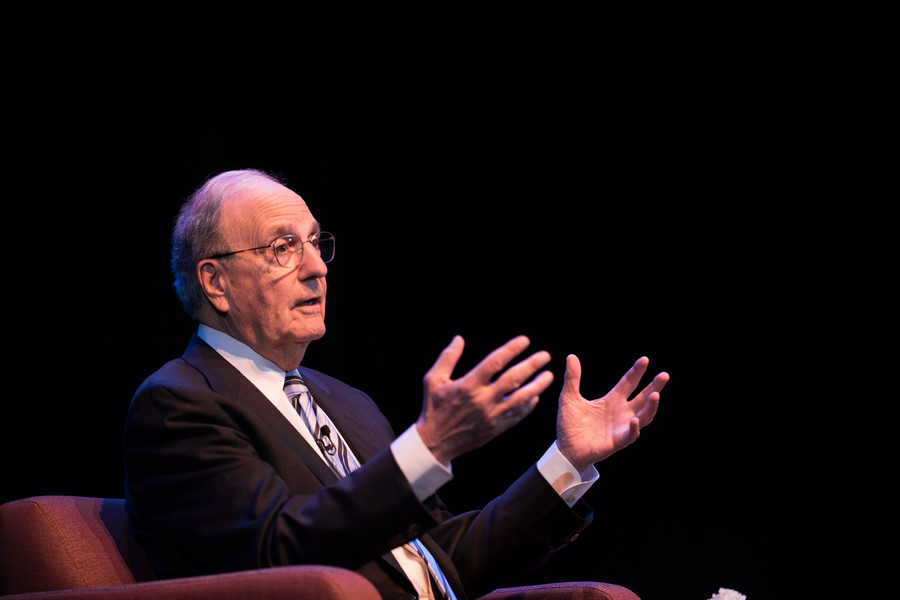 After retiring from the US Senate in 1995, Mitchell, a Maine native, was appointed by President Clinton as US envoy to Northern Ireland, where sectarian violence between the mostly Catholic Republicans (who wanted Ireland to be reunited) and the primarily Protestant Loyalists (who wished the province to remain under British rule) had been a commom occurrence since the late 1960s.
Mitchell played a key role in persuading paramiliary groups to disarm in the 1990s, drawing up the so-called Mitchell Principles, ground rules accepted by both sides that paved the way for peace negotiations. In 1998, the Good Friday Agreement was signed, bringing an end to nearly thirty years of conflict in Northern Ireland, a period known as the Troubles. Mitchell played a key role as mediator in achieving this, said Annabel Harris of Pembroke College, Oxford, in the UK.
Mitchell's involvement was one of the key differences between these talks, in the late 1990s, and an earlier unsuccessful round of discussions in 1991 and 1992, she explained. "It's exciting to have the chance to explore the papers and come here to Bowdoin, and to Maine, to get an idea of where Mitchell is from and what brought him from here to Northern Ireland."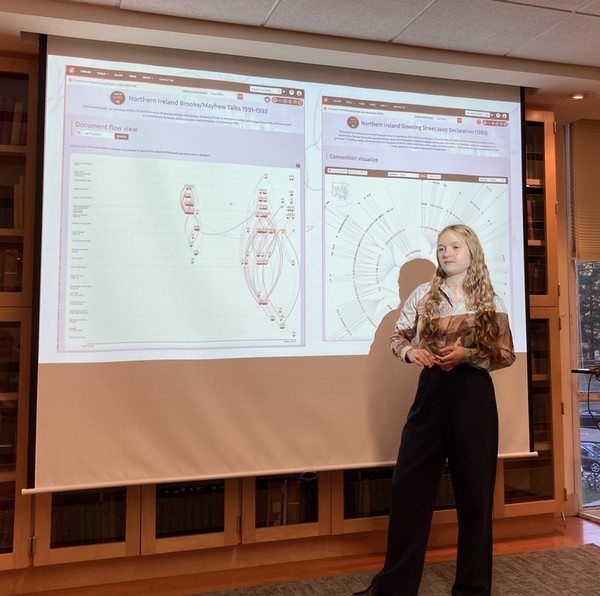 Harris is a documentary editor with Quill, a digital humanities project based at Pembroke College that models formal negotiations, scanning and posting a range of documents that relate to a variety of constitutional and legislative milestones. The aim is to enable users to visualize how these kinds of events evolve and take shape over time. Quill's first project, for example, was a presentation of the records of the Constitutional Convention of 1787 that wrote the Constitution of the United States.
"We work on negotiated texts," said Harris, "either constitutions or texts that have a strong constitutional component like the Good Friday agreement." Harris is currently working on Quill's "Writing Peace" initiative, which aims to develop a rounded view of the context and detail of the Northern Ireland peace process, through digital resource collections featuring innovative visualizations of primary source material. This online resource, she emphasized, provides cutting-edge analytical tools for scholars as they study the contributions of various parties and should help them, and the diplomats of today, learn lessons for resolving future conflicts.
"We track developments in the Northern Ireland peace process from the period following the Anglo-Irish agreement in 1985 to the implementation phase in the early 2000s," said Harris. "Texts are written by multiple authors over time." She spent several days in Bowdoin Library's Special Collections & Archives, poring over the Mitchell papers and scanning them so they can be incorporated into Writing Peace. "Having spent the last week exploring the papers, [I saw that] there were loads of things in there that we couldn't find anywhere else, which was really exciting."
Harris was speaking at a presentation to the Bowdoin community in early November. Joining her was Shelley Deane, a conflict resolution analyst and former Bowdoin government professor who now works in Dublin, Ireland, on the ARINS (Analysing and Researching Ireland North and South) project for the Keough Naughton Institute for Irish Studies, run by the University of Notre Dame.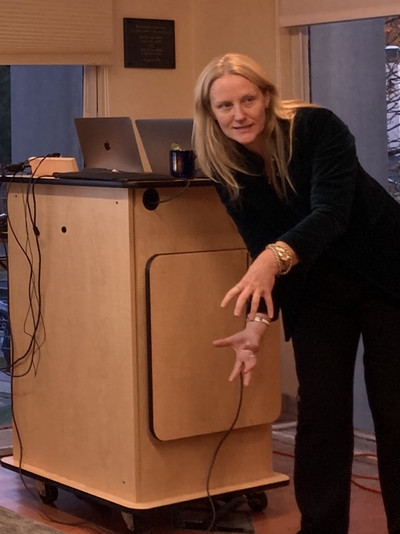 Deane spoke about the development of the Mitchell Principles and how central they are to Quill's Writing Peace initiative. "Years ago, when first I looked at the Mitchell Principles, there were eighteen different versions, and it took a very long time to study them." Now, she explained, "as if by magic," Quill can demonstrate visually, in an easy and accessible way, how these principles took shape, and how Mitchell painstakingly tackled the thorny issue of decommissioning—the task of prevailing on paramilitary groups on both sides to compromise and lay down their weapons. These negotiations took a long time, enthused Deane, and Quill enables users today to see how the delicate talks unfolded—hand-written notes and scratched-out clauses are clearly visible on the documents. "You can see layer upon layer of interest and excitement!"
As the Mitchell Principles took shape, said Deane, they established parameters for minimizing violence, supporting negotiation and the democratic process, creating a willingness to endorse existing agreements, and encouraging restraint from engaging in acts of aggression. "The language was very particular, as it had to satisfy so many people," she said.
"Mitchell demonstrated the duty of democratic diligence for delivering peace, and that's crucially what makes him so important," she added, "and why the Mitchell archive is essential for everyone looking at how you create negotiations and mechanisms for peace going forward."
The presentation by Shelley Deane and Annabel Harris was sponsored by the George J. Mitchell Department of Special Collections & Archives in Hawthorne-Longfellow Library, as well as the Department of Government and Legal Studies and the John C. Donovan Lecture Fund. 
Published November 20, 2023