CNN International Taps Andrew Rudalevige for Election Result Insight
By Bowdoin News
Andrew Rudalevige, Bowdoin's Thomas Brackett Reed Professor of Government, was featured on CNN International for his morning-after-the-election analysis after Americans headed to the polls on November 7, 2023.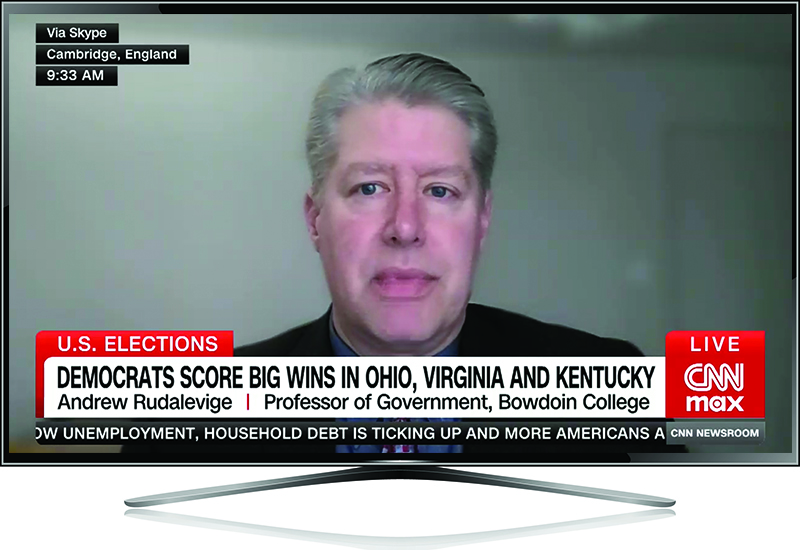 Rudalevige spoke about the abortion referendum in Ohio, in which voters there approved a citizen-sponsored measure that would establish for individuals a constitutional right to abortion, the Kentucky governor's race, in which Democrat Andy Beshear won reelection, and how these might inform the 2024 presidential election.
"Clearly, Democrats and Republicans both are looking at this as some sort of proxy vote for the national party platforms next year and perhaps as a harbinger of how a Trump-Biden rematch might play out," Rudalevige said.
One of the program's anchors asked Rudalevige to explain the discrepancy that seems to exist between President Biden's "weak polling" and the Democratic successes seen in these local elections.
"These kinds of elections are a little bit of a tribute to American federalism," said Rudalevige. "In the US, we have policymaking at the state and very local level that really is not paralleled in other countries around the globe. You know, we're a very decentralized nation in some ways, and of course, these local races turn in some part on what's happening where you are."
Rudalevige is currently a visiting professor at the London School of Economics and University College London.